Digital embroidery designs
A T-shirt with a funny embroidery is a perfect gift for many occasions. A company logo, a funny pictogram or whatever picture can be nowadays turned in to embroidery design.
Usually that's a work for a profession worked with years of experience and access to some advanced commercial embroidery programs, however some really simple images can be turned to embroideries even by users with a basics understanding of graphics editing and a freeware embroidery software or a demo version of some of the advanced programs.
Create embroidery design from bitmap image
For this article we just grabbed random emoticon on internet and used it in a demo version of one of the embroidery programs with digitizing function (SewArt) to see how it goes. We are not experienced with embroideries so we did it like any other amateur would try to do it - trial and error.
You can find dozens of embroidery software but they should more or less work all on the same principle. Just make sure you are using a program that supports the embroidery format you need, because not all stitching machines support all formats.
1. We installed the demo version of SewArt and opened a random image with it.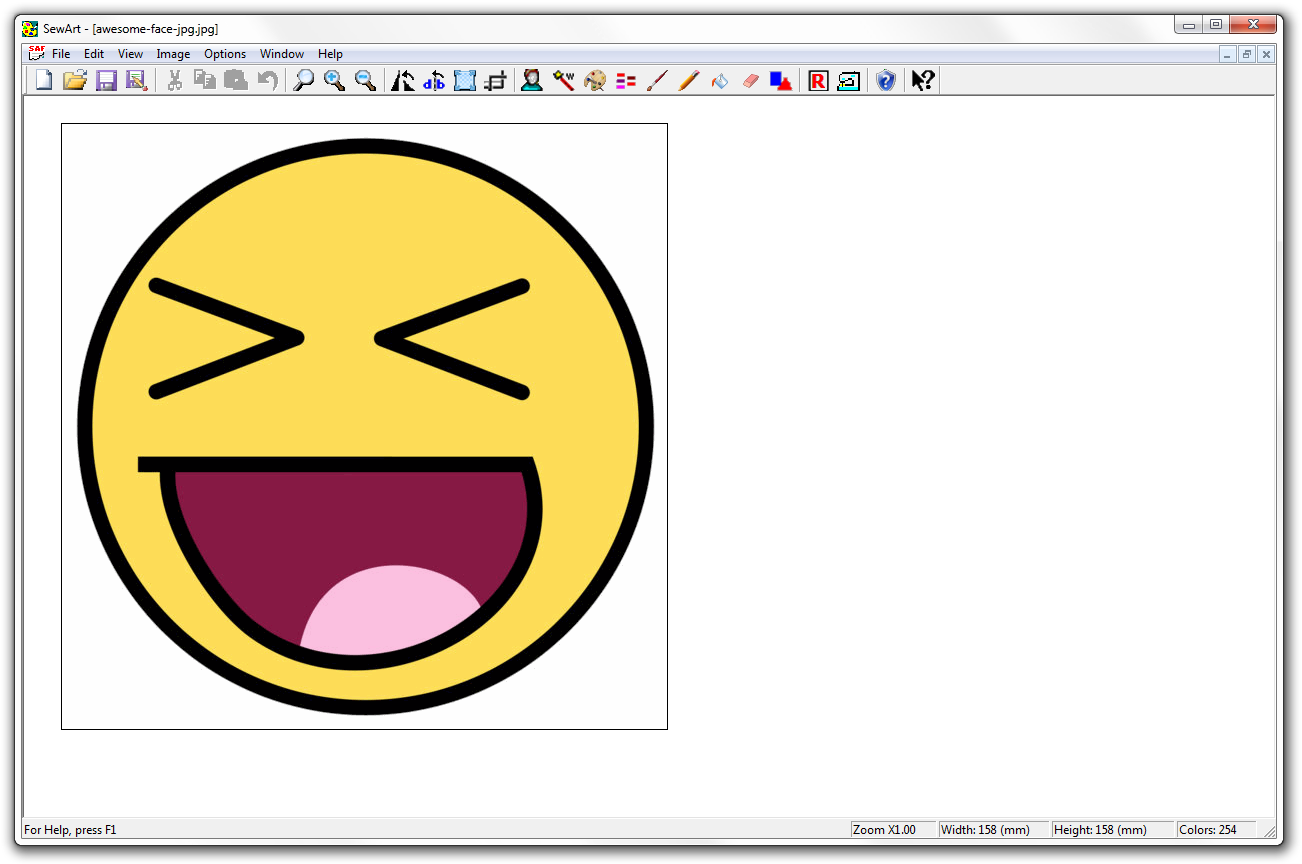 2. Next we used the stitch image function to select the parts we want to stitch. It would be wise to first use the image wizard to reduce the number of colors used in the image and to blend some parts.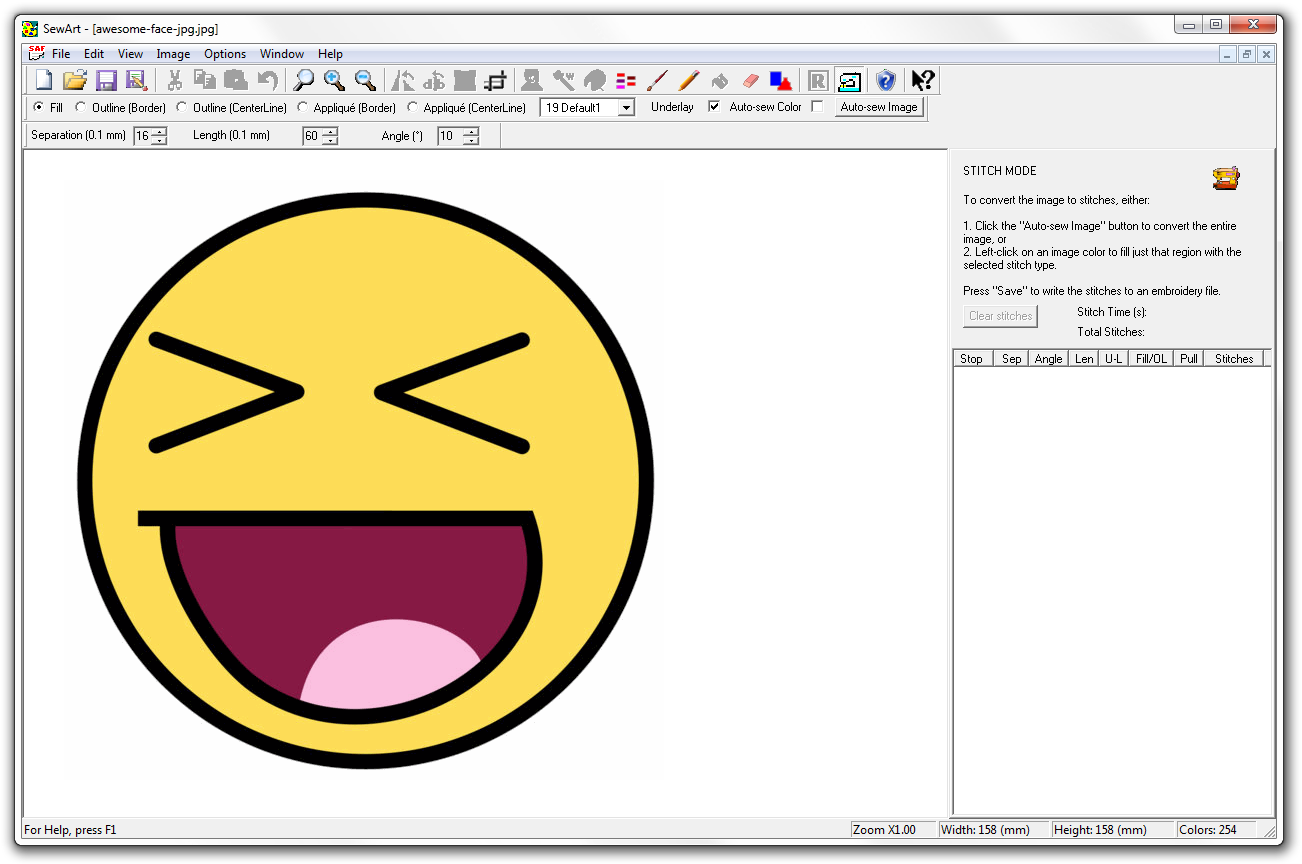 3. When we set all the parts for stitching we let the program to process it.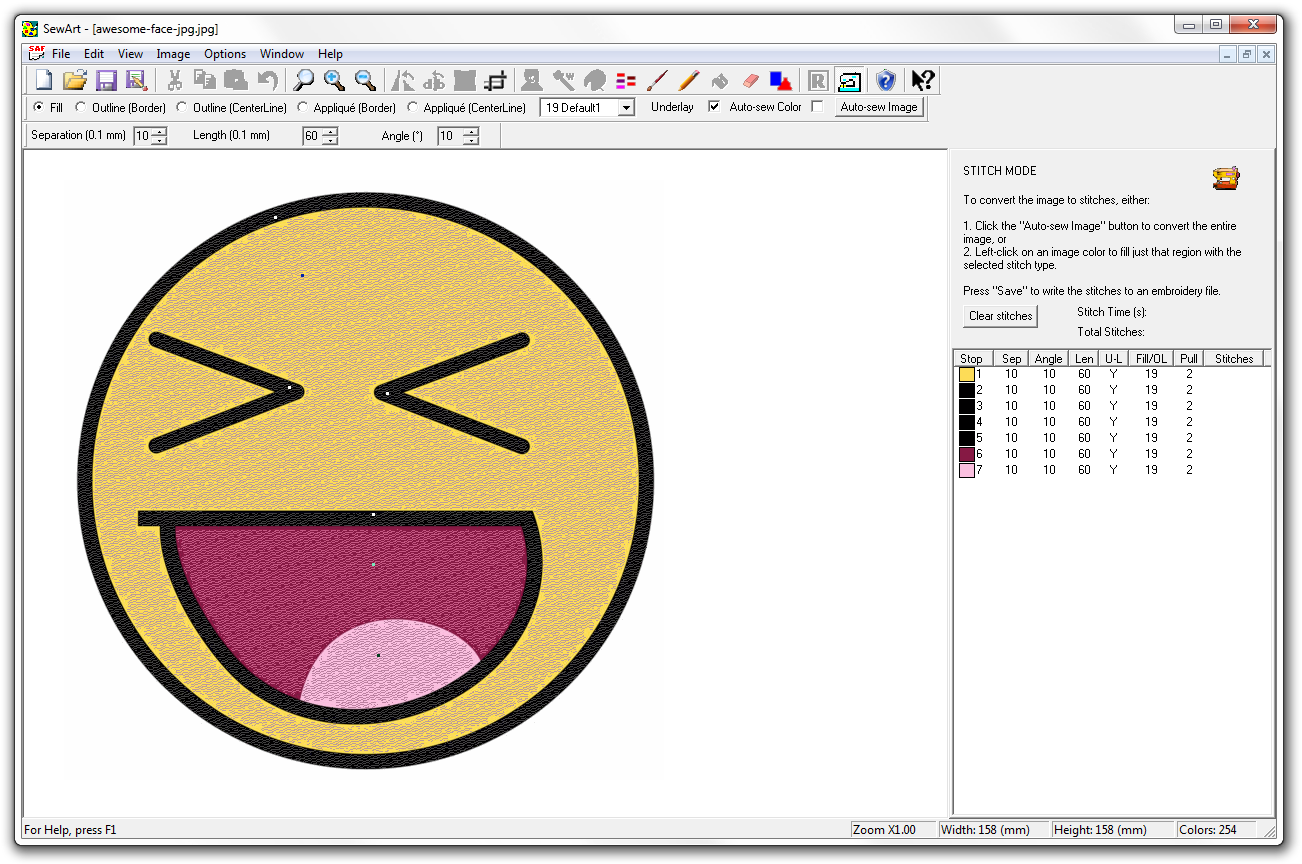 4. And when it was done, we could se a little preview of the stitching and could save the design in one of the support formats.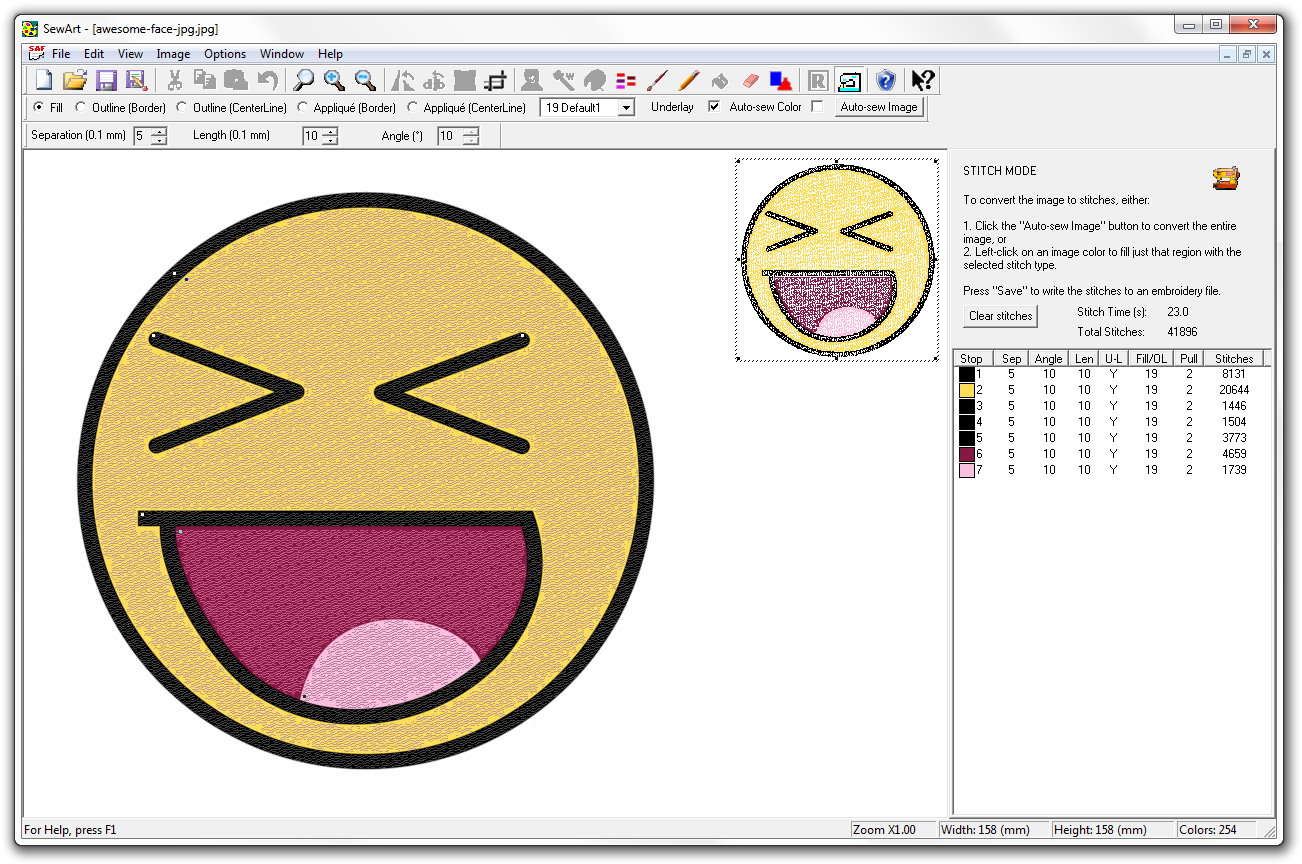 So it works more or less, but how the result would look like when stitched..we do not know.
It seems in case of simple images with few colors it should be doable even by common users, but the quality will most likely be pretty poor unless you know what you are doing (we didn't). But it did indeed work...more or less and made embroidery design from a bitmap picture. How useable the design would be..we do not know.
Complex pictures will however require one of the more expensive and advanced embroidery software, as well as hands of skilled editor that has experience with embroidery design.
There are so many things to think about when editing embroidery designs like underlays, type of fills, corners, density, jumps/cuts, bordering etc.) that amateur user cannot possibly set everything perfectly. And since the cost of sewing embroideries depends on number of stitches, a professional can most likely make a design that will be much cheaper than one made by amateur.
In these cases you would be better to pay for a professional digitizing service at your local stitching shop.
Create embroidery design from vector image
A viable alternative to digitizing of bitmap picture (JPG, PNG, GIF etc.) is to use a vector image instead (SVG, EMF, WMF etc.). This is excellent choice mainly in case of logos or simple geometric shapes that use only one or few colors. Vectors, especially in EMF format, are well supported in advanced, however mainly commercial, embroidery programs.
You can find dozens of bitmap to vector converters on internet. Whilst they do the same work, the result may different from program because they use different algorithms. It may happen that one software converts one picture with great success and fails with another and for another program it may be the opposite. So this may require some degree of experimenting to get a perfect vector from your picture.
There are even some web based solution like VectorMagic service, but you have only 2 free tries or you can download the desktop version. We tried the web solution for a simple logo conversion and it worked great.
Once again you should first prepare your image, delete unnecessary parts, blend the colors, crop or resize them image etc., the better you prepare your original, the more successful the conversion will be.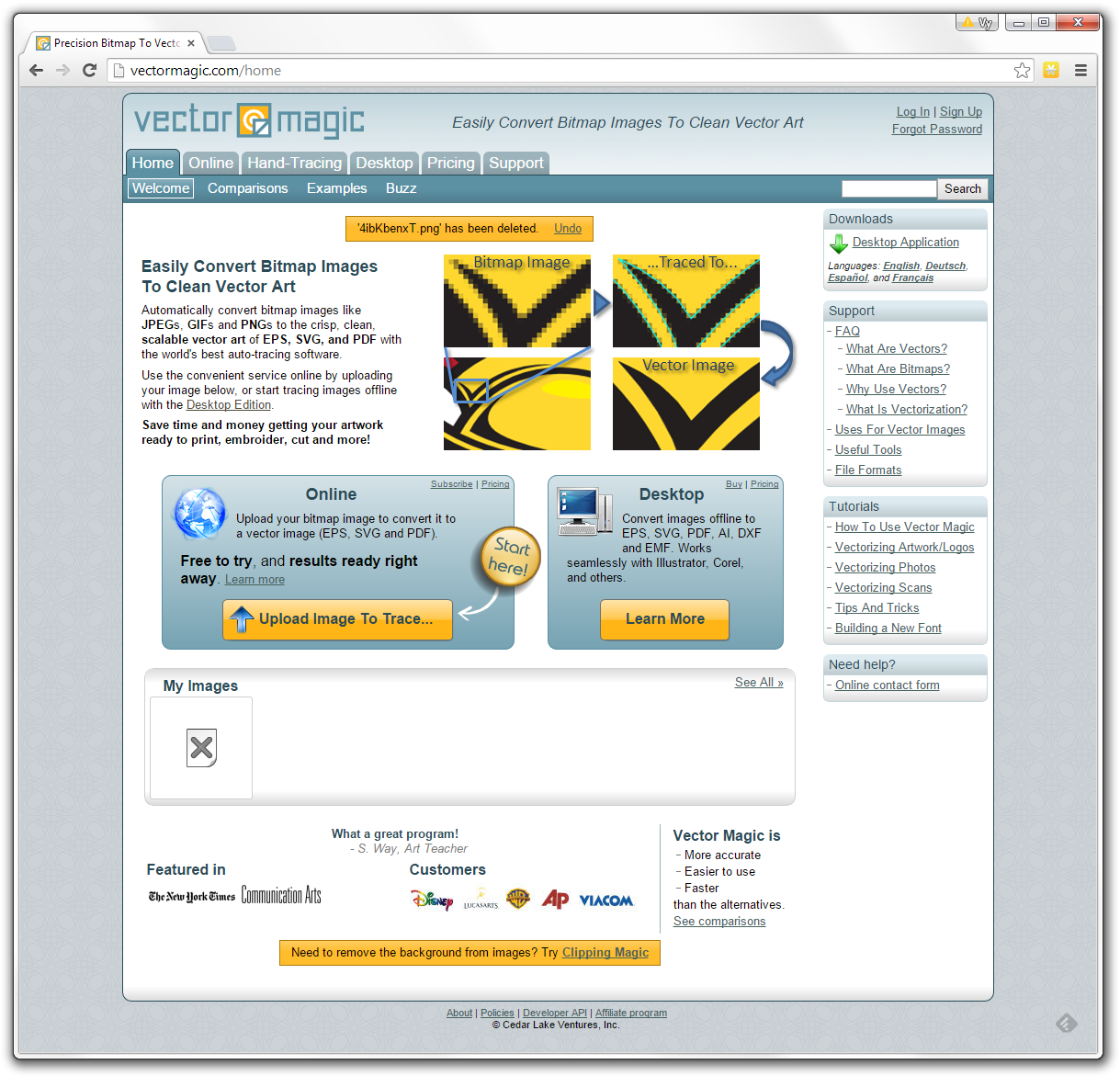 The Vector Magic online conversion website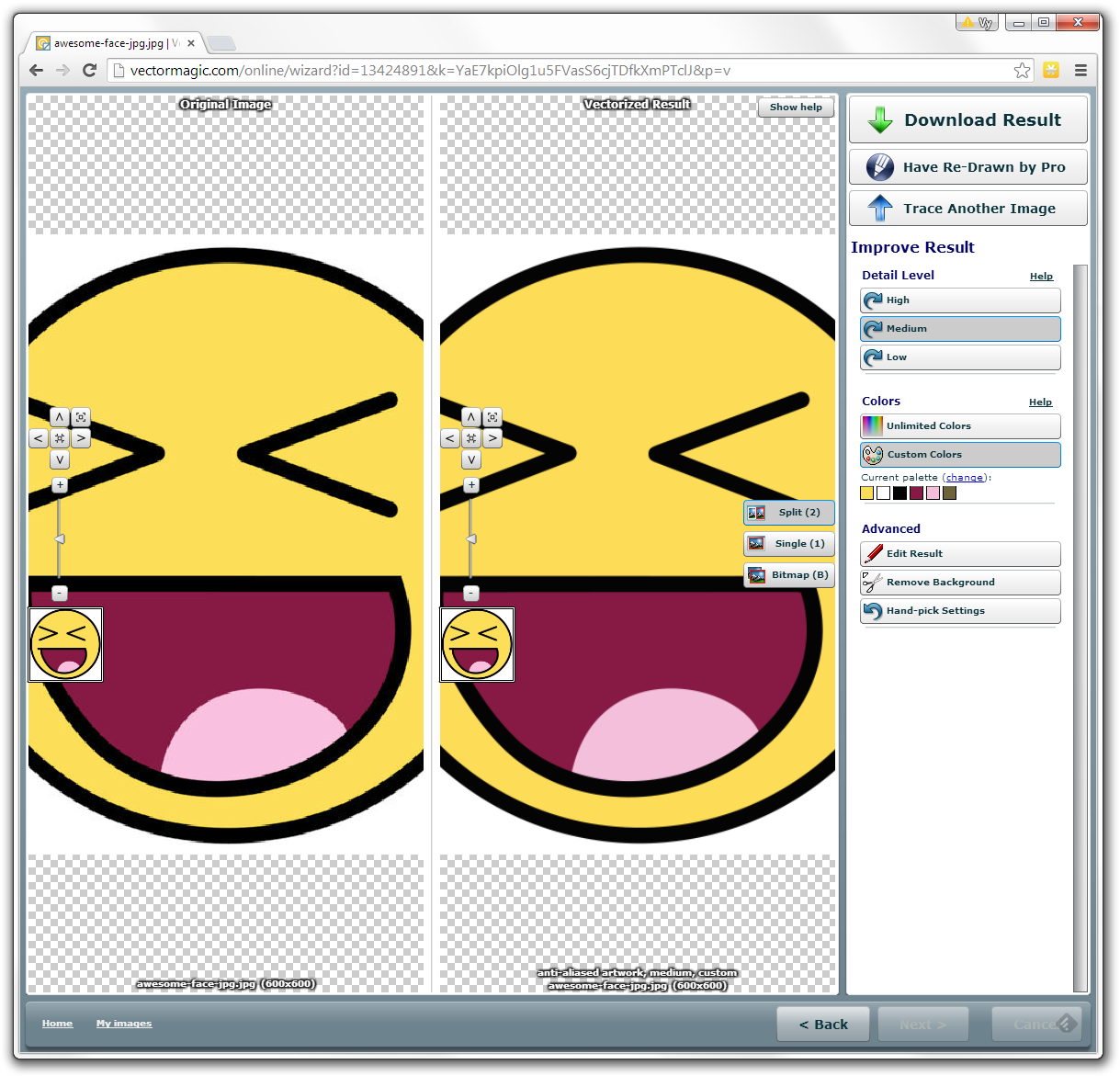 A bitmap image processed to vector using Vector Magic online service
When you have your vector image, you can usually import these to any advanced embroidery programs with vector support, even if they do not possess digitizing function and use them to create embroidery designs in one of the many available formats.