Google Reader has been discontinued. Check out these Google reader replacements and alternatives.
RSS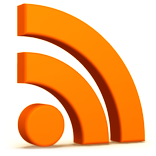 RSS is popular way how to inform visitors about news, articles, blogs, commentaries etc. on the web. RSS feed contains annotation, or sample text and other metadata including publishing dates and authorship.
RSS feeds use standardized XML file format (.rss or .xml file extension) that can be read by applications called RSS readers. These are often a part of popular web browsers, or distributed as a standalone applications. Google Reader is one of the most popular web-based RSS aggregators. It is able to view, manage and categorize subscribed RSS feeds on one place and is accessible from every computer connected on the Internet.
Viewing of Google Reader on smaller displays of smart mobile devices is not very comfortable. However there are RSS readers or Google Reader clients available that can sync with your Google Reader account and view subscribed feeds on your iPhone or iPad devices more clearly.
Top paid RSS readers for Apple iOS
Reeder for iPhone and iPad
Reeder is one of the best and popular paid Google Reader client for iPhone and iPod Touch. It can browse by feed or folders, manage feeds and folders, post information to Twitter, Facebook etc. in very easy to use interface adapted on iPhone and iPad display.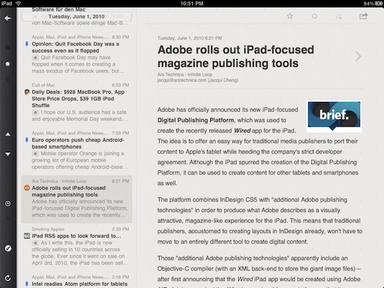 Reeder for iPad
Newsie Google Reader Client
Newsie works with Google Reader account to deliver news from your subscribed RSS feeds. It is able to manage your feeds, shared them on social networks, off-line reading etc. It is also fetch updates from popular blogs, New York Times, The Wall Street Journal, CNN, Fox News and other major sources.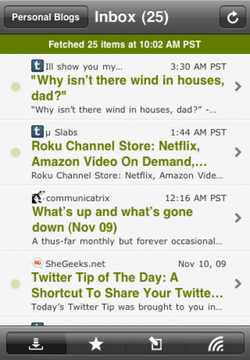 Newsie for iPhone
Power RSS News Reader
Power RSS Reader is fully-featured Google Reader client for iPhone, iPod Touch and iPad. It contains search capabilities for fast search in feeds, fast switch all text font, offline reading and sharing articles via Facebook, Twitter, Instapaper, e-mail etc.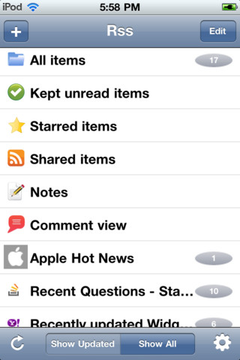 Power RSS Reader for iPhone
Top free RSS readers for Apple iOS
Feeddler RSS Reader for iPad and iPhone
Feeddler is one of the most popular and high rated Google Reader clients with an easy to use interface. It contains full feed management (add/delete/rename), article tagging, filtering, offline reading and much more. It is available for iPhones, iPod Touches, and iPads. Free version contains add banners.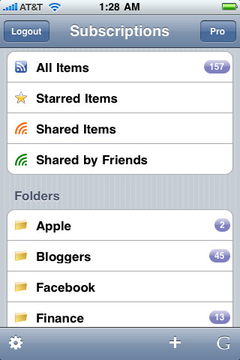 Feeddler RSS for iPhone
MobileRSS Free and MobileRSS HD Free
MobileRSS Free is able to sync all data from your Google Reader with your iPhone or iPad. You can read your subscribes offline, save images into Photos Album, star and share items on social networks. It is distributed in two separately versions for iPhone and iPad. iPad version is called MobileRSS HD Free and it is customized for size of iPad's LCD.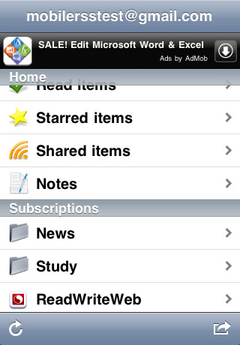 MobileRSS for iPhone
The Feed
The Feed is very easy to use Google Client designed specially for iPad. It contains only basic functions like synchronization, social networks sharing, starring and pinning. However it is all packaged in very nice visualized interface useful for comfortable reading of new articles in feeds.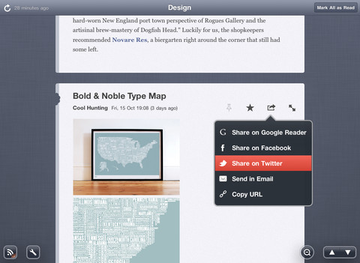 The Feed for iPad
NetNewsWire
NetNewsWire is popular Google Reader client for iPhone and iPad. NetNewsWire is distributed as a free with add banners. However you can buy Premium version without them. NetNewsWire is able to share feeds by posting links to Twitter or by sending email and save articles for later in Instapaper. It is also included web browser app.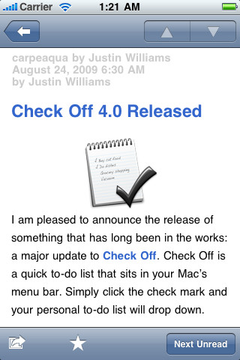 NetNewsWire