Google Reader has been discontinued. Check out these Google reader replacements and alternatives.
RSS
RSS is a very popular and quick way of publishing news, blogs, tech articles and other stuff over internet. These documents are shared via so called RSS feeds, which can be subscribed by users to their RSS readers so they never miss articles from their favorite feeds.

One of the most popular web based RSS Readers and Aggregators is Google Reader, that lets users synchronize their RSS feeds across all their computers and devices through Google Account. That means whatever device are you currently using, you will known which RSS feeds are new and which you already read.
While a lot of users prefer web apps for their RSS feeds, there are certain advantages for RSS desktop software, with the most dominant probably being to simply work offline. There are many programs that are able to download and sort your RSS feeds, but which one are the best?
In this article we will present some of the best and most popular RSS desktop programs which have the capability to synchronize with Google Reader.
Top RSS software for Windows
FeedDemon
FeedDemon is one of the most popular RSS reader for Windows. Of course it is able to synchronize with Google Reader, but also has nice sharing and searching capabilities. You can for example let the program alert you, whenever a keyword appear in feeds that you are not yet subscribed for. The program has really smooth and clean interface and is continuously improved and is actively supported. The default FeedDemon (Lite) free, with the minor drawback of small adds box. You can also purchase the Pro version that removes the adds and improves some of the features of the program.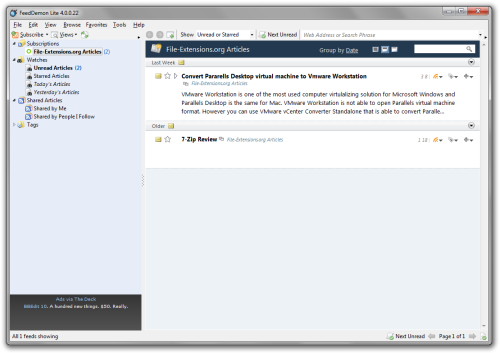 RSSOwl
RSSOwl is a completely free and fully-featured news feed reader. You can easily gather, organize and search news in its easy to use interface. It is capable to sync with Google Reader so no matter the computer you are on, you can always know which news you have already read. The program is continuously improved and more localizations are added. The great about RSSOwl is, that it is also available in versions for Linux and Mac OS X. So no matter on which type of computer you are, you can always use the same program with same functions.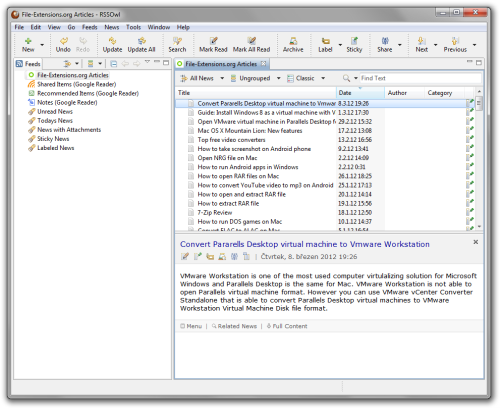 WebReader
WebReader is a really great, light-weight program written in Adobe AIR which offers everything you need for reading and managing of RSS articles. The app has really smooth Google Reader sync and allows various sorting, marking and sharing features you would expect from modern RSS agregator. What's more, it is available not only for desktops (Windows, Mac OS X and Linux), but also for iOS platform (iPhone and iPad), BlackBerry PlayBook as well as Amazon Kindle Fire and Android platform. That means you can use WebReader on almost any device or computer.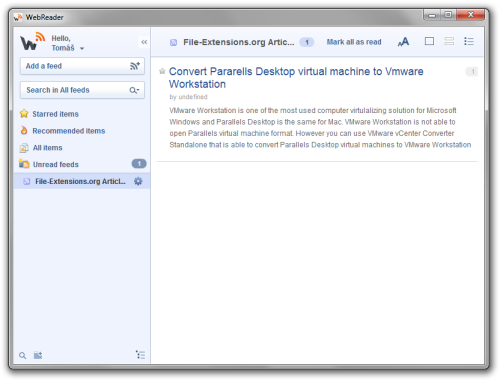 Top RSS software for Mac
Reeder
Reeder is awesome app for Mac OS X. It looks splendid, has really wonderful features and preview capabilities and is of course able to sync with Google Reader. Full support of gestures, customizable interface and shortcuts, Full Readability integration and so much more in this small program. Its only minor drawback is, that it is commercial app, but for someone who is using RSS frequently, it is definitely worth it. You can find Reeder on app store for 9,99$.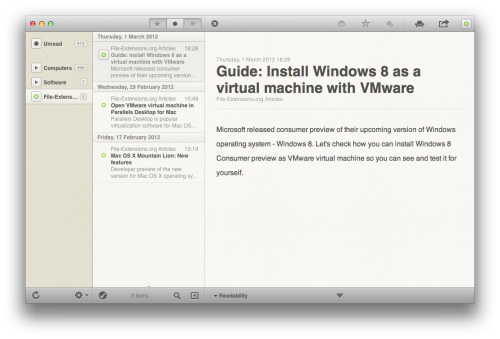 NetNewsWire
NetNewsWire is a free RSS/Atom reader for Mac OS X. It offers everything a modern RSS should with the great Mac look. Google Reader Sync, social network sharing possibilities, a lot of settings to customize to please different types of users, basically everything you should ever need while working with RSS. Its available for free to download, while you can buy a license to remove ads window that support the developer of the program. What is really great, is that the app is also available for your iPad and iPhone devices.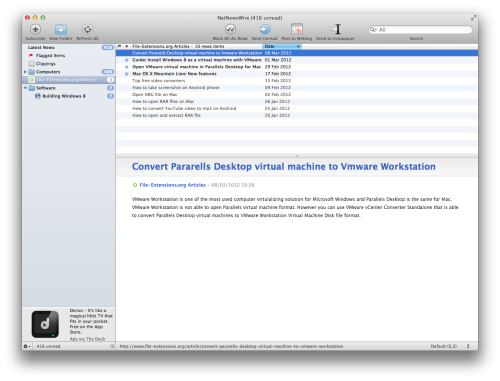 Cappuccino
Cappuccino is a new light-weight RSS Google Reader client for Mac OS X. It is a nice clean app, however it lacks keyboard shortcut support. The program works flawlessly with Google Reader. Overall its nice completely free app and definitely worth a try.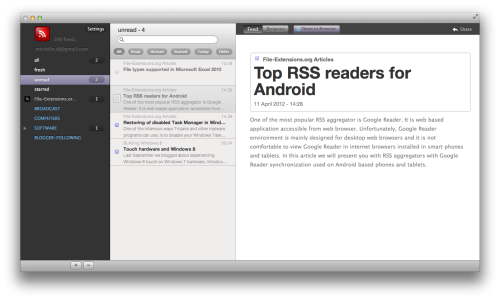 Top RSS software for Linux
Liferea
Liferea is a popular open-source RSS aggregator for Linux. It fully supports Google Reader and TinyTinyRSS synchronization. It also offers off-line mode to read articles without the need to be continuously connected. Liferea is constantly improved and should work on most Linux distributions (Debian, Ubuntu, Red Hat, Fedora, SUSE, Gentoo, Mandriva, Zenwalk), but also works on Unix Derivates such as FreeBSD or Solaris. It is probably one of the best Linux-only RSS readers and aggregators.