Google Reader has been discontinued. Check out these Google reader replacements and alternatives.
RSS, Google Reader

RSS (Really Simple Syndication) is standardized XML web feed format used to publish updates on webs, blogs, social networks etc. RSS feed contains title, authorship, publishing date and other metadata.
RSS feeds can be stored in applications called RSS readers or RSS aggregators. Simple RSS readers are often integrated in web browsers, however readers with advanced features are desktop or web based standalone applications.
One of the most popular RSS aggregator is Google Reader. It is web based application accessible from web browser. Unfortunately, Google Reader environment is mainly designed for desktop web browsers and it is not comfortable to view Google Reader in internet browsers installed in smart phones and tablets. However there are many third party RSS readers that are able to sync with your Google Reader account and comfortable view your web feeds on portable device.
In this article we will present you with RSS aggregators with Google Reader synchronization used on Android based phones and tablets.
Top RSS readers for Google Android
Developers of Android apps use different business model that is used on other platforms. Commonly they offer two versions of the same application, one free version with Google ads and one commercial without them.
gReader and gReader Pro
gReader is one of the most downloaded Google Reader client for Android. It contains very intuitive interface, themes, folders/tag support, offline reading, starring, sharing, widgets on home screen and others. Paid gReader Pro is ad free. Both versions are compatible with Android tablets (Android 3 Honeycomb).



gReader on Samsung Galaxy Tab
FeedR News Reader and FeedR Free
FeedR can be used as stand alone RSS Reader, or sync with Google Reader client. It is able to search for RSS feeds, offline reading with pictures, full screen view, backup and restore data on SD card. Also contains widgets for home screen that can be configured to rotate through selected feeds. The Free version contains Google ad banners.



FeedR News Reader on Samsung Galaxy Tab
D7 Google Reader and D7 Google Reader Pro
D7 Google Reader is fast Google Reader client compatible with Android for mobile devices as well as with Android tablets (Honeycomb, Ice Cream Sandwich). It can access to Google Reader feed list, read and manage articles, share them on popular social networks, such as Google+, Facebook, Twitter etc. It can also support podcasts. The Pro version is ad-free, faster and has less memory footage.



D7 Google Reader on Samsung Galaxy Tab
Reader HD and Reader HD Free
Reader HD is Google Client only for tablets with Google Android Honeycomb and Ice Cream Sandwich. Its interface uses high resolution of tablet displays and Android tablet application interface. It is very easy to use and contains all Google Reader features, offline reading, auto update, image gallery, subscription management etc. Free version contains all features, but also ad banners.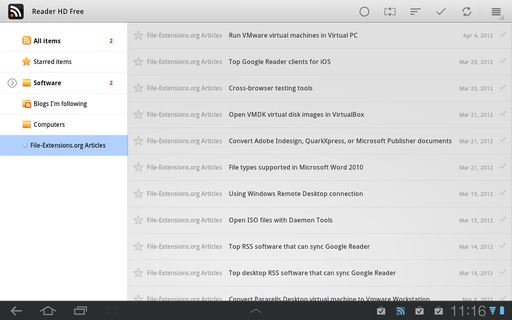 Reader HD on Samsung Galaxy Tab
GoodNews and GoodNews Pro
GoodNews is news reader (RSS/Atom) and audio podcast player, which fully synchronizes with the Google Reader. It is full compatible with Android 4 Ice Cream Sandwich. It is able to use push notifications for alerting about new articles, offline reading including pictures, adaptive live streaming etc. Purchased GoodNews Pro license remove ads.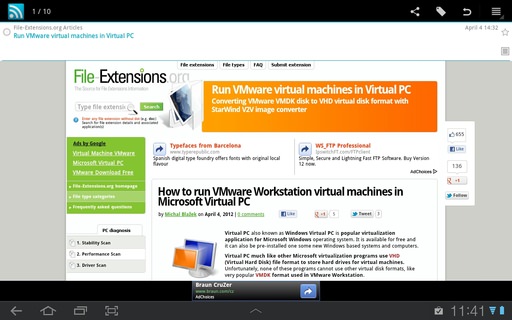 GoodNews on Samsung Galaxy Tab
Google Reader official client
Google also develops official Google Reader application for Android system. The interface is very similar to web based version. However it is adapted for tablets and mobile phones. It contains all other features like sorting, starring, pining, sharing. Google Reader client is available only for free without Google ads.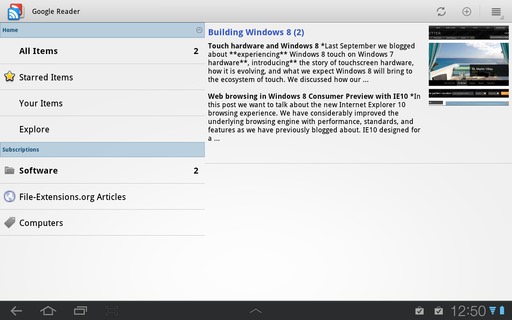 Google Reader Official on Samsung Galaxy Tab