TIP: How to open and covert DjVu documents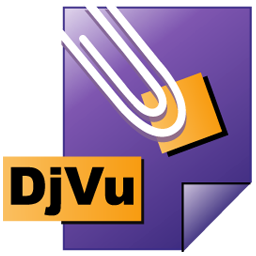 Sometimes you can find documents on internet in really uncommon file formats, or a colleague did send you document in a strange format and you have really no idea how to open it. One of such formats is DjVu.
DjVu is a web-centric format designed to store scanned documents. It works similar to PDF and its one of the few alternatives available. Its greatest advantage is that it produces documents that have generally small sizes.
In this article we will show you how you can easily open *.djvu files on your computers or even mobile devices, as well as ways how to convert it to another format.
How to open DjVu documents
To open DJVU format you need to install special viewer. Although you can find many programs on internet that can open DjVu documents, the safest and cheapest way is to install the one provided by the developers of DjVu format.
DjVuLibre is a standalone viewer as well as plugin for most web browsers that allows you to view and work with *.djvu files on every desktop platform. It is available not only for Windows, but also for Mac OS X, Unix, Linux distributions and even for OS/2.
You can download it for free on DjVuLibre Website for your preferred platform.
Once installed, the program is automatically associated with both DJVU and DJV file extensions so double clicking on any DjVu document should open it in the viewer. The great thing about DjVuLibre is also that it has native function of exporting DJVU format to other document formats or images, thus working as reliable DjVu converter.
How to convert DJVU format
You can easily export DJVU format with DjVulibre and convert it to another format. Currently the program is able to export DjVu documents to PDF or Postscript documents, or convert them to one of the common image formats, including PDF, JPG or TIFF. It even supports such rare formats as XBM or PPM.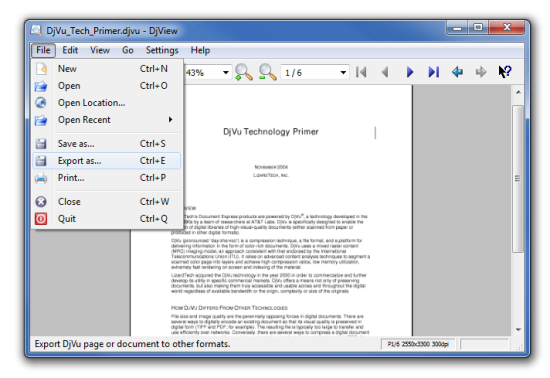 Exporting DjVu documents to other formats.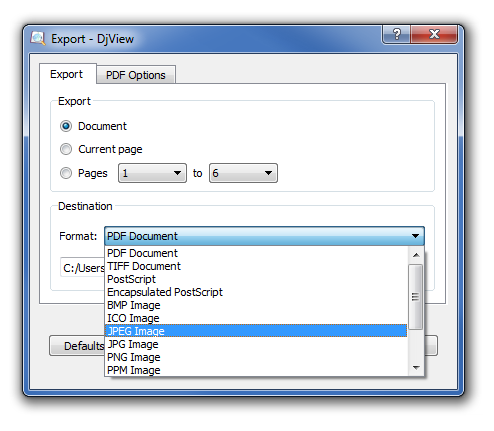 Changing export settings in DjVuLibre.
How to open DjVu files on mobile platforms
The support for DjVu format on mobile platforms is somewhat scarce. However, there is always at least one app on every platform, that you can use to view your *.djvu files directly on your smartphone or tablet.
eDjvu for Windows Phone 7 — app which allows users to view DJVU documents located on Skydrive
VuDroid for Android — free app with which you are able to view both DJVU and PDF documents
DjVu Viewer for iOS — very fast DjVu viewer for Apple iPhone, iPad and iPad devices
Alt Reader for Symbian — simple yet intuitive DjVu and PDF reader for Symbian devices