TIP: Amazon Kindle e-book readers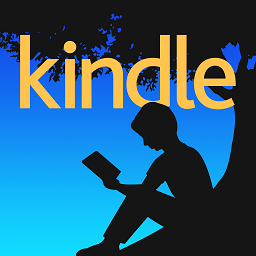 Reading digital books instead of "old school" paper ones is more and more common nowadays. All portable devices now can act as an e-book reader with proper app, but you can also buy devices that are specifically designed for reading.
The most popular e-book reading device today is Amazon Kindle. It is owned by millions of users around the world and evolved from a simple handheld reader to something more.
This article focuses a bit about the history of Kindle family, as well as the overview of current models and touches also the subject of digital publication formats supported by these Amazon devices.
Amazon Kindle devices
Amazon Kindle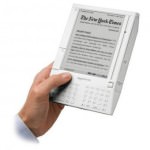 Kindle is a family of e-book readers first introduced in 2007. Since then it has made a huge leap in both hardware and software capabilities. Since then, it made a huge leap not just in design, but also in its hardware and especially functions and features.
The latest devices from this platform not only read e-books, but also allow users to shop and download their Kindle books, read newspapers, magazines and other digital media via wireless networking.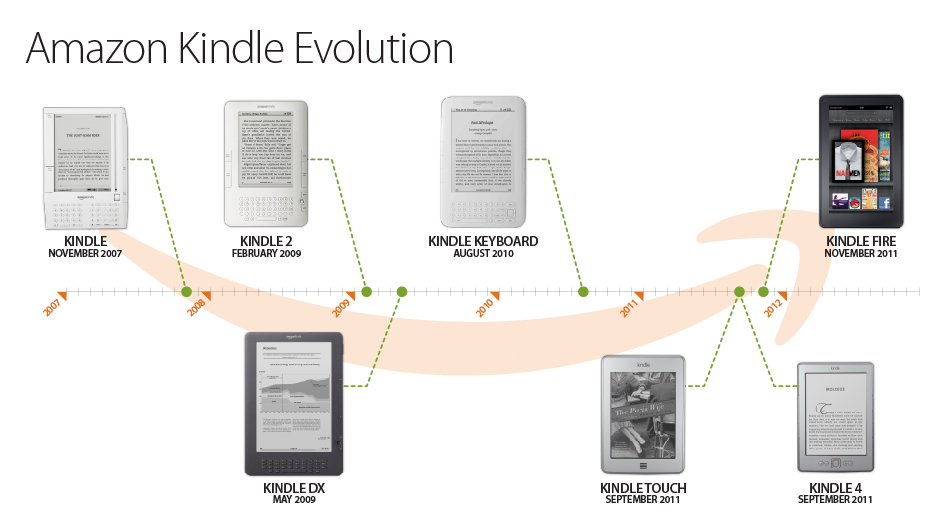 History and evolution of early models of Amazon Kindle

The last incarnation of Kindle is the fifth-generation Kindle, that followed after the fairly successful Kindle Keyboard, Kindle Basic and Kindle Touch devices. It is the lightest of all Kindles with only 170g (5.98 oz) that comes in both ad and ad-free versions.
The success of these handy little readers prompted Amazon to create alternate devices with even more features.
Kindle Fire
After the huge success of Kindle, Amazon announced and later launched an Android-based tablet called Kindle Fire.
Family of these products includes the original Kindle Fire, the later Kindle Fire HD and latest Kindle Fire HDX.
The third generation Kindle Fire HDX is a fully-featured tabled based on Qualcomm Snapdragon 800 Quad-core. It features Fire OS 3 operating system, which is a fork of Android 4.2.2. The difference between Fire OS and original Android, is that Kindle Fire has no access to Google Play, which means rather limited app selection for users. Another annoying thing is that users have to pay extra 15$ to remove ads.
But on hardware level, it is comparable to any top end tablet on the market. Kindle Fire HDX comes in two versions, one smaller 7" (1920 x 1200) and one larger with 8,9" (2560 x 1600). It actually features one of the best displays with its screen having high color accuracy and high pixel density at 339 PPI, and as of early 2013 was one of the highest of tablet devices commercially available.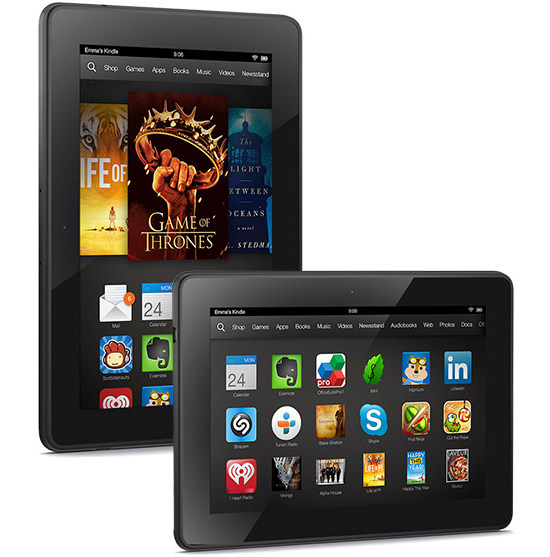 Kindle Paperwhite
Kindle Paperwhite is the successor of Kindle. It's not a tablet, just a reader and it is specially designed for the best reading experience.
That means the display has higher contrast, next gen lightning and of course better hardware, so the pages load smooth and fast and the touch screen responds accurately.
The latest generation of Kinde Paperwhite was released in late 2013 and features a higher contrast E Ink Carta display technology, improved LED illumination, 25% faster processor has the same 6" screen with 212 PPI and bezel as the original Paperwhite.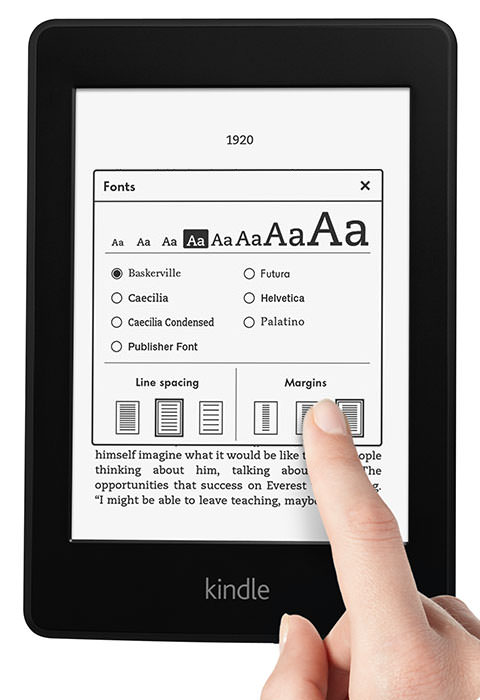 Kindle on other devices
You are of course not limited only to the devices sold by Amazon. You can turn any mobile device or even desktop computer to an e-book reader, and read your Kindle ebooks there. There is also the option to read Kindle digital publications right in the web browser on your computer with Kindle Cloud Reader.
Amazon provides apps for almost any, if not any modern platforms, including iOS, Android or Windows Mobile. You can download them from Amazon website for free.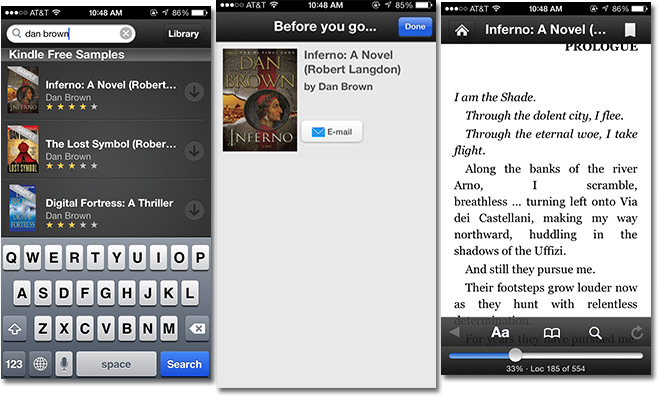 Amazon Kindle app for iOS (iPhone)
Amazon Kindle digital books
Amazon e-books
Amazon is the world's largest online retailer so of course it also offers more than two millions of e-books for sale in Kindle Store that can be purchased and downloaded for use in Kindle.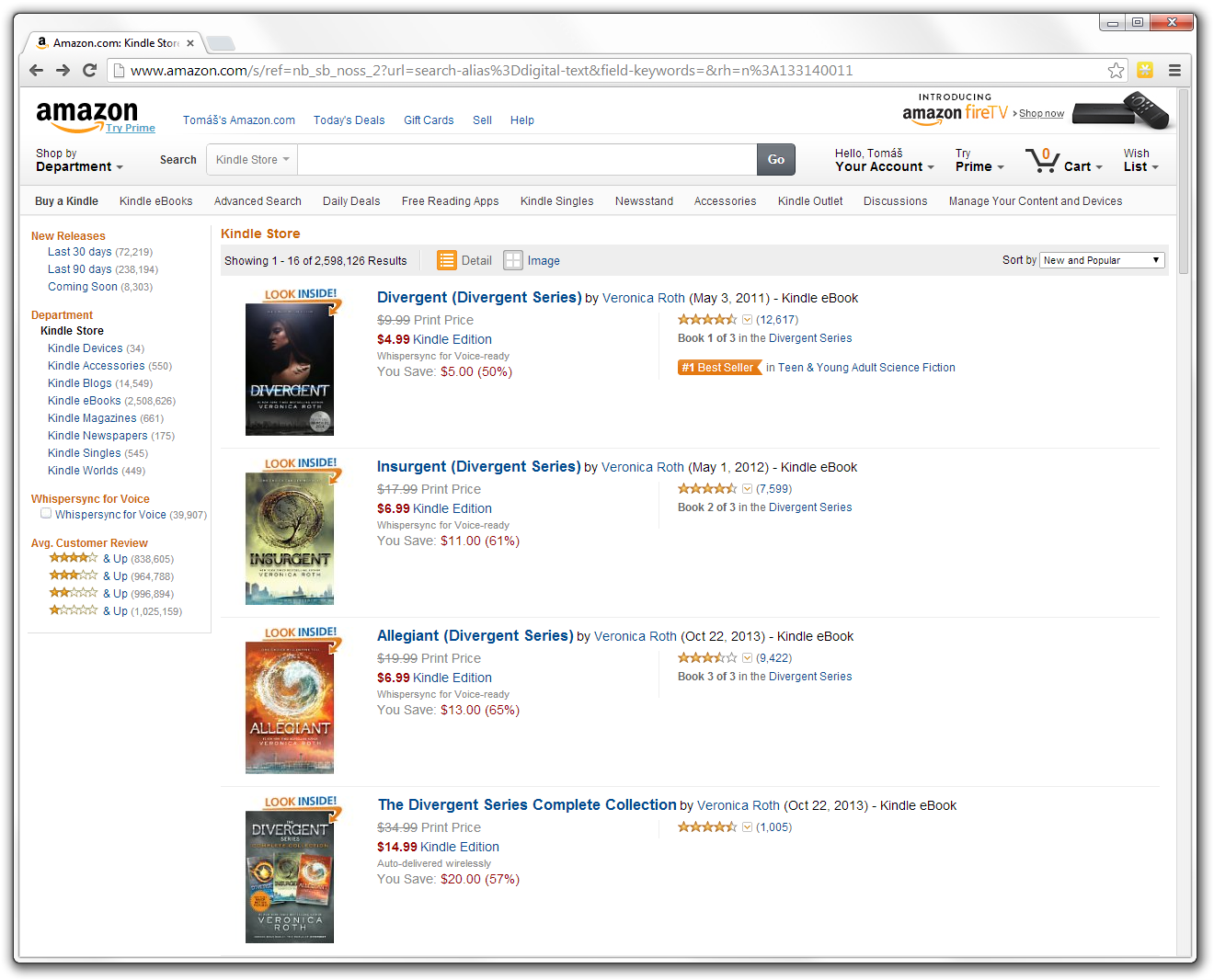 Amazon Kindle Store in web browser

If a book exists in digital form, you can be damn sure you can find it there. Thousands of books are also available for free. You might also find other websites with free digital books that you can download and use in Kindle.
You can also check another of our articles that lists Top websites to download free e-books.
Kindle digital formats
Kindle does not support the common and widespread EPUB format. It uses only its own, proprietary AZW and KF8 formats, which are like ePUB reflowable and support richly formatted content, but also contain DRM restrictions.
The fourth and fifth generation Kindles, Kindle Touch, Kindle Touch 3G, and Kindle Paperwhite can display AZW, TXT, PDF, unprotected MOBI, and PRC files natively. HTML, DOC, DOCX, JPEG, GIF, PNG, and BMP are usable through conversion. Amazon offers this conversion via e-mail based mechanism which costs 0,15$ per MB, or can be done for free using wireless network.
But do not despair, you can generally very easily convert EPUB and other digital publication formats to AZW and load the to Kindle device via USB.
We have already written an article about this subject so should you ever be in need of this, you can always find it on our website and learn How e-books might be converted to Kindle format.