Home > Corel Corporation
File extension list filtered by software name
Corel WordPerfect Office
Found 223 file extension associations related to Corel WordPerfect Office and 207 file formats developed specifically for use with Corel WordPerfect Office.
Platform, operating system:
Microsoft Windows
Go to: Corel WordPerfect Office description
Corel WordPerfect Office website
Developer: Corel Corporation
Corel software list & details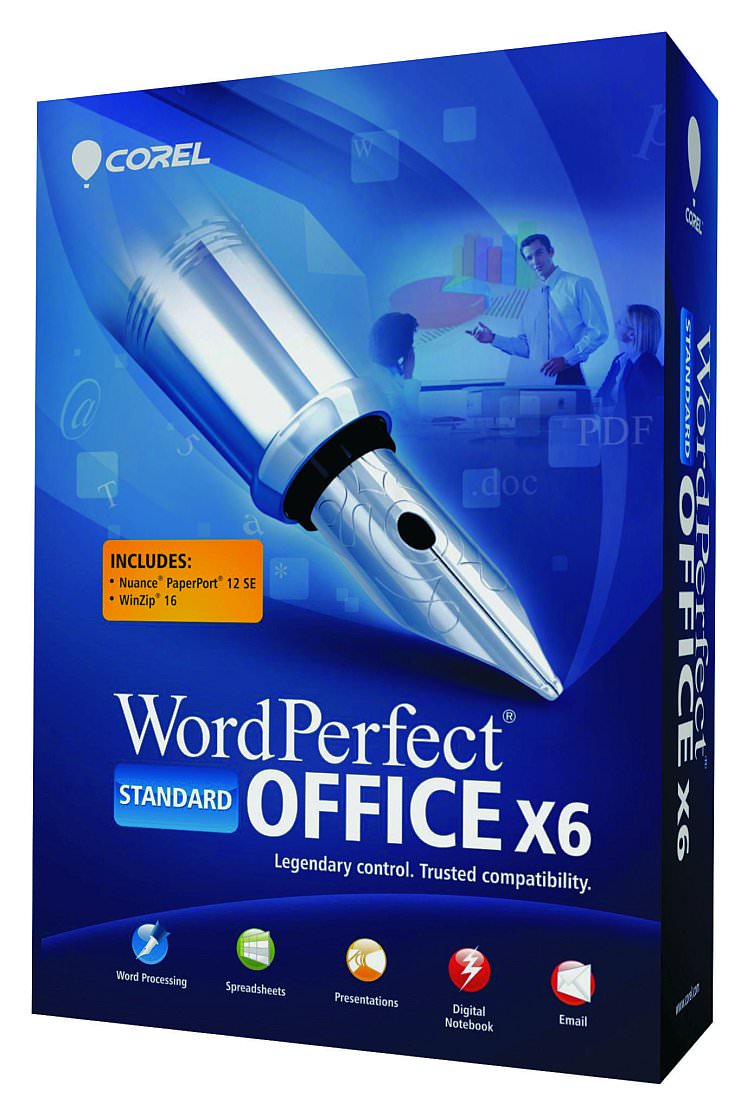 Corel WordPerfect Office
Developer / company: Corel
Do more online and off with WordPerfect Office X6 — productivity software that adapts to the way you work best. Connecting you with new technologies that help you work more collaboratively, it brings all your office tools and resources together. Classic word processing power and control. Reliable compatibility with more than 60 file formats, including Microsoft Office. New SharePoint Server support. A newly integrated email client and calendar. Plus, more of the PDF tools that set WordPerfect Office apart from every other office suite, including PDF annotation. It's the total productivity software package.
New and enhanced features:
PDF tools – create, mark up and share PDFs right from the suite
SharePoint Server – connect as a group to collaborate efficiently
Web services – automatically update documents with data from the Web
Integrated Thunderbird® email – manage email, contacts and appointments
Digital notebook – take notes, and reuse text and graphics from any source
Redesigned Help system – quickly find answers and resources
Windows® 7 support – work with Microsoft's latest operating system
What's Included
WordPerfect Office X6 blends the latest leading-edge office software with classic WordPerfect features. Continuing to rival Microsoft Office as one of the most powerful office suites on the market, it offers greater document control, more collaboration tools and better overall value.
WordPerfect X6 – Word Processing
Do more with documents
Easily create professional-looking documents, letters, labels, fax cover sheets, brochures, reports, resumes and more
Enjoy hassle-free formatting with the unique Reveal Codes feature
Open, edit and save Microsoft® Word files, including the latest OOXML (.docx) files
Quattro Pro X6 – Spreadsheets
Easily manage your numbers
Create budgets, invoices, receipts and expense reports
Organize, analyze and share data for better decision making
Open, edit and save Microsoft® Excel® files, including the latest OOXML (.xlsx) files
Presentations X6 – Slideshows and Presentations
Strengthen your visual impact
Create compelling slideshows, proposals, demonstrations and interactive reports
Easily edit pictures, create charts and diagrams, and share content with others
Open, edit and save Microsoft® PowerPoint® files, including the latest OOXML (.pptx) files
Nuance PaperPort 12 SE – Document Scanning, Imaging and Management
Organize, scan and share your documents
Manage all of your documents from your desktop
Scan, organize, find and share documents and photos
View and annotate PDF documents
Mozilla Thunderbird for WordPerfect Office – Email Management
Manage your email and your schedule
Enjoy an easy-to-use email client with advanced search capabilities
Manage email from other sources, like Gmail™, all from one inbox
Easily access your Thunderbird contacts in your WordPerfect Address Book
Manage your schedule and stay organized with an integrated calendar application
Corel WordPerfect Lightning – Digital Notebook
Collect information, images and ideas
Turn your office software into a central hub for research and collaboration
Take notes and gather information from the Web, email, documents and other sources
More office software and resources:
900+ TrueType fonts, 8,000+ clipart images, 200+ templates, 175+ digital photos
The Pocket Oxford English Dictionary
WordPerfect Address Book and contact manager
WordPerfect OfficeReady template browser
WordPerfect XML Project Designer
Batch Conversion Utility to convert Microsoft® Word documents to WordPerfect documents
Corel WordPerfect Office icon


Corel WordPerfect Office icon
size: 128px x 128px (.png with transparency)

Corel WordPerfect Office works with the following file extensions:
Note: You can click on any file extension link from the list below, to view its detailed information. The list of extensions used or otherwise associated with the application may not be complete, because many common file extensions on our website, such as jpg (pictures) or txt (text files), can be opened by a large number of applications, or are too general file format. However most, if not all directly associated file extensions should be listed with its appropriate program. Although its likely, that some file extensions may be missing from the list of associated file extensions with the application, yet they can be opened, be part of, or otherwise be associated with the program.
Corel WordPerfect Office default file extension associations
The most common file format used with the specific file extension

.wpd file extension is used for Corel WordPerfect document file
Other file extensions or file formats developed for use with Corel WordPerfect Office

.?rs

.abx

.all
.alt

.ars

.ast

.bak

.bif
.bk!

.bk1

.bk2
.bk3
.bk5

.bk6

.bk7
.bk8

.bk9

.blk

.bv1
.bv2

.bv3

.bv4
.bv5

.bv6

.bv6
.bv7
.bv8
.bv9

.cbd
.ccc

.chk

.chs

.clp

.cmx

.cnv

.con

.crs

.csw

.db
.dbq

.df

.drs
.dsr
.eeb

.env

.eqn

.f

.fdl

.feb

.fil

.flf
.fmb

.frs

.fsl

.fx

.fx2
.g

.hst

.hwl

.hyc

.hyd

.ins

.irs

.ix

.ix2

.lab

.lcn
.ld

.ldl

.lnm
.lrs
.lsl
.mb

.meb

.med

.mem

.meq
.mer
.mes
.met

.mex

.mpm
.mrs

.mst

.mu

.mxe

.nb
.note

.pd

.pdx

.peb

.ped
.pem

.peq
.per

.pes

.pet

.pfc

.pft

.ppb

.pqf

.pqw

.prs

.prt

.px

.qad

.qpw

.qrs

.r
.rdl

.rsl

.s02
.s03
.sc
.sdl

.shb
.shm

.shw

.som

.som
.sor

.spc

.spm

.spn
.sup

.ths

.tmf

.trn

.tst

.tv
.tv1

.tv2
.tv3

.tv4

.tv5

.tv6
.tv7
.tv8

.tv9

.uif
.uwl

.val
.vrm

.vrs

.w60
.w61

.wb0

.wb1

.wb2
.wb3

.wb?

.wbk

.wcd

.wch

.wcm

.wcp
.wkb
.wkq
.wp
.wp5
.wp7

.wp?

.wpc

.wpf

.wpg2

.wpk
.wpm
.wpp
.wpt

.wpw

.wq0
.wq1
.wq2

.wrs

.wwb

.wwk

.x01

.x02

.x03

.x04

.x05
.x06
.x07
.x08

.x09
.xg0

.xg1

.xg2
.xg3

.xg4

.xg5

.y01

.y02

.y03
.y04

.y05

.y06

.y07

.y08
.y09

.yg0
.yg1
.yg2
.yg3
.yg4

.{pb
Common file extensions used by Corel WordPerfect Office
Other file extensions associated with Corel WordPerfect Office