Introduction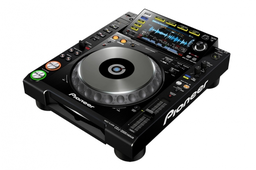 Nowadays the creating of your own DJ mix is much more easier than it was a few years ago. In the past mix producing was a domain of professional DJs with expensive audio devices, software (like Apple Final Cut Pro) and recording studio. Now there are audio mixing applications available on the market that work on standard computers so even common users can make their own DJ mixes only with computer.
There exist two types of mixing software: specialized multitrack audio editors, and DJ software for live performance.
Content:
Multitrack audio editing software
Multitrack editors are similar to classic audio editing software. You will prepare your tracks, set track transitions, effects, tracks tempos, and after you picked up all details export the final mix to any popular audio format (MP3, WMA, AAC), or burn it as audio CD. Multitracks are not recommended for live performance. However mixes from this software can be more smoother than from live performance apps.
MixMeister Studio
MixMeister Studio is the DJ sequencer similar to DAW (digital audio workstation) used to produce DJ mixes beyond traditional mixing and blending. It can be also used to create remixes. It is able to mix up to eight songs simultaneously and contains various features, like intelligent looping, ability to overlay samples and sound effects.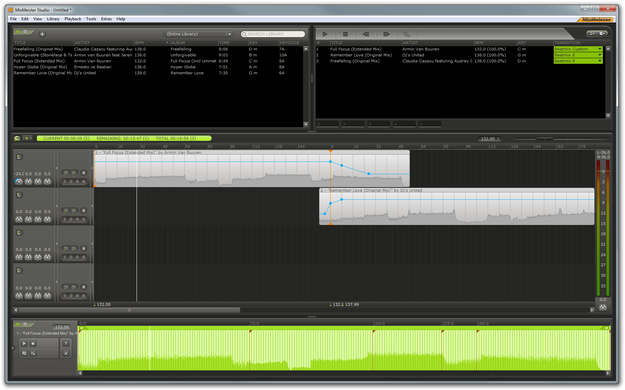 MixMeister Studio main screen

MixMeister Studio can be connected with various MIDI hardware controllers. Complete mixes can be exported in popular MP3 audio format or burned with integrated burning tools to an audio CD. The program is available for Microsoft Windows and Mac OS X operating systems.
Ableton Live
Ableton Live is a loop-based music sequencer and professional digital audio workstation (DAW) for Microsoft Windows and Mac OS X that can be used to create DJ mixes as well as it is also tool for composing, recording, arranging and mastering music.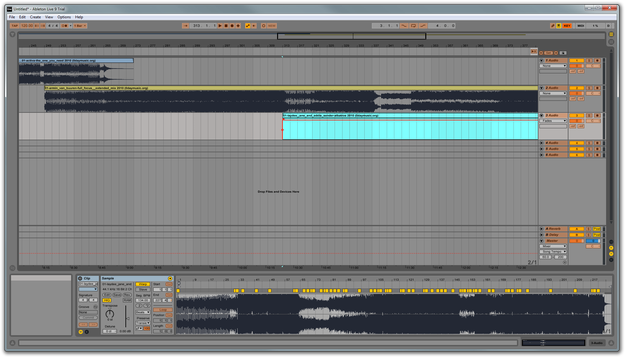 Ableton Live main screen

It is very popular amongst DJs and producers for its live performance capabilities like beatmixing, beatmatching, crossfading and other additional live performance effects. It can be controlled by iPad application through WiFi (touchAble app in App Store).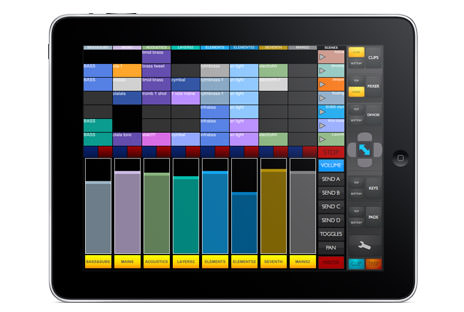 touchAble for iPad

Ableton Live works with common digital effects, like Chorus, Compressor, Flanger, Phaser, Reverb etc. and also supports add-ons. Various add-ons are pre-installed in Ableton Live and many more are available to download on the Internet.
Live performance DJ software
Live performance DJ software is more similar to playing on DJs turntables like Technics 1210 series, or CD players like Pioneer CDJ series and now is also popular amongst professional DJs, because they can go to stage only with notebook and control software with DJ consoles, MIDI controllers, or iPad.
In DJ software you can prepare your tracks for virtual DJ players and make live performance with mixer, effects, transitions etc. This performance can be recorded, finished in classic audio editing software and exported as an audio track.
VirtualDJ (VDJ)
VirtualDJ os a live performance audio and video mixing app for Windows and Mac. It is popular amongst DJs because it can be controlled by various MIDI controllers, DJ mixers, CDJs, or turntables (vinyl emulation). VDJ contains BeatLock engine for better BPM (beats per minute) speed recognition, beat-matched crossfading, synchronized sampler, VST effects, scratch simulation, mix recording and many more.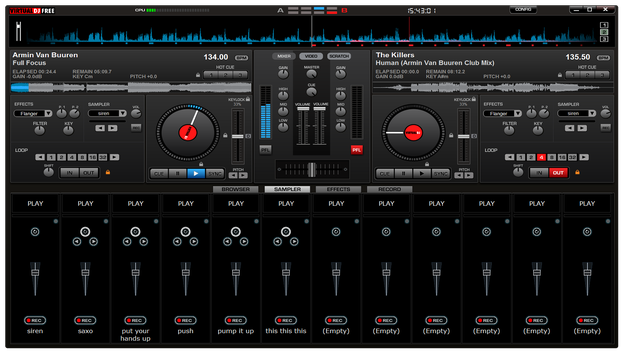 VirtualDJ main screen

VirtualDJ is available in four distributions, which one called Home is available for free using with some limitations.
Traktor Pro
Traktor is one of the oldest DJ live performance software on the market. It was released in 2000 as Traktor DJ Studio. Later was renamed to Traktor Pro. It is available for Microsoft Windows and Mac OS X.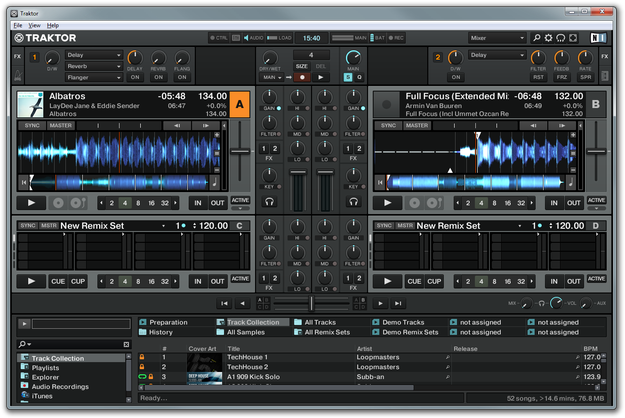 Traktor Pro main screen

Traktor Pro contains various features for live performance like seamless looping, effects, advanced beat detection, automatic synchronization of tracks, filters developed by Allen & Heath and many more.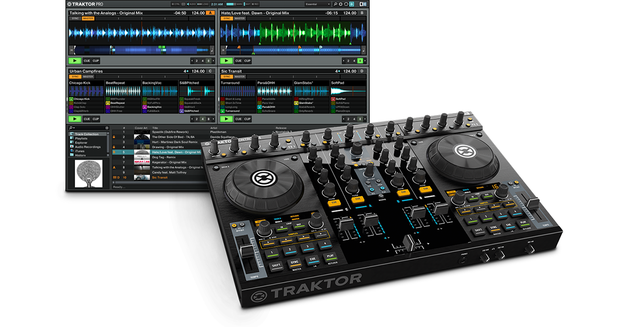 Traktor Kontrol S4
Native Instruments developer of Traktor released various controllers and interfaces for Traktor. Controllers are called Traktor Kontrol and interfaces Traktor Audio.