Do you want to create MP4 videos from your MKVs so you can save up some space ? Or because your mobile device does not support MKV file format, but is capable of playing MP4s? No problem at all. We can show you, how you can easily and free convert your .mkv files to .mp4 files.
Any Video Converter
Any Video Converter is a completely free video converting software for Windows that supports a large number of file formats. It is also capable of converting your .mkv files to .mp4 files.
Converting MKV to MP4 with Any Video Converter
Simply download the software from its website (don't worry its free), install it and launch it and follow these few simple steps:
Select your MKVs with the Add Video button
Select the MP4 output format in the top right box
And finally click on the Convert button to start the conversion of your MKV files to MP4 files.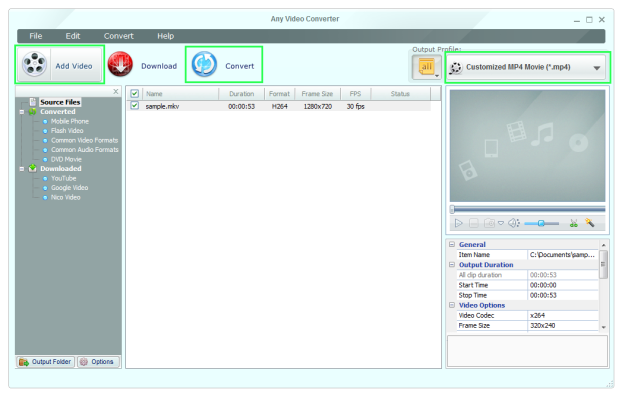 Any Video Converter screenshot. Click on the image to enlarge it.

And that's it. After the conversion is finished, your new MP4 files will be located in the default output folder Documents/Any Video Converter.
TIP: You can change the default output folder in the File → Set Output Folder... option.