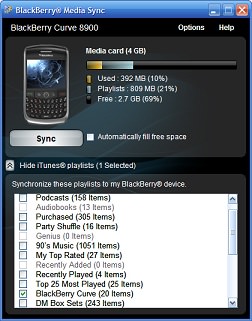 BlackBerry smartphones usually come with dozens of ringtones, but what if you want to have your favorite MP3 or MP4 song used as ringtone in your BlackBerry device?
In this little guide, we will show you, how to get your favorite MP3 or MP4 ringtone to your smartphone.
How to send ringtones to BlackBerry device using BlackBerry Media Sync?
First thing you need to do, if you already haven't, is to download and install the Blackberry Media Sync software from Research in Motion BlackBerry website.
Once the Media Sync is installed it, launch it and connect your BlackBerry device.
Select the Music tab and choose the ringtones you want to add to your BlackBerry device.
Click on Sync Music and the application will send the ringtones to your BlackBerry.


How to send ringtones to BlackBerry using Bluetooth?
First thing y ou need to do, is to enable the Bluetooth in your BlackBerry device and pair it with another Bluetooth device.
You can turn on Bluetooth in your Blackberry by selecting Manage Connections → Bluetooth → Set Up Bluetooth and with the Search function find and pair it with another device (you will probably need to type in passwords to connect the devices).
Once the devices are paired, go to the Media → Ring Tone folder, press Menu button and select the Receive using Bluetooth option.
Send the ringtone from the other device to your BlackBerry and it will be saved in your Ring Tone folder.