Home > Apps > Microsoft Windows
File extension list filtered by software name
Dragon UnPACKer
Found 131 file extension associations related to Dragon UnPACKer and 17 file formats developed specifically for use with Dragon UnPACKer.
Platform, operating system:
Microsoft Windows
Go to: Dragon UnPACKer description
Developer: Alexandre Devilliers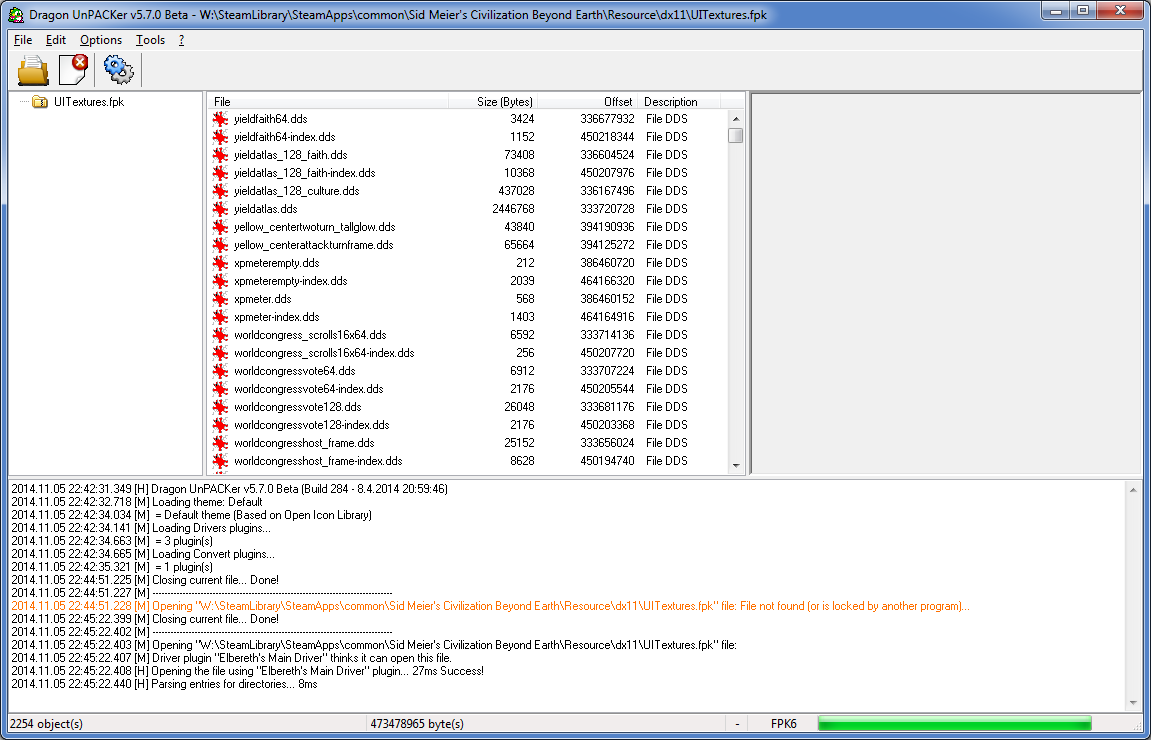 Dragon UnPACKer
Developer / company: Alexandre Devilliers
Dragon UnPACKer is a game archive (Quake PAK, etc..) unpacking tool. It is plugin based making easier to add new archive file formats. It has a convert ability and raw search function for known material (audio, video and pictures).

Dragon UnPACKer gives you the possibility to see into the big files in games like Quake, Unreal ...etc and extract files to anywhere you want easily with option to convert some formats to more common formats.
Dragon UnPACKer also contains a tool called HyperRipper, which allows users to search for known patterns (texture, sounds, music) in unknown file formats.
Dragon UnPACKer icon


Dragon UnPACKer icon
size: 128px x 128px (.png with transparency)
Search converter
Sample related conversions

Dragon UnPACKer works with the following file extensions:
Note: You can click on any file extension link from the list below, to view its detailed information. The list of extensions used or otherwise associated with the application may not be complete, because many common file extensions on our website, such as jpg (pictures) or txt (text files), can be opened by a large number of applications, or are too general file format. However most, if not all directly associated file extensions should be listed with its appropriate program. Although its likely, that some file extensions may be missing from the list of associated file extensions with the application, yet they can be opened, be part of, or otherwise be associated with the program.
Dragon UnPACKer default file extension associations
The most common file formats used with the specific file extensions

.big file extension is used for Electronic Arts game resource package

.dat file extension is used for Game data

.pak file extension is used for Game resource package file
Other file extensions or file formats developed for use with Dragon UnPACKer

.bsa

.crf

.d5c

.d5d

.d5p

.dwfb

.hrf

.mat

.mtf

.pck

.pk3

.ums

.vol

.zip
Common file extensions used by Dragon UnPACKer
Other file extensions associated with Dragon UnPACKer

.007

.a

.abz

.adf

.arch00

.arf

.arh

.art

.bag

.bar

.bif

.bin

.bkf

.bnd

.bnt

.bos

.box

.box

.bun

.ccx

.cnt

.cpr

.csc

.ctp

.data

.dir

.dir

.dni

.drs

.dta

.erf

.far

.fbz

.ff

.ffl

.flmod

.fpk

.gjd

.gob

.gro

.gzp

.hal

.hog

.hpi

.img

.iwd

.jam

.lug

.lzp

.m4b

.mgz

.mix

.mn3

.mob

.nob

.opk

.pac

.pff

.pk1

.pk2

.pkr

.pod

.pod

.pod

.pod

.prm

.psh

.rbz

.rez

.rfa

.rfd

.rod

.rvi

.rvm

.rvr

.rvs

.sab

.sad

.sak

.scs

.sdt

.sfl

.sin

.slf

.sni

.sqh

.stuff

.sxt

.syn

.syn

.tex

.tex

.texturepack

.tlk

.ufo

.umx

.utx

.vfs

.vl2

.vp
.wad

.wad

.x13

.xcr

.xrs

.xwc

.za

.zfs

.zipfs

.zipfs

.ztd