Home > Microsoft Corporation
File extension list filtered by software name
Microsoft Expression Web
Found 117 file extension associations related to Microsoft Expression Web and 111 file formats developed specifically for use with Microsoft Expression Web.
Platform, operating system:
Microsoft Windows
Go to: Microsoft Expression Web description
Microsoft Expression Web website
Developer: Microsoft Corporation
Microsoft software list & details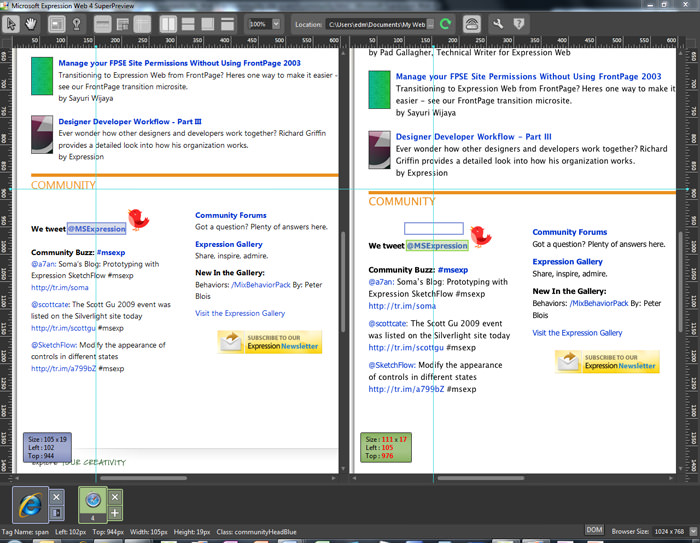 Microsoft Expression Web
Developer / company: Microsoft
Expression Web is now available as a free download from the Microsoft Download Center, and no new versions will be developed.
Microsoft Expression Web is a HTML editor and general web design tool developed by Microsoft and sold as part of Microsoft Expression Studio Web and Studio Ultimate suites. Expression Web can design and develop web pages using XML, CSS 2.1, ASP.NET or ASP.NET AJAX, XHTML, XSLT, PHP and JavaScript.
Main Features:
Create standards-based Web sites faster & easier
Professional code editor & design surface
Make your site stand out with rich graphics support
Work with leading industry-standard technologies
The Microsoft Expression Web software seems to be old or discontinued.
Such programs may not work on modern operating systems properly, are no longer available and supported by their original developers, or are simply obsolete for their purpose. Sometimes companies offer limited support through their website.
Microsoft Expression Web icon


Microsoft Expression Web icon
size: 128px x 128px (.png with transparency)

Microsoft Expression Web works with the following file extensions:
Note: You can click on any file extension link from the list below, to view its detailed information. The list of extensions used or otherwise associated with the application may not be complete, because many common file extensions on our website, such as jpg (pictures) or txt (text files), can be opened by a large number of applications, or are too general file format. However most, if not all directly associated file extensions should be listed with its appropriate program. Although its likely, that some file extensions may be missing from the list of associated file extensions with the application, yet they can be opened, be part of, or otherwise be associated with the program.
Microsoft Expression Web default file extension associations

.exprwdasax

.exprwdasmx

.exprwdbot

.exprwdconfig

.exprwdcss

.exprwddoclib

.exprwdedited

.exprwdhomeop

.exprwdhomepg

.exprwdhtml

.exprwdhtt

.exprwdjs

.exprwdlinkbar

.exprwdlist

.exprwdlistdata

.exprwdmaster

.exprwdnav

.exprwdnopub

.exprwdopen

.exprwdpiclib

.exprwdresx

.exprwdshtm

.exprwdshtml

.exprwdsitemap

.exprwdskin

.exprwdstm

.exprwdsurvey

.exprwdtheme

.exprwdtxt

.exprwdunknown

.exprwdweb

.exprwdwfdoclib

.exprwdxml

.exprwdxoml

.exprwdxsl

.exprwdxslt

.install

.module

.php6

.xadd

.xweb3asax

.xweb3asmx

.xweb3bot

.xweb3config

.xweb3css

.xweb3doclib

.xweb3edited

.xweb3homeop

.xweb3homepg

.xweb3htm

.xweb3html

.xweb3htt

.xweb3js

.xweb3linkbar

.xweb3list

.xweb3listdata

.xweb3master

.xweb3nav

.xweb3nopub

.xweb3open

.xweb3piclib

.xweb3resx

.xweb3shtm

.xweb3shtml

.xweb3sitemap

.xweb3skin

.xweb3stm

.xweb3survey

.xweb3theme

.xweb3txt

.xweb3unknown

.xweb3web

.xweb3wfdoclib

.xweb3xml

.xweb3xoml

.xweb3xsl

.xweb3xslt

.xweb4asax

.xweb4asmx

.xweb4bot

.xweb4config

.xweb4css

.xweb4doclib

.xweb4edited

.xweb4homeop

.xweb4homepg

.xweb4htm

.xweb4html

.xweb4htt

.xweb4js

.xweb4linkbar

.xweb4list

.xweb4listdata

.xweb4master

.xweb4nav

.xweb4nopub

.xweb4piclib

.xweb4resx

.xweb4shtm

.xweb4shtml

.xweb4sitemap

.xweb4skin

.xweb4stm

.xweb4survey

.xweb4txt

.xweb4unknown

.xweb4wfdoclib

.xweb4xml

.xweb4xoml

.xweb4xsl

.xweb4xslt
Common file extensions used by Microsoft Expression Web