Home > Apps > Apple macOS / Mac OS X
File extension list filtered by software name
The Unarchiver
Found 136 file extension associations related to The Unarchiver and 1 file format developed specifically for use with The Unarchiver.
Platform, operating system:

Apple macOS / Mac OS X
Go to: The Unarchiver description
Developer: Dag Ågren/WAHa.06x36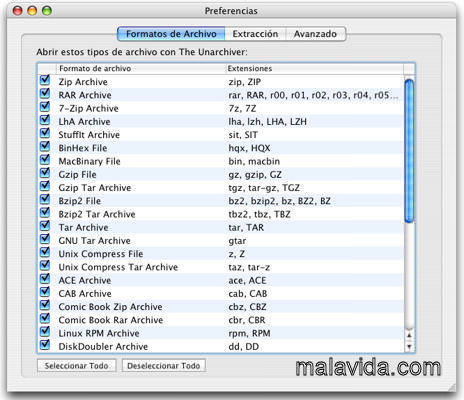 The Unarchiver
Developer / company: Dag Ågren
The Unarchiver is a much more capable replacement for "BOMArchiveHelper.app", the built-in archive unpacker program in Mac OS X. The Unarchiver is designed to handle many more formats than BOMArchiveHelper, and to better fit in with the design of the Finder. It can also handle filenames in foreign character sets, created with non-English versions of other operating systems. I personally find it useful for opening Japanese archives, but it should handle many other languages just as well.
It is very simple to use and install - simply copy it into your Applications folder or whereever you prefer, and then set archive filetypes to open using it. This can either be done the usual way, or by double-clicking the icon to show The Unarchiver's preferences.
Supported file formats include Zip, Tar-GZip, Tar-BZip2, Rar, 7-zip, LhA, StuffIt and many other more or less obscure formats
The Unarchiver icon


The Unarchiver icon
size: 128px x 128px (.png with transparency)
The Unarchiver related articles:
How to open RAR files on Mac - Extracting RAR archive files with StuffIt Expander, The Unarchiver and RAR on Apple Mac..

The Unarchiver works with the following file extensions:
Note: You can click on any file extension link from the list below, to view its detailed information. The list of extensions used or otherwise associated with the application may not be complete, because many common file extensions on our website, such as jpg (pictures) or txt (text files), can be opened by a large number of applications, or are too general file format. However most, if not all directly associated file extensions should be listed with its appropriate program. Although its likely, that some file extensions may be missing from the list of associated file extensions with the application, yet they can be opened, be part of, or otherwise be associated with the program.
The Unarchiver default file extension associations

.dcs
Common file extensions used by The Unarchiver

.001
.002

.003

.004
.005

.006
.007

.008

.009

.010
.7z

.7z.001

.7z.002
.7z.003
.7z.004
.7zip

.ace

.arc

.arj

.bin

.c00

.c03

.cab

.cbr

.cbz

.gz

.gzip

.hqx

.nco

.part1.rar
.part2.rar

.r00

.r01
.r02
.r03

.r04

.r05

.r06

.r07

.r08

.r09

.r10

.rar

.rpm

.sit

.sitx

.tar

.tar.gz

.tgz

.z01
.z02
.z03

.z04

.z05
.zip
Other file extensions associated with The Unarchiver

.088

.7-zip

.7z.005
.7z.006

.7z.007

.7z.008

.7z.009

.7z.010

.7z.011

.7z.012

.7z.013

.7z.014

.7z.015

.7z.016

.7z.017

.7z.018

.7z.019

.7z.020

.7z.021

.7z.022
.7z.023

.7z.024
.7z.025
.7z.026

.7z.027

.7z.028
.7z.029
.7z.031
.7z.032

.7z.033

.7z.034

.7z.035

.7z.036

.7z.037

.7z.038
.7z.039

.adf

.adz

.bz

.bz2

.bzip2

.c04

.cpgz

.cpio

.dd

.dms

.exe

.f

.gtar

.ha

.lha

.lharc
.lzh

.lzx

.macbin

.pax

.pkd

.r11

.r18

.r30

.r31
.r32

.r33

.r34

.r41

.r47

.sar

.sea

.sea

.seg1

.tar-gz

.tar-z

.tar.z

.taz

.tbz

.tbz2

.u3p

.xms
.z

.zom