What is the MOD video file format?
The MOD video file format (sometimes is called Standard definition video file, but this is not official name) was developed by the JVC. It is used for tape less camcorders. First camcorders, that were using MOD video format, were introduced in 2003. To this day three camcorder producers: JVC, Canon and Panasonic are using MOD video file format.
MOD video files are mainly stored on the camcorder's hard drive or memory card. MOD video file format uses standard DVD MPEG-2 compression. Maximal resolution of the captured video is 576i. Audio data are stored in Dolby Digital audio format. When MOD files are exported from camcorder to computer by the video editing software, that is bundled with camcorder, the file extension is changed to MPG or MPEG. Bundled video editing applications also modify audio and video data for perfect playback in third-party media players and of course they can burn captured video to DVD or Blu-Ray for playback. JVC's with camcorders bundled video editing software is called Everio MediaBrowser, Canon's application is called ImageMixer 3 SE for Canon, while Panasonic's application is called VideoCam Suite.
How to play the MOD video file?
If you copy MOD files directly from a video camera to a computer, you can try to open them in your installed media player. But it is highly recommended to rename file extension MOD to MPG and MPEG. Most media players have the MOD file extension associated with a sound file called Tracker Module and when you try to open the video with the MOD extension in a media player it can cause an error.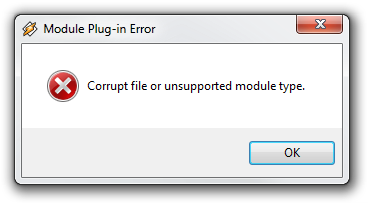 Winamp Media Player error message
It is possible that some media players after renaming of the file extension will have problem with playing video or audio, because they are missing correct audio and video codecs.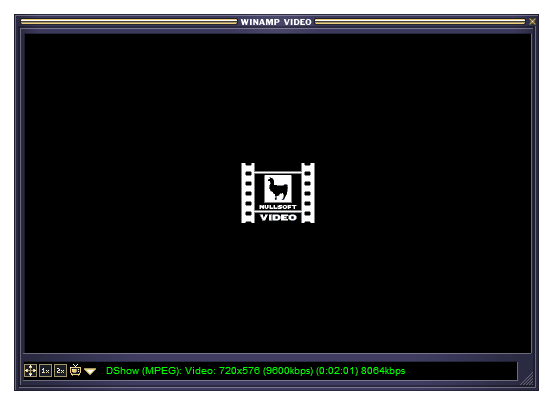 Winamp video window is blank, problem with audio and video codecs for playback
For perfect playback of the MOD files you can use the popular cross-platform VLC Media Player or Windows Media Player version 12. Of course the MOD file extension has to be renamed to MPG or MPEG file extension.

Windows Media Player plays MOD video file
How to convert the MOD video file?
The easy way how to convert MOD video files to another video format is to use suitable video conversion software. One of the video converters, that support conversion of MOD video files, is called HandBrake. HandBrake is a multiplatform video transcoder, that is available for Microsoft Windows, MacOS X and Linux. Its big advantage is it is free.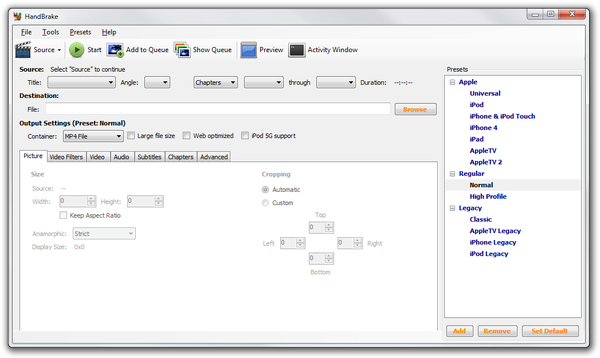 HandBrake main window
HandBrake supports many other video formats such as AVI, DIVX, XVID, MOV, WMV etc. and is able to convert to other popular video formats like MP4 and MKV. HandBrake is very comfortable to use and contains many options (video filters, video resolution, audio, subtitles, chapters) how to modify MP4 or MKV final video output. Created video settings can be saved as a preset for the future use to be imported or exported. HandBrake preset file has file extension PLIST. Owners of Apple devices such as iPod, iPhone, iPad or Apple TV will be surprised because HandBrake has built-in presets for the best conversion of video files to Apple MP4 video format.
Steps to convert the MOD video file with HandBrake:
After the conversion is finished, you can find your new video file in the select destination folder