Instructions about how to get back official Android to Galaxy phones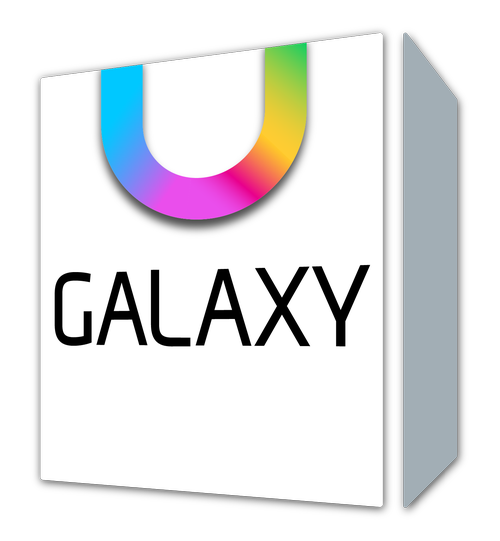 Samsung Galaxy is a huge family of smart phones based on Android, very popular for its customization options and also custom ROMs, for example CyanogenMode and MIUI from Xiaomi.
Nevertheless, sometimes you want to get back some official version of Android (sometimes mistakenly called TouchWiz, but TouchWiz is only the Samsung Launcher/GUI for Android), which was installed in your Galaxy phone after you bought it in a store.
Because Samsung develops many different types of Galaxy phones as well as their local variants for individual markets and mobile operators, it can be very difficult to find the original firmware in Samsung official databases or in some of the third party alternatives (Samsung Updates, SamMobile).
This article covers how you can find and install the official version of Android for your Galaxy phone.
Find your official Android with Phone INFO Samsung and SamFirm tools
The very first thing you will need, is information about your Samsung phone model and region. You can get these information with the Phone INFO Samsung app from Google Play.
The phone model is described in GENERAL tab (in our case GT-I9300), and region type (CSC Code) in CSC CODE tab (in our case CYO).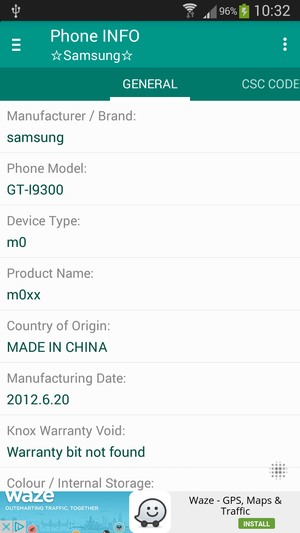 Model and CSC Code information
The easiest way how to find official firmware for your smartphone, is to use a little Windows tool called SamFirm. The utility is distributed as ZIP archive, so extract the content to suitable folder so you can work with it and start it.
Check box before Auto option → Fill the Model box (GT-I9300) and Region box (CYO) → Click on Check Update button.

SamFirm find firmware
Click on Download button and wait until the SamFirm download enc2 archive with firmware to your computer.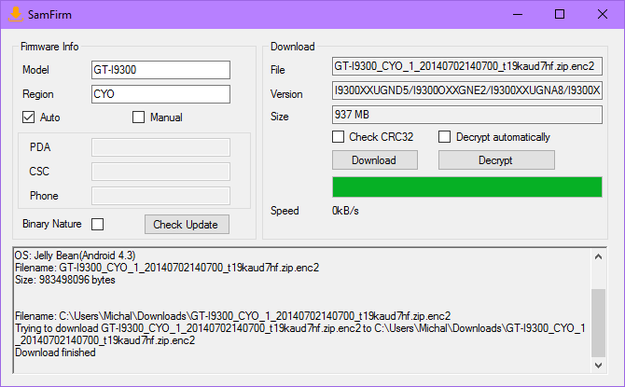 SamFirm download firmware
Click on Decrypt button and wait till the SamFirm decrypt downloaded enc2 archive (Samsung also uses enc4 file extension for firmware archives).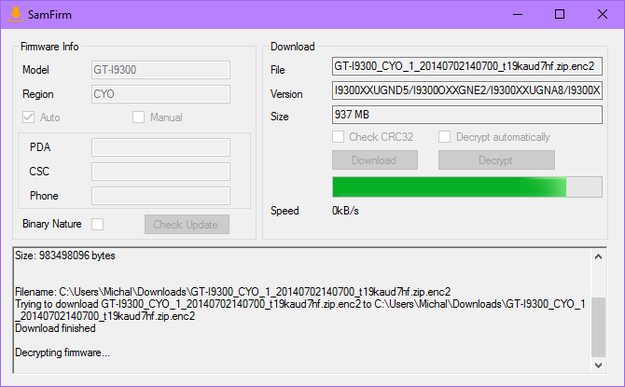 SamFirm decrypt firmware archive
Open ZIP archive with firmware and extract firmware image with md5 file extension.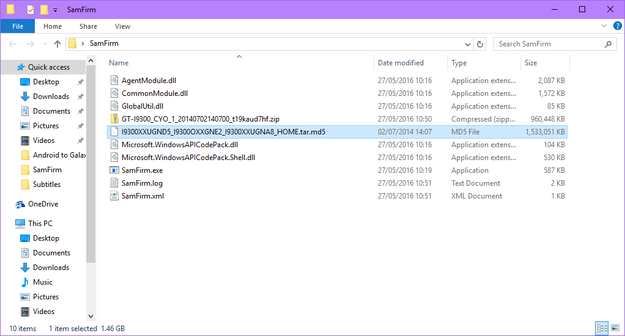 MD5 archive with Galaxy firmware
Install official Android to Galaxy phone with Odin tool
Download and install Samsung USB drivers for your Galaxy phone to Windows.
Download Odin (www.odindownload.com) a service tool for Galaxy phones, leaked a few years ago from Samsung. It is distributed as a ZIP archive and only extract its content to your storage.
Restart your Galaxy phone to Download mode, which is usually done via holding of combination Power+Volume Down+Home buttons at once.
After that connect the phone to computer with USB cable and wait until Windows recognizes your device.
Run Odin as Administrator (right click on Odin executable → Run as administrator option).
Click on AP button and navigate to Android image with md5 file extension. Wait a few minutes till the Odin check the file checksum.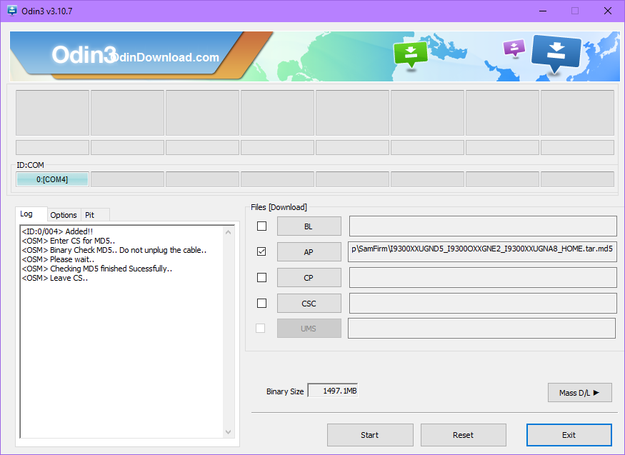 Odin for Samsung Galaxy phones
Click on Options tab and Check the boxes before Auto Reboot and F. Reset Time, don't check other boxes!!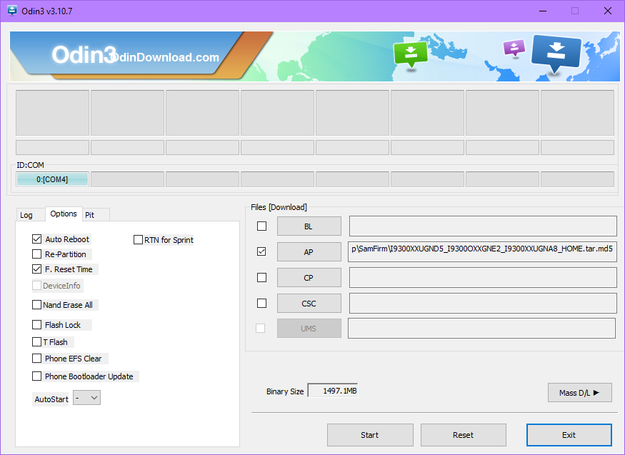 Odin options and settings
Click on Start button and wait until Odin installs original Android to your Galaxy Device. After that the phone will be restarted and boot to the default TouchWiz launcher.