Easy Context Menu
Easy Context Menu is very powerful tool for Windows that offers users a way to tweak their Windows Desktop, My Computer, drives, file and other folder context menus (right-clicks). With this feature you can create fast shortcuts to quickly access most of the Windows native functions and more.
Easy Context Menu is a free portable application that supports Windows 10, Windows 8.1, Windows 8, Windows 7, Windows Vista, Windows XP – (both x86 and x64) and does not require installation.
How to use Easy Context Menu
Download zip archive with program (external link) → unpack it to your storage and run EcMenu.exe program (or EcMenu_x64.exe if you have 64-bit edition of Windows).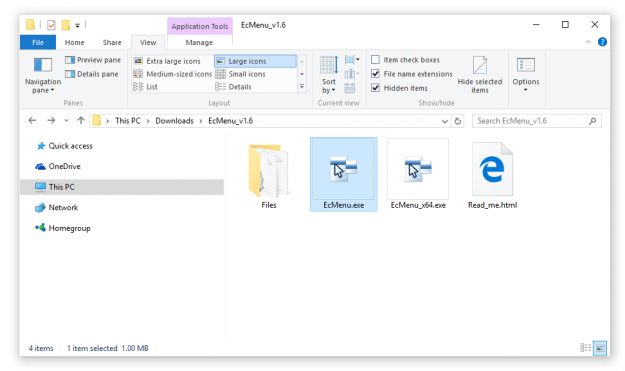 Easy Context Menu EcMenu.exe program
Now you are in main window of Easy Context Menu that includes seven major options:
1. Desktop Context Menu
2. My Computer Context Menu
3. Drives Context Menu
4. Folder Context Menu
5. File Context Menu
6. System tools sub menu
7. Turn Off Computer sub menu
And other tools including useful functions that can be added to Windows context menu, for example:
Delete Temporary Files, Restart Windows Explorer, Show or Hide Hidden Files and Folders, Show or Hide File Extensions, Rebuild Shell Icon Cache, Select All Files, Copy IP, Reduce Memory, Fix Print Spooler and many many more...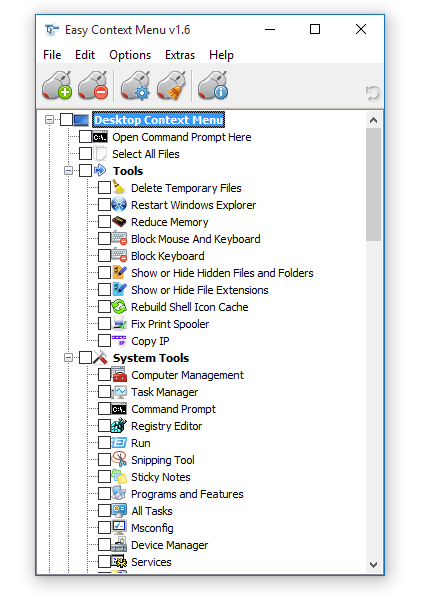 Easy Context Menu
You can add any of the offered tools to your context menu by simply checking its box and applying changes (also Ctrl+S shortcut).
How to create your own context menu shortcut
Other software may be added to Windows context menu with File menu → List Editor (Ctrl+E shortcut).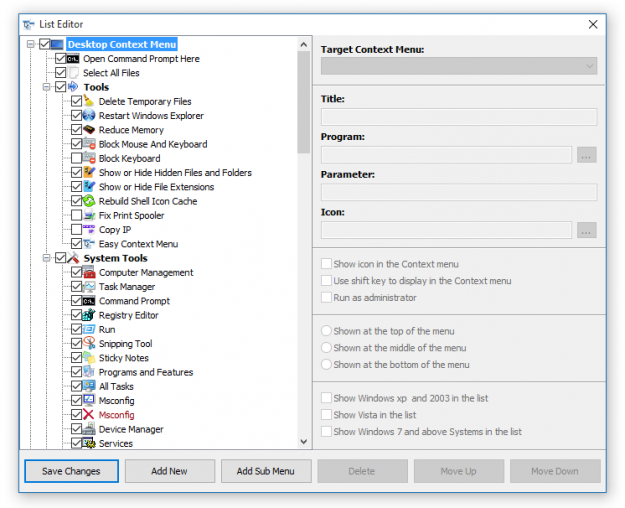 List Editor
Click on Add New button select app that you want to add to your context menu → Select Target Context Menu → fill or customize Title, Program, Parameter and Icon boxes → Click on Save Changes button → Close List Editor.

List Editor shortcut editing
Select your new option in Easy Context Menu → File menu → Apply Changes and your program will be added to context menu.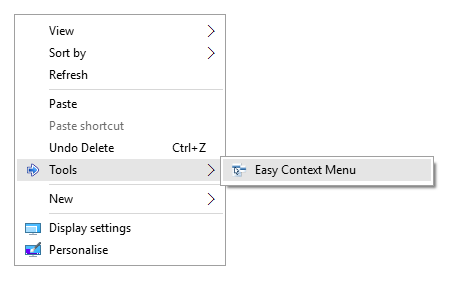 New shortcut added to context menu
How to clean the context menu
Easy Context Menu also contains tool for cleaning context menu from rarely or not used functions.
Select File menu → ContextMenu Cleaner (also Ctrl +X shortcut) and uncheck the box before context menu option that is useless for you. After that close the ContextMenu Cleaner.

ContextMenu Cleaner
As you can see the Easy Context Menu is useful tool for customizing and tweaking Microsoft Windows for better and faster control of the system.