Home > Apps > Microsoft Windows
File extension list filtered by software name
PSPad
Found 210 file extension associations related to PSPad and 2 file formats developed specifically for use with PSPad.
Platform, operating system:
Microsoft Windows
Go to: PSPad description
Developer: Jan Fiala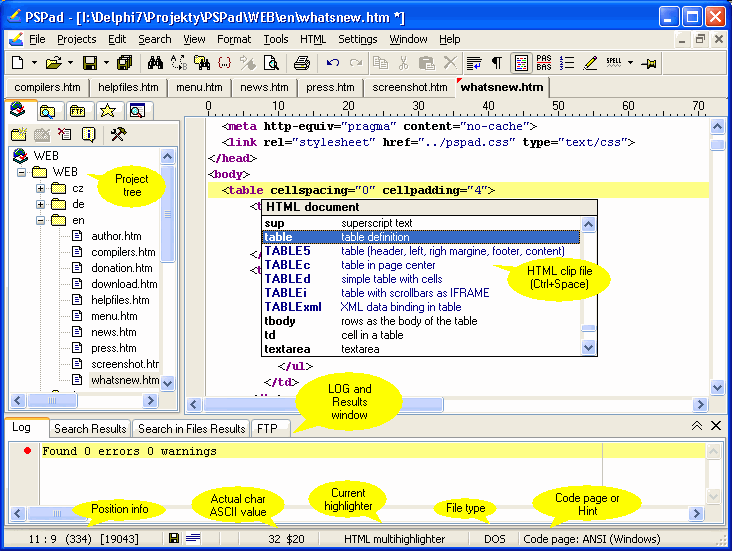 PSPad
Developer / company: Jan Fiala
PSPad is freeware code editor and wonderful notepad replacement. PSPad offers main features like rich text formatting, mighty code editing features, project management, syntax highlighting, auto-correction, HEX editor, text difference, spell checker, macro recorder and many more. PSPad also has inbuilt FTP functionality which is a plus for Web developers and Bloggers. PSPad is more advanced of all editors mentioned here. If you are looking for full functional and feature rich editor then PSPad should be your choice.
PSPad icon


PSPad icon
size: 128px x 128px (.png with transparency)

PSPad works with the following file extensions:
Note: You can click on any file extension link from the list below, to view its detailed information. The list of extensions used or otherwise associated with the application may not be complete, because many common file extensions on our website, such as jpg (pictures) or txt (text files), can be opened by a large number of applications, or are too general file format. However most, if not all directly associated file extensions should be listed with its appropriate program. Although its likely, that some file extensions may be missing from the list of associated file extensions with the application, yet they can be opened, be part of, or otherwise be associated with the program.
PSPad default file extension associations
The most common file format used with the specific file extension

.html file extension is used for HyperText Markup Language web page
Other file extensions or file formats developed for use with PSPad

.rqb
Common file extensions used by PSPad

.bat

.css

.htm

.html

.inf

.ini

.log
.nfo

.opml

.rc

.rep

.src

.txt

.xhtml
Other file extensions associated with PSPad

.aah

.ames

.aml

.ansi

.arxml

.ascii

.asp

.att

.au3

.axd

.ba1

.bal

.bcp

.bdt

.beta

.bibtex

.blif

.bml

.bns

.c

.cbl

.cc

.ceid

.clojure

.cls

.clsid

.cm0013

.cmake
.cmd

.cob

.con

.coo

.cphd

.cpp

.cson

.csx

.cxml

.cz

.daily
.dbproj

.dea

.df

.diz

.dnx

.dropbox

.dsd

.ecsv

.edi

.emlx

.en

.etx

.f

.f

.f4m

.f90

.f95

.fastq

.ffp

.for

.fq

.fr

.fsa

.gcode

.gift

.gshader

.gypi
.h

.haml

.har

.helpcfg

.hh
.hhc

.hpp

.hshader

.ht

.htm~

.idt

.ift
.iqy

.isx

.itmx

.jav

.jbeam

.jnlp

.jscript

.jtx

.kd

.lap

.las

.lge

.lit

.litcoffee

.lob

.lol

.ltr

.ma

.makefile

.mcl

.med

.metriclog

.mhl

.mnft

.mpb

.mrk

.mrl

.msc

.mst

.nhn

.nsconfig

.nt

.ooa

.out

.p5

.p6

.pas

.pdml

.pgw

.phl

.phtml

.pl6

.plx

.pm

.pm5

.pm6

.pml

.prl

.propdesc

.ps1

.psd1

.pt

.pyt

.pyw

.rb

.rdf

.rdp

.rels

.resx

.ror

.rpp

.rpy

.rs

.rsp

.rtc

.rtx

.rus

.s19

.scr

.sdnf

.sfb

.sh

.sha1

.sha256

.sha512

.sht

.shtml

.sk

.sl

.sls

.smil

.sp

.spef

.ss

.ss

.str

.t3d

.tdump

.thor

.thtml

.toml

.trx

.tx8

.txl

.txml
.uccapilog

.uhtml

.unx
.url

.us

.utf8

.ver

.vfk

.vml

.vtt

.wcf

.weekly

.wli

.wrts

.wtf
.xcconfig

.xfdl

.xlf

.xml-log

.xv2

.yaml

.yml