TIP: Learn how to turn on Telnet/TFTP functions in Windows 10

Most users are not familiar with Telnet and TFTP protocol, but it once has been pretty common thing to use by both system administrators and gamers alike.
Some devices could only be accessed or patched via TFTP protocol and a whole platform of games - MUDs (Multi-User Dungeon) was played through Telnet, before special 3rd party client were released to make the game more accessible to casual users.
Since the times of Windows 7, Telnet utilities are disabled in the operating system by default. Most users do not even know this, simply because they never needed it. But what about those (us) who need Telnet from time to time, or would like to revisit some old MUDs just for the heck of it.
Luckily, the functions are still present even in the latest version of Windows and we will show you how you can quickly enable Telnet and TFTP functionalities in Windows 10.
Enabling Telnet/TFTP in Windows 10 Control Panel
You can access the settings that can turn on/off Telnet and TFTP settings in the Programs Control Panel. For the sake of those that are not sure how to reach that control panel, check the screenshot below.
This procedure is almost identical in previous Windows 7/8, just the individual windows and control panel may look slightly different.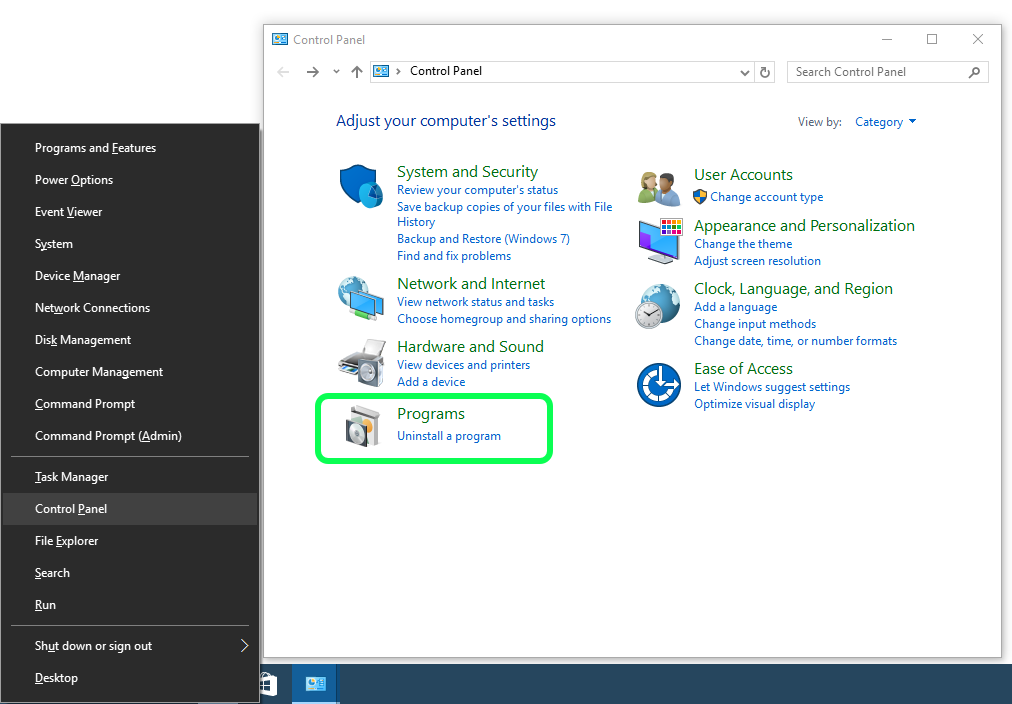 Opening Programs Control panel in Windows 10
Once you have Programs Control Panel opened, click on the Turn Windows features on or off settings. You will need administrative rights for this to work, which should be no problem on your personal computer.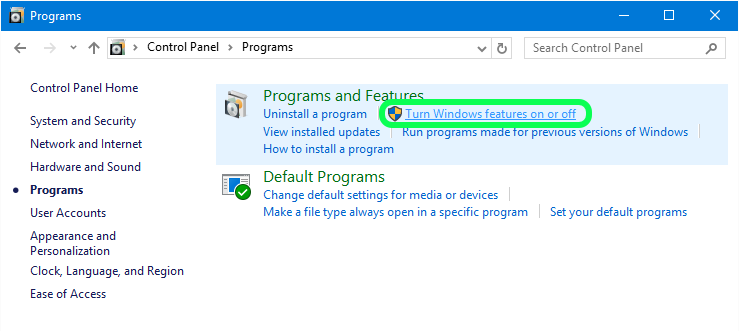 Programs and Features options in the Programs Control Panel in Windows 10
Now you just need to locate the Telnet Client and TFTP Client items in Windows Features and enable them by checking the proper box.
It may take a while before the settings are enabled and occasionally a restart of your computer may be required, but that's all you need to enable Telnet and TFTP in Windows 10.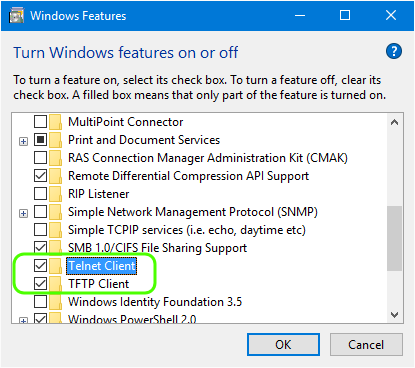 Enabling / Disabling default Windows 10 features
To check Telnet functionality, simply launch your command line and connect to whatever device or server you need.
In our case, a quick connection to one of the old MUD games was all we needed to check if Telnet was enabled in our installation of Windows 10.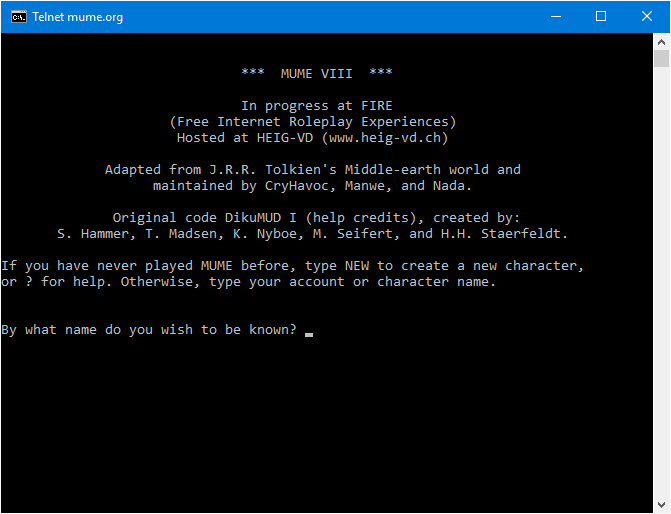 MUME (Multi Users in Middle-earth) connected via telnet mume.org 4242 in Windows 10
Using 3rd party Telnet Client or Terminal Emulator
Of course you are not limited only to the default Windows Telnet, but can use some of the 3rd party solutions, such as PuTTY, MobaXterm, KiTTY, Xshell or similar terminal emulators.