This article will introduce you a small utility called Windows 7 Boot Updater, which can customize your Windows 7 boot and resume animation, without any complicated system file editing.
Windows 7 Boot Updater is able to modify Windows 7 boot animation and compile a new one from BMP, PNG, GIF, or TIFF animated images. Boot texts Starting Windows, Resuming Windows and © Microsoft Corporation can be also modified. Original Windows winload.exe and bootres.dll files are automatically backed up before they will be changed. Windows 7 Boot Updater is distributed as a free software.
How to change Windows 7 boot animation
If you no longer want to watch the same Windows 7 boot screen on your PC and also want to be little bit original than your friends or colleagues you can try to create your own Windows 7 boot screen with Windows 7 Boot Updater.
Step 1
Run the Windows 7 Boot Updater. In the main window you can select Booting, or Resuming tab according to the animation that you wanted to customize.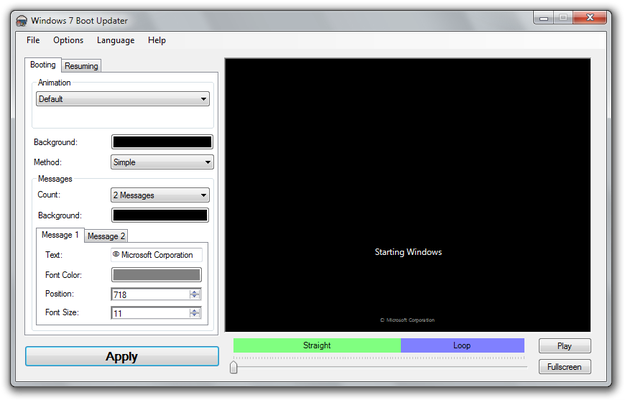 Windows 7 Boot Updater main window
It is recommended to save the default animation settings in File menu → Save boot skin as... before you will make any changes in boot, or resuming animations.
Step 2
In the Animation box you select the type of boot animation. They are three options: Default, Static Image and Animation.
Default option leaves default Windows animated logo.

In Static Image option you can select your own image that will replace default animation logo.

Animation option is for advanced users that are capable to create their own animations in image editors such as CorelDraw, or Photoshop. Customized animation must have about 105 frames and be stored in BMP, PNG, GIF, or TIFF picture file format.
In our case we replaced standard animation by our File-Extensions.org logo as a Static Image.

Windows 7 Boot Updater create new boot logo
Step 3
Windows 7 Boot Updater is also able to customize the background of your boot screen. You can select the solid color from Windows color palette or select the picture background like Windows desktop. If you want the solid color select option Simple in Method menu, or Complete option, if you want to select the picture background.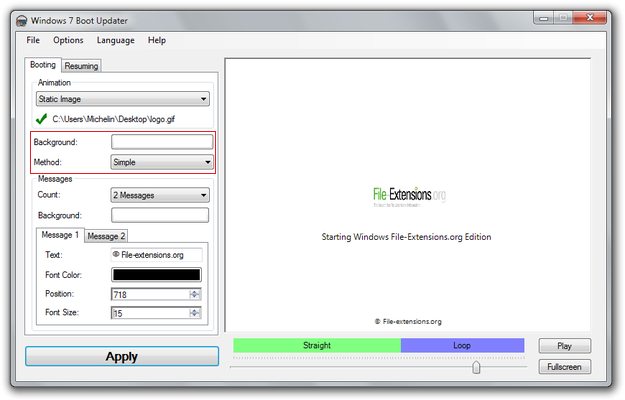 Windows 7 Boot Updater background settings
Step 4
In Messages box you can customize Message fields in the boot animation. In Count option you can select the number of text fields. Maximum number is two text fields. You can also change the background color of text fields.

Windows 7 Boot Updater text settings
Step 5
In our case we have two message fields in our boot animation. Every text message has own tab Message 1 and Message 2. You can change the text of message, font color, position and font size.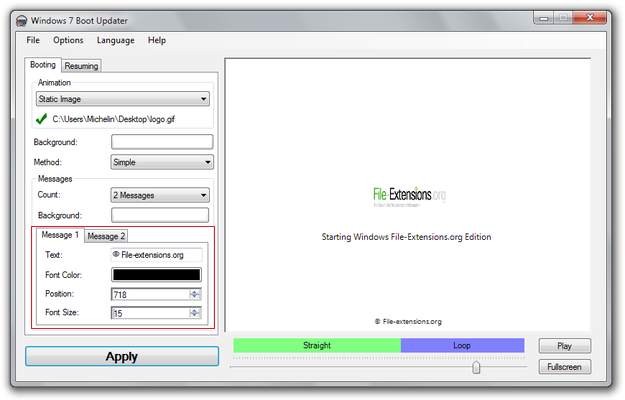 Windows 7 Boot Updater boot logo texts editing
Step 6
After you have finished your customized boot or resume animation, you can use Play button to preview it, or Fullscreen button to preview animation in full screen mode. To install the new animation to Windows use big Apply button.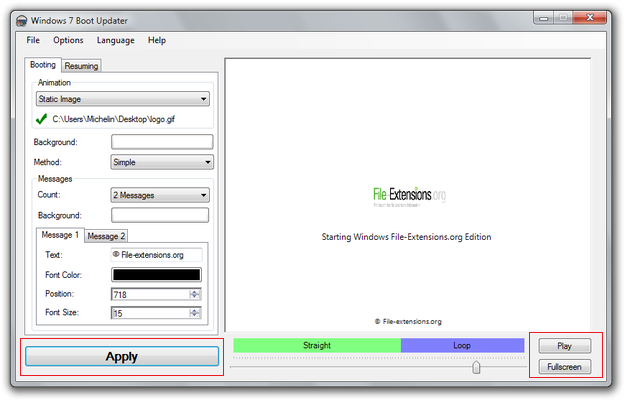 Windows 7 Boot Updater save new boot logo
Windows 7 Boot Updater is able to save your customized boot and resume animation screens in its Windows Boot Skin file format (.bs7 file extension) as well as upload them to the public web archive. You can also browse through public archive and download animations from other users. These options are stored in File menu.