Removing associated programs from "Open With" menu in Windows Explorer
It may happen that your Windows Explorer context menu sometimes get filled with useless or even wrongly associated programs making the "Open With" function unusable.
This is usually the case when you open your file in another program by mistake and the association sticks, like when you open a video file using Notepad and since then it always happens when you double click on it. But do not despair, this can be easily fixed and we will show you how to clean your Open With menu.
This "how to" will work from Windows XP to latest Windows 10, because Microsoft didn't change a thing.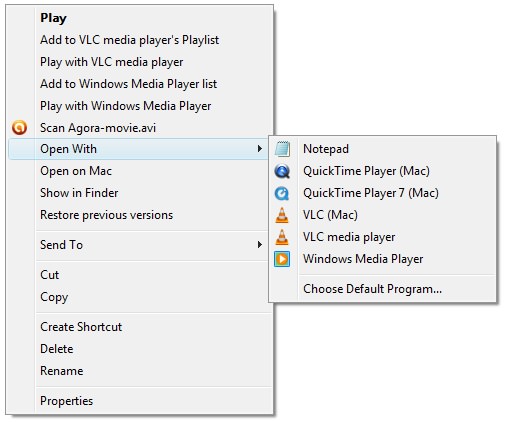 As you can see on our screenshot, we have Notepad listed when trying to open AVI video. That is of course wrong and we will try to fix it.
Changing default program is easy and can be done in Control Panel, but removing wrong stuff from menus requires a little bit of work.
Changing program association registry entries
Since this operation requires a little bit of work in Windows registry system, we advise you to first backup your current registry, so in case of unexpected trouble, everything can be rolled-back and nothing gets (even more) broken.
To backup your registry, either launch the Windows Registry Editor utility located in the Windows main folder (regedit.exe), or find it with the search function in Start menu.
Once the editor is loaded, select File ► Export... to export your current Windows registry settings. You can always import the .reg file back to rollback any changes made.
Now while you are still in in the registry editor find the following key entry:
HKEY_CURRENT_USER\Software\Microsoft\Windows\CurrentVersion\Explorer\FileExts\
In the FileExts registry folder you can see plenty of file extensions used in your computer. Now try to find the file extension, which is causing you the trouble with associations. Let's find AVI video, represented ith the .avi folder. Inside this folder you can see two additional folders called OpenWithProgids and UserChoice.
OpenWithProgids folder contains registry keys used for the programs listed in the "Open With menu".
So in our example for .avi files we can see the NOTEPAD.EXE entry that is bothering us in the menu. We don't want it, so simply click on it and DELETE it. Repeat this process for all programs you do not want to see in your Open With menu with certain file types.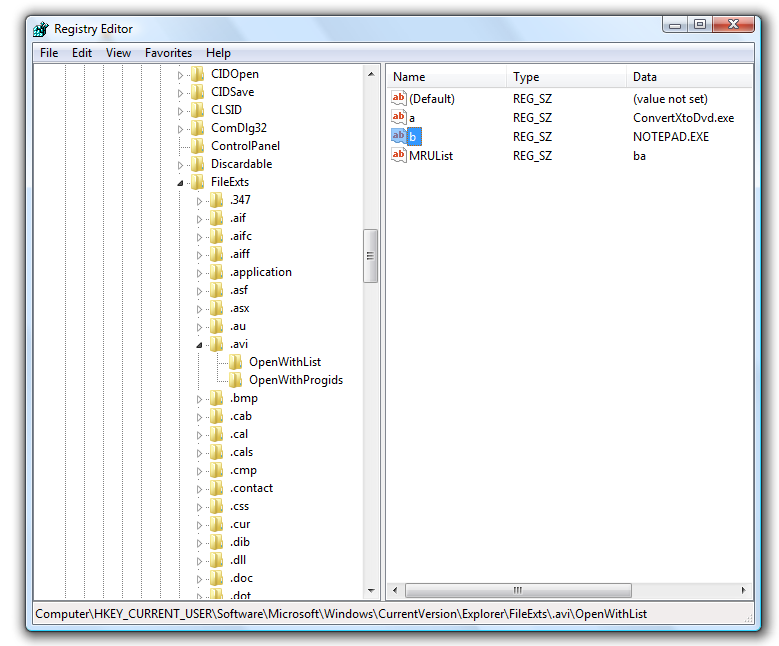 By deleting the registry key you have also successful removed the association of the file extension with the program. Now the "Open With menu" should only contain viable applications which are associated with the file extension. Now just right click on your file (.avi file in your example) and check the "Open With menu". It should now be clean again.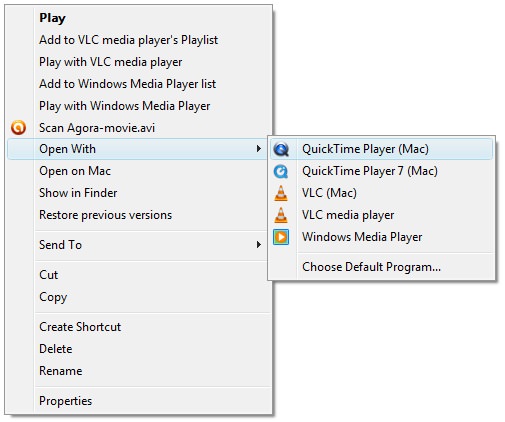 As you can see, Notepad is gone from he menu. Mission accomplished.