TIP: Quickly fix stuck or unresponsive Mac
Did your Mac crash or is unresponsive? Is it slow or the fans are constantly on high speed? Or maybe LEDs or keyboard backlight does not work correctly?
No need to panic, your computer may not be damaged, just the SMC chip is stuck and we will show you how to fix it.
What is SMC
SMC stands for System Management Controller. It is critical low level subsystem included in Macintosh computers based on Intel processors.
SMC controls:
Thermal management (thermal activity, fan activity)
Power management (power consumption, battery charging, battery function)
Video mode switching
Sleep and wake up functionalities
Hibernation
LED indicators
SMC also includes macOS (OS X) End User License, used by operating system to identify original Apple hardware.
How the reset of SMC helps
Reset of SMC typically solves many hardware related problems such as:
Problems with Mac cooling fans and fan management: fans run constantly at high speed despite low CPU usage, fans not working, etc.
Problems with power management and battery: Computer isn't turning on. Sleep, wake up, hibernation functions aren't working. Battery isn't charging.
Problems with lightning management: keyboard backlight, display backlight, battery LED indicator working improperly.
Problems with video and external displays: display brightness, target video modes working improperly, external displays aren't working.
General performance problems: abnormally slow Mac without high CPU or disk usage, WiFi or Bluetooth working improperly, external ports not working, etc.
How to reset SMC of your Mac
The process of SMC reset is different for MacBook, MacBook Pro and MacBook Air with non-removable battery - MacBook, MacBook Pro with detachable battery and iMac, Mac Pro and Mac Mini.
How to reset SMC of MacBook, MacBook Pro and MacBook Air with non-removable battery
Shutdown the MacBook
Connect the power adapter to the MacBook
Hold down the Shift+Control+Option keys and the Power button at the same time
Release all keys and the power button at the same time (light on the MagSafe connector may change colors to indicate the SMC reset)
Boot the Mac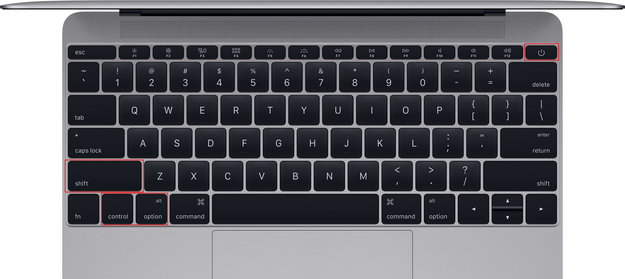 Reset SMC shortcut on MacBook keyboard
How to reset SMC of MacBook, MacBook Pro with detachable battery
Shutdown the MacBook
Remove the battery
Disconnect the power adapter
Hold the Power Key for 10 seconds
Release the power key
Reconnect your battery and power adapter
Turn MacBook on
How to reset SMC of iMac, Mac Pro and Mac Mini
Shut down the Mac
Disconnect the power cord
Press and hold the power button for 5 seconds
Release the button
Reattach the power cables
Turn the Mac on