MS-DOS

Microsoft DOS (MS-DOS) was very popular operating system for PCs in 80s and 90s and many legendary computer games were released for this operating system. However only handful of these legends were released for Macintosh computers. Now it is possible to play all of the DOS gaming legends on your Mac and this short article will show you how.
In 2002 Peter Veenstra released the first version of DOSBox, a multi-platform emulator of MS-DOS operating system. It is able to run DOS based applications and games, as well as older versions of Microsoft Windows (Windows 3.1, Windows 95, Windows 98). However the program works much like MS-DOS, which means it is not that user friendly. Luckily there exist many user friendly GUIs for DOSBox, such as Boxer, that simplify work with it.
How to run DOS games on Mac with Boxer
Boxer for Mac is free DOSBox based game emulator which is a very comfortable DOSBox variant. It is capable to run your old games without using any DOS commands and archive them to DOS game library on your Mac.
Step 1 - Installation and settings
Download Boxer for Mac installation archive from developer website. It is distributed as a ZIP archive that contains Boxer.app application. Extract Boxer to the Applications directory and start it.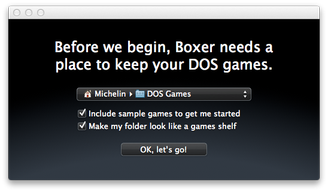 Boxer for Mac games folder settings
When Boxer is first launched you will be prompted to set up your game archive folder. By default it is called DOS Games and is stored in /Users/<User> folder with bookshelf graphical look.
Step 2 - Import a new game
In Welcome Window you are presented with three options:
Browse your games opens the DOS Games library, where you can select and play installed DOS games.
Import a new game allows you to import new DOS game to your library.
Open a DOS prompt is start simple DOS command line. This option is for advanced users.

Boxer for Mac Welcome Window
Select Import a new game option. Boxer will show Import a Game window. Simply drag CD-ROM, game folder, or disc image in Finder by left mouse button and simply drop it on Import a Game Window.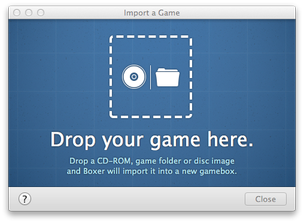 Boxer for Mac Import Game window
After you have imported installation of the game you can run the installation process. If the imported game is already installed you can skip this option.
Boxer now imports a new DOS game to the game library. Boxer stores games in containers called gameboxes that uses BOXER file extension.
Step 3 - Start a game
After the import is finished, you can start a game via Launch game button.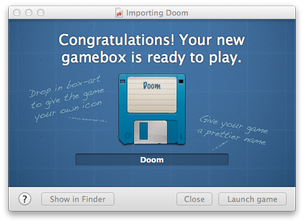 Boxer for Mac Launch Game window
Boxer will start the DOS command window, where you can select executable file (EXE, COM, BAT), which you have to run. Many DOS games need to set up sound card, controllers etc. before its first start. In many cases the setup utility is simply called setup.exe.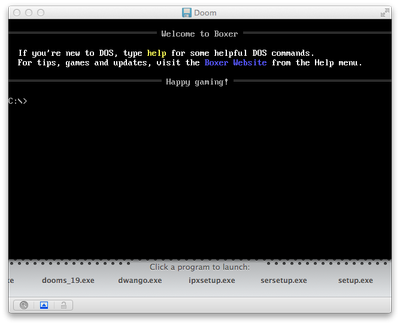 Boxer for Mac DOS shell window
Boxer in default emulates Gravis Ultrasound sound cards, classic computer keyboard, mouse and joystick.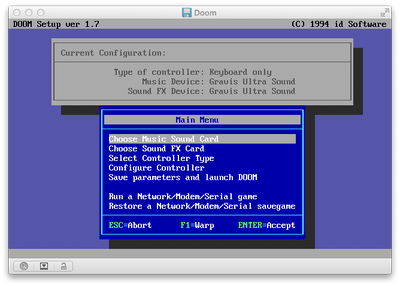 DooM Setup Utility in Boxer for Mac
If you have completed the set up of the game you can start gaming by starting game's main executable file. In our example we choose to run the legendary 3D first person shooter DOS game DooM (doom.exe executable).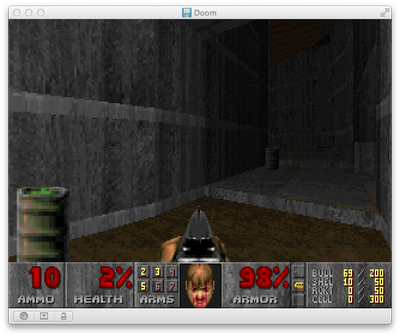 DooM for DOS in Boxer for Mac
Step 4 - Other Boxer settings
Via Boxer → Preferences menu you can manage some other settings of Boxer. Some useful options are stored in Display Preferences, where you can set rendering style for games, which offers better look of some old games. You can also set Full Screen mode as well as select the aspect ratio to original old PC monitors or to modern wide screen ratio.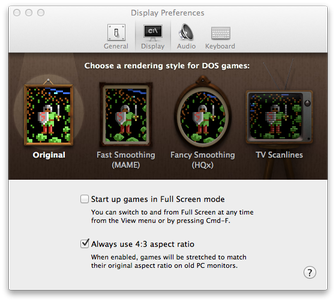 Boxer for Mac Display Preferences window
Via Emulation → Show CPU settings you can manage processor speed as well as mouse, joystick and other game settings.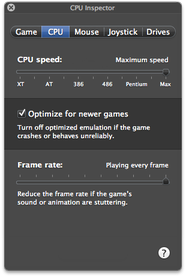 Boxer for Mac CPU settings