Learn how to fix broken icon cache in Windows
Problems with icons in Windows are common sight in Windows OS since the days of Windows 95 and persist even in the latest Windows 10. Typical problem is that your icons are loading slowly, or even not at all. Or you may see different version of icon or some sort of other errors.
These annoying problems are in most cases caused by corrupted Windows Icon Cache. This can happen after system crash, by file system errors, malware, application installation processes etc.
We will show you two methods how you can repair and rebuild your Windows icon cache. Although this article was written during the times of Windows 7, but nothing changes and it works the same even in the latest editions of Windows.
Method No. 1
Make sure that you can see hidden and system files in Windows Explorer. You can recheck it in Windows settings if you open Windows Control Panel → Appearance and Personalization → Folder Options → Show hidden files and folders → Show hidden files and folders option.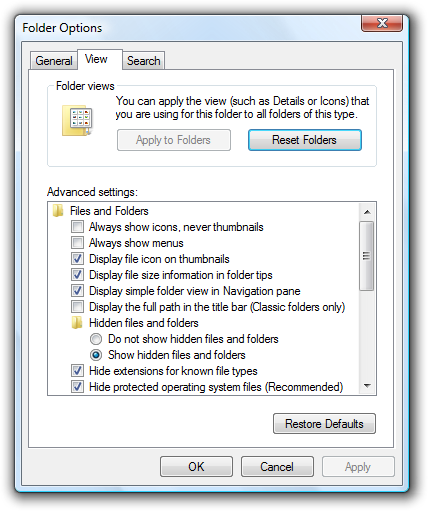 Microsoft Windows folder options

Open Windows Explorer window and go to the Users\UserName\AppData\Local\ folder. Here you can find IconCache.db, which is a database of icons currently used in the system. This file is hidden by default.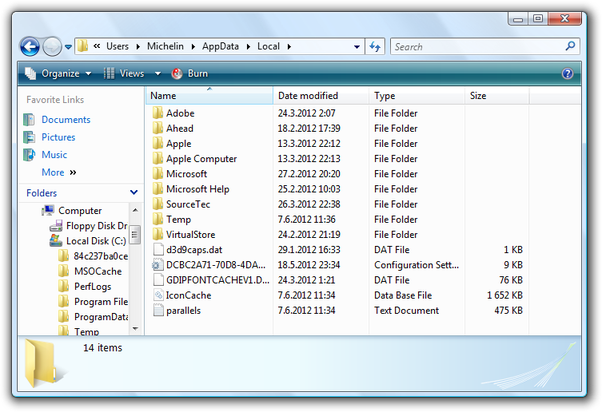 Windows Explorer IconCache.db location

Open Windows Task Manager application with CTRL+Shift+Escape keys and click on Processes bookmark. With that window still opened, go back to Explorer window and delete the IconCache.db file.
After that go back to Windows Task Manager window, right click on explorer.exe process and select End Process option in pull down menu. This will kill off the process and result in all opened windows, desktop icons and Start menu being removed from the desktop (temporarily).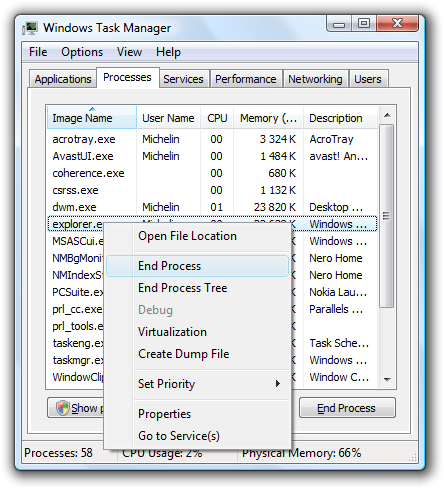 Windows Task Manager

Now in Task Manager click on File menu → New Task (Run...) option and type explorer.exe. Windows will restart explorer process and rebuild IconCache.db file that will be once again in its default directory after the system will be restarted.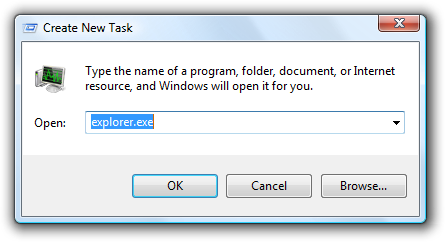 Windows Task Manager create new task

In Windows XP is IconCache.db file stored in Documents and Settings/Username/Local Settings/Application Data directory.
Method No. 2
You can also use Command Prompt to restore Windows Icon Cache. Close all applications and save all opened documents.
Open Start menu → type cmd to Search box, or go the Start menu → All Programs → Accessories and open Command Prompt application and type command sequence:
taskkill /IM explorer.exe /F
CD /d %userprofile%\AppData\Local
DEL IconCache.db /a
shutdown /r /f /t 00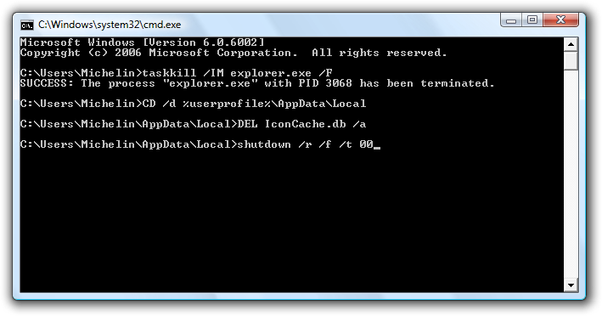 Windows Command Prompt
Wait until the Windows will be restarted. The old IconCache.db will be replaced by new one with actual icon data.