Home > Corel Corporation
File extension list filtered by software name
Corel PaintShop Pro
Found 109 file extension associations related to Corel PaintShop Pro and 66 file formats developed specifically for use with Corel PaintShop Pro.
Platform, operating system:
Microsoft Windows
Go to: Corel PaintShop Pro description
Developer: Corel Corporation
Corel software list & details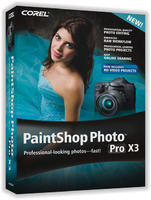 Corel PaintShop Pro
Developer / company: Corel
Passionate photographers will find more to love in Corel PaintShop Pro. With easy-to-use editing tools, a streamlined workspace and exciting pro-level effects, this is photo-editing software that lets you get the look you want, every time. Retouch photos in an instant. Or dive into creative features that let you create breathtaking compositions. Then share your best photos online with just a click. It's the perfect match for your DSLR camera!
Corel PaintShop Pro icon


Corel PaintShop Pro icon
size: 128px x 128px (.png with transparency)

Corel PaintShop Pro works with the following file extensions:
Note: You can click on any file extension link from the list below, to view its detailed information. The list of extensions used or otherwise associated with the application may not be complete, because many common file extensions on our website, such as jpg (pictures) or txt (text files), can be opened by a large number of applications, or are too general file format. However most, if not all directly associated file extensions should be listed with its appropriate program. Although its likely, that some file extensions may be missing from the list of associated file extensions with the application, yet they can be opened, be part of, or otherwise be associated with the program.
Corel PaintShop Pro default file extension associations

.event

.jas

.jbf

.jbr

.jgd

.jmd
.jsd

.jsl

.lv

.mip
.mng
.msk

.pal

.pat

.pbr
.pbs

.pbv
.pcf

.pcn

.pdd

.pen

.pfl

.pfr

.plh

.png

.pos
.ppf

.pps

.prl

.ps7

.psb

.psbrush

.psc

.psp

.pspautosave

.pspbrush

.pspbumpmap

.pspcache

.pspcmykprofile

.pspdeformationmap

.pspenviromentmap

.pspenvironmentmap

.pspfram

.pspframe

.pspgradient

.pspimag

.pspimage

.pspmask

.psppalette

.pspscript

.pspselection

.pspshape

.pspstyledline

.psptube

.pspworkspace

.pss

.psw
.ptl

.ptx

.sel

.sld

.tex

.tub

.wd

.wsa
.xxx
Common file extensions used by Corel PaintShop Pro

.ai

.cpt

.dng

.emz

.eps

.jpg
.mrw

.nef
.png

.ps

.psd

.wdp

.webp
.wmf
Other file extensions associated with Corel PaintShop Pro

.bay

.bm2

.bmf

.bmp24

.brk

.ccx

.cgm

.cut

.fff

.hpl

.jfi
.jp2

.jpf

.jpx

.kdc

.lbm

.mef
.ncr

.nrw

.pef

.q5q

.q7q

.rle

.snapfireshow
.svgz
.wi

.wpg

.wpg2

.xpm