Home > Apps > Microsoft Windows
File extension list filtered by software name
Winamp
Found 131 file extension associations related to Winamp and 31 file formats developed specifically for use with Winamp.
Platform, operating system:
Microsoft Windows
Go to: Winamp description
Developer: Radionomy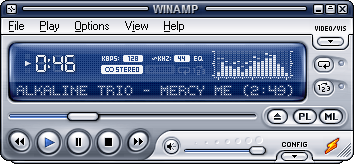 Winamp
Developer / company: Radionomy
Winamp is a legendary media player and one of the first major ones. It was first released in 1997 with latest version from late 2013.
In January 2014 Nullsoft, Winamp and Shoutcast was sold to Radionomy a free platform for distribute, promote and monetize Internet radio free.
Winamp can playback many popular audio files, such as MP3, FLAC, AAC WAV, M4A, OGG as well as video files in AVI, MKV, WMV, FLV, MP4 file formats etc. More formats are supported via plugins. The program is extensible with other plugins and skins.
Winamp icon


Winamp icon
size: 128px x 128px (.png with transparency)
Search converter
Sample related conversions

Winamp works with the following file extensions:
Note: You can click on any file extension link from the list below, to view its detailed information. The list of extensions used or otherwise associated with the application may not be complete, because many common file extensions on our website, such as jpg (pictures) or txt (text files), can be opened by a large number of applications, or are too general file format. However most, if not all directly associated file extensions should be listed with its appropriate program. Although its likely, that some file extensions may be missing from the list of associated file extensions with the application, yet they can be opened, be part of, or otherwise be associated with the program.
Winamp default file extension associations
The most common file formats used with the specific file extensions

.lrc file extension is used for Lyrics data
.m3u file extension is used for MP3 songs playlist file
Other file extensions or file formats developed for use with Winamp

.ape
.avs

.b4s
.bpl

.d01

.eqf

.ioc
.mad

.maki

.mdz

.milk

.miz
.msc

.n3w00001940

.nsa

.q1

.q2

.rf64

.shn

.sid1

.sps

.tak

.tvc

.vep

.w5s
.wal

.wlz

.wpz

.xmz
Common file extensions used by Winamp

.aac
.aiff

.cda

.flac

.lng

.lrc
.m3u

.m3u8

.m4a

.m4b

.m4p

.mp3

.ogg
.ogv

.pls

.sng
.wav

.webm

.wpl
Other file extensions associated with Winamp
.669

.a2t

.acm

.ahx

.amd

.apl

.au

.ax
.bam

.bmu

.d00

.dfm

.div
.divx

.dmo

.dtm

.dvx

.fla

.gsflib

.hmi

.hsc

.htk

.itz

.kar

.kmv

.la

.lrv

.m2v

.m3url

.mgb

.mi

.mid

.minigsf

.miniusf

.mjf
.mkj

.mod

.mp1
.mp2
.mp2a

.mpc

.mpe

.mpga

.mpu
.mtk

.mx1

.nsf

.nsv

.ofr

.ofs

.oga

.ogx

.opus
.orc

.psf

.psf1

.psflib

.rad

.raw
.rix

.rmp

.sat

.snsf

.stm

.sz

.tfx

.tst

.tta

.usflib

.vgm

.vgz

.voc

.vqf

.vql

.vtx

.wsz

.wv

.wvc

.xad

.xmi

.xsm
.xvid

.ym