Home > Autodesk, Inc.
File extension list filtered by software name
3ds Max (3D Studio Max)
Found 112 file extension associations related to 3ds Max (3D Studio Max) and 45 file formats developed specifically for use with 3ds Max (3D Studio Max).
Platform, operating system:
Microsoft Windows
Go to: 3ds Max (3D Studio Max) description
3ds Max (3D Studio Max) website
Developer: Autodesk, Inc.
Autodesk software list & details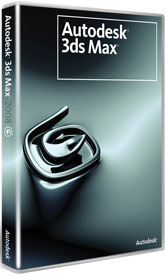 3ds Max (3D Studio Max)
Developer / company: Autodesk
3ds Max (also known as 3D Studio Max) is one of the most widely-used off the shelf 3D animation programs by content creation professionals. It has strong modeling capabilities, a flexible plugin architecture and a long heritage on the Microsoft Windows platform. It is mostly used by video game developers, TV commercial studios and architectural visualisation studios. It is also used for movie effects and movie previsualisation.
In addition to its modeling and animation tools, the latest version of 3ds Max also features advanced shaders (such as ambient occlusion and subsurface scattering), dynamic simulation, particle systems, radiosity, normal map creation and rendering, global illumination, an intuitive and fully-customizable user interface, its own scripting language and much more. There is also a plethora of specialized renderer plugins that can be bought separately, such as V-Ray, Brazil r/s , Maxwell Render, FryRender and finalRender.
3ds Max features:
MAXScript
Character Studio
Scene Explorer
DWG Import
Texture Assignment/Editing
General Keyframing
Constrained Animation
Skinning
Skeletons and Inverse Kinematics
Integrated Cloth Solver
Integration with Autodesk Vault
Version history:
3D Studio Prototype
3D Studio
3D Studio 2
3D Studio 3
3D Studio 4
3D Studio MAX 1.0
3D Studio MAX R2
3D Studio MAX R3
Discreet 3dsmax 4
Discreet 3dsmax 5
Discreet 3dsmax 6
Discreet 3dsmax 7
Autodesk 3ds Max 8
Autodesk 3ds Max 9
Autodesk 3ds Max 2008
Autodesk 3ds Max 2009
Autodesk 3ds Max 2010
Autodesk 3ds Max 2011
Autodesk 3ds Max 2012
Autodesk 3ds Max 2013
Autodesk 3ds Max 2014
Autodesk 3ds Max 2015
Autodesk 3ds Max 2016
Autodesk 3ds Max 2017
3ds Max (3D Studio Max) icon


3ds Max (3D Studio Max) icon
size: 128px x 128px (.png with transparency)

3ds Max (3D Studio Max) works with the following file extensions:
Note: You can click on any file extension link from the list below, to view its detailed information. The list of extensions used or otherwise associated with the application may not be complete, because many common file extensions on our website, such as jpg (pictures) or txt (text files), can be opened by a large number of applications, or are too general file format. However most, if not all directly associated file extensions should be listed with its appropriate program. Although its likely, that some file extensions may be missing from the list of associated file extensions with the application, yet they can be opened, be part of, or otherwise be associated with the program.
3ds Max (3D Studio Max) default file extension associations
The most common file formats used with the specific file extensions

.3ds file extension is used for 3ds Max (3D Studio MAX) graphics

.max file extension is used for 3ds Max (3D Studio MAX) scene
Other file extensions or file formats developed for use with 3ds Max (3D Studio Max)

.a3s
.asc

.ase

.blk

.bmi

.cal

.chr

.csm
.dlc

.dle

.dlm

.dlu

.drf

.fbx

.hif
.ifl

.kbd

.lp

.ls

.lzf

.m

.mat

.maxc

.maz

.mcr

.mli

.mnm

.ms

.mse
.mzp

.pas

.pd3

.pxp

.qop

.rla

.rpf

.rps

.uvw

.uvw

.vp

.vrimg
.vue

.xaf
Common file extensions used by 3ds Max (3D Studio Max)

.3ds

.ai

.avi

.bmp

.dds

.dwg

.dxf

.eps

.ipt

.jpg

.max

.mov
.png

.prj

.ps

.skp

.stl

.tga
.tif
Other file extensions associated with 3ds Max (3D Studio Max)

.act

.adg

.asm

.bip

.bod

.bvh

.catpart

.catproduct

.cel

.cib

.cin
.cr2

.cui
.dlo

.dlv

.dlv4
.dwf

.exp

.exr

.flx

.fxa

.hdr

.hmax
.iam

.ies

.iges

.igs

.jt

.m3
.md5anim

.md5camera

.md5mesh

.model

.n2km

.obj

.ogex

.prt
.rgb

.rvt

.sat

.session

.sgi

.shp

.sldasm

.sldprt

.spt

.step

.stp

.vta

.w3d