Introduction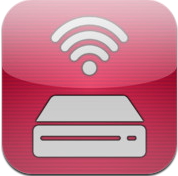 Apple iPhone contains some annoying restrictions. For example, it is unable to work as a mass storage device and you cannot simply copy files over to it. Another problem is, that you need Apple iTunes installed in the computer and a special USB cable to manage the phone.
We will show you how to use Apple iPhone as a portable drive and how to transport any kind of data with wireless through FTP on Windows and Mac OS X.

How to create FTP server from your iPhone
FTP (File Transfer Protocol) is the standard for host-to-host file transferring on the Internet and TCP/IP based networks. FTP server can be created on any computer as well as other smart devices.
There is application called FTP Drive + HTTP Server available on iTunes that can easily create FTP server on your iPhone with just a few steps.

Apple iTunes App Store with FTP Drive + HTTP Server

First download the app from the store. It is not free, but 1$ is not to much.
Open the application and click on Settings icon. In Server part set the Enabled option to on. HTTP and FTP port in 99% cases may be set by default.
In Authorization part set the User name, Password and set Authorization enabled. It is better to protect your data against abusing.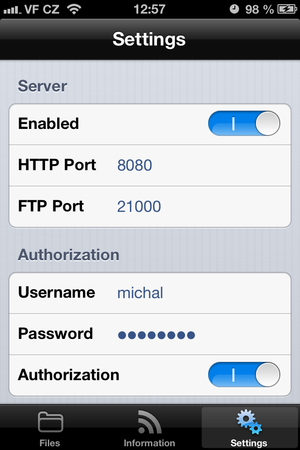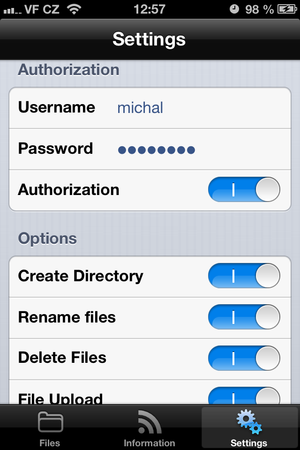 FTP Drive + HTTP Server settings

In Options part you can manage rules for FTP User.


FTP Drive + HTTP Server settings
How to connect to your iPhone FTP Server
When your FTP server is created, click on Information icon. You will see important information about HTTP and FTP IP addresses and ports that you can use to connect to your iPhone.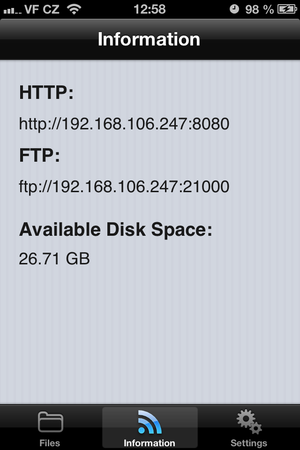 FTP Drive + HTTP Server information
Use Total Commander or muCommander
The easiest way how to connect to your FTP is to use any FTP manager. The one is integrated in popular Total Commander file manager (and its variant for Mac called muCommander).
Open the Total Commander. Click on Net option → FTP New Connection...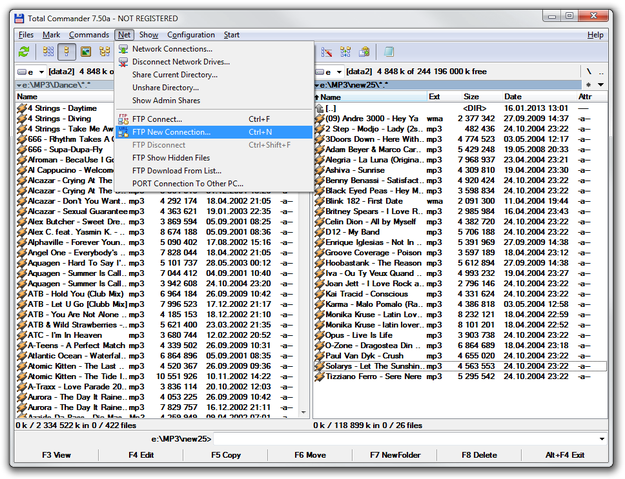 Total Commander FTP connection

Retype FTP IP address from Information page in the FTP Drive + HTTP Server application. Uncheck the anonymous connection box and click on OK button.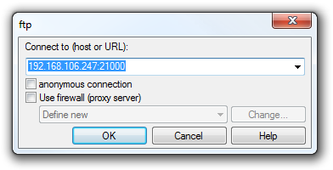 Total Commander host connection
Type User name and password that you set in the FTP Drive + HTTP Server. Now you are able to copy data from your computer to the iPhone.
In muCommander on Mac go to the Go menu → Connect to Server → FTP tab and fill the blank boxes with Server address, Username, Password, set the port and click on Connect.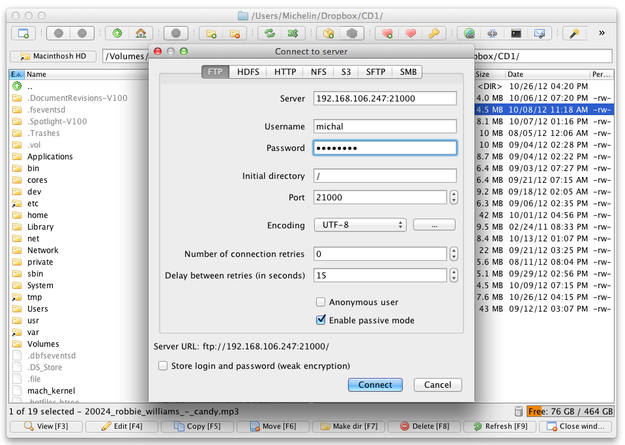 muCommander for Mac
Use FileZilla FTP Client
Another way is to use FileZilla, a free open source FTP, FTPS and SFTP client for both Windows and Apple Mac computers. Download the FileZilla from the Internet and open it. Fill the boxes Host, Username, Password and Port. Click on Quickconnect button.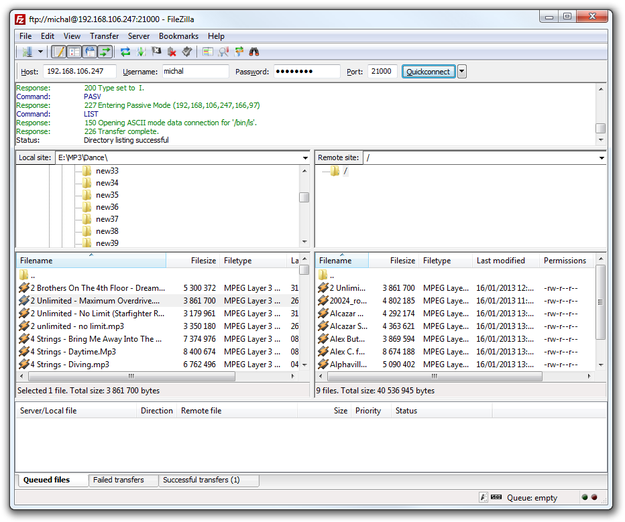 FileZilla Client for Windows
Now you are able to transport data to and from iPhone to computer simply through network. You are also able to manage, preview, copy, erase data in the iPhone. Simply click on File icon in the application.
If you don't have any FTP client installed in your computer, the FTP Drive + HTTP Server application has also its own solution for you. Open web browser and retype HTTP address viewed in the Information to the web browser address bar and press Enter. You will see a simple web interface that can be used to copy files to, or from the iPhone.