Home > Apps > Microsoft Windows
File extension list filtered by software name
PeaZip
Found 100 file extension associations related to PeaZip and 7 file formats developed specifically for use with PeaZip.
Platform, operating system:
Microsoft Windows
Go to: PeaZip description
Developer: Giorgio Tani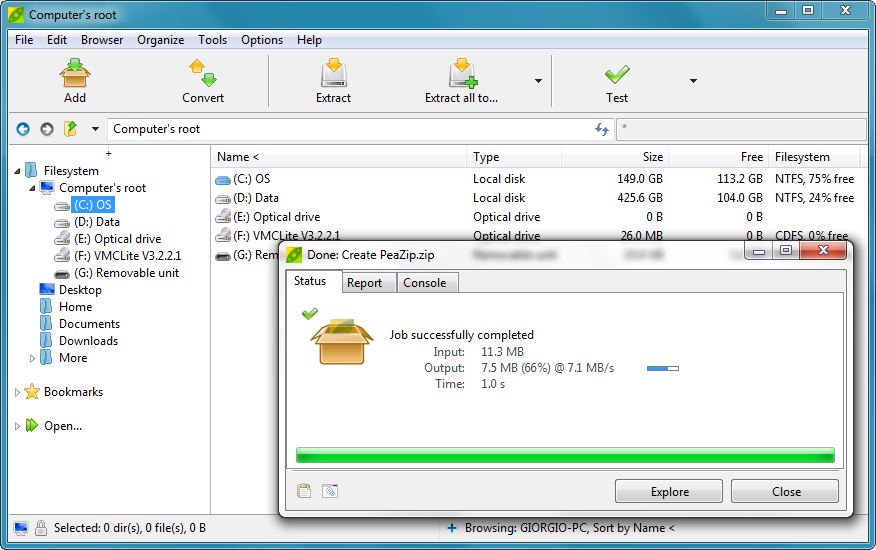 PeaZip
Developer / company: Giorgio Tani
Open source file and archive manager
Flexibe, portable, secure, and free as in freedom.
Creates 7Z, ARC, BZ2, GZ, PAQ/ZPAQ, PEA, QUAD/BALZ, TAR, UPX, ZIP.
Extract 118 archive types: ACE, ARJ, CAB, DMG, ISO, LHA, RAR, UDF and many more...
It offers many options to compress files:
the type of file
size limits
compression options
encryption
File tools:
Split files
Join Files
Compare files
Checksum/hash file(s)
Hex preview and secure file deletion
Other features included:
compare files
secure file deletion
system benchmark
bookmark files or paths
save and load layouts
It allows importing the job's definition from the GUI front end. Its GUI is easy and friendly to use. Its installation process is very easy to perform and no additional libraries or programs are needed it. There is no documentation included on the software but is available in its website to download it and is a complete guide.
PeaZip icon


PeaZip icon
size: 128px x 128px (.png with transparency)

PeaZip works with the following file extensions:
Note: You can click on any file extension link from the list below, to view its detailed information. The list of extensions used or otherwise associated with the application may not be complete, because many common file extensions on our website, such as jpg (pictures) or txt (text files), can be opened by a large number of applications, or are too general file format. However most, if not all directly associated file extensions should be listed with its appropriate program. Although its likely, that some file extensions may be missing from the list of associated file extensions with the application, yet they can be opened, be part of, or otherwise be associated with the program.
PeaZip default file extension associations

.balz

.lpaq1

.lpaq5

.paq6

.paq8

.pea

.sfx
Common file extensions used by PeaZip

.001
.002

.003

.004
.005

.006
.007

.008

.009

.010
.7z

.arc

.cab

.deb

.dmg

.gz

.gzip

.iso

.lit

.pak

.part1.rar
.part2.rar

.r00

.r01
.r02
.r03

.r04

.r05

.r06

.r07

.r08

.r09

.r10

.rar

.rpm

.tar

.tgz

.xpi

.z01
.zip
Other file extensions associated with PeaZip

.7-zip

.7z.017

.bz

.bz2

.bzip2

.cb7

.cbt

.cpio

.ear

.hfs

.lha

.lpaq8
.lzh

.lzma

.lzma86

.mslz

.paq7

.paq8f

.paq8jd

.paq8l

.paq8o

.part1

.part4.rar

.pup

.r0

.r11
.r20

.r30
.r32

.r33

.r34

.r41

.r47

.sfs

.smzip

.split

.swm

.taz

.tbz

.tbz2

.tpz

.txz

.tz

.u3p

.udf

.war

.wim

.wrc

.xar

.xz

.z07
.zipx

.zpaq