Home > VideoLAN Project Team
File extension list filtered by software name
VLC media player for Android
Found 134 file extension associations related to VLC media player for Android and 3 file formats developed specifically for use with VLC media player for Android.
Platform, device:

Google Android
Go to: VLC media player for Android description
VLC media player for Android website
Developer: VideoLAN Project Team
VideoLAN software list & details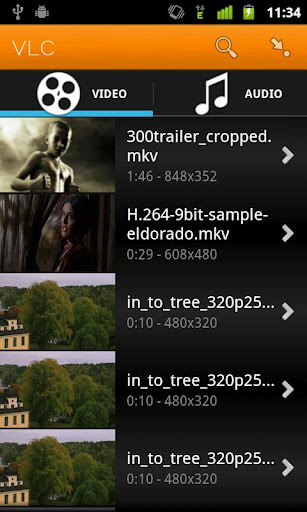 VLC media player for Android
Developer / company: VideoLAN
VLC is a free and open source cross-platform multimedia player that plays most multimedia files as well as discs, devices, and network streaming protocols.
Plays all files, in all formats, like the classic VLC.
Audio and video media library, with full search.
Support for network streams, including HLS.
Supports Android from version 2.1 (platform-7).
Supports ARMv6, ARMv7 and ARMv7+NEON.
Subtitles support, embedded and external, including ASS and DVD subtitles.
Multi audio or subtitles tracks selection.
Multi-core decoding, for Cortex-A7 A9 and A15 chips.
Experimental hardware decoding.
Gestures, headphones control.
VLC media player for Android icon

VLC media player for Android icon
size: 128px x 128px (.png with transparency)

VLC media player for Android works with the following file extensions:
Note: You can click on any file extension link from the list below, to view its detailed information. The list of extensions used or otherwise associated with the application may not be complete, because many common file extensions on our website, such as jpg (pictures) or txt (text files), can be opened by a large number of applications, or are too general file format. However most, if not all directly associated file extensions should be listed with its appropriate program. Although its likely, that some file extensions may be missing from the list of associated file extensions with the application, yet they can be opened, be part of, or otherwise be associated with the program.
VLC media player for Android default file extension associations
The most common file formats used with the specific file extensions
.mkv file extension is used for Matroska multimedia container

.mov file extension is used for Apple QuickTime digital video
Other file extensions or file formats developed for use with VLC media player for Android

.cache-2
Common file extensions used by VLC media player for Android

.3g2

.3ga
.3gp

.aac
.aiff

.amr

.ape
.asf

.asx

.avi

.cda

.cue

.flac

.flv

.ifo
.m2t

.m2ts
.m3u

.m3u8

.m4a

.m4b

.m4p
.m4v
.mkv

.mod

.mov

.mp3

.mp4

.mpeg
.mts

.ogg
.ogv

.pls

.rec

.rmvb

.srt
.sub

.tod
.ts

.vob
.wav

.webm
.wma

.wmv
Other file extensions associated with VLC media player for Android

.3gp2

.3gpp

.3p2

.a52

.ac3

.adt

.adt

.adts

.aif

.aifc

.amv

.anx

.aob

.aqt

.ass

.au
.avc

.axa

.axv

.b4s

.bdmv

.cdg
.divx

.dts

.dv

.fla

.flh

.flvat

.gvp

.idx

.it

.jss
.m1v
.m2p

.mbv

.mid

.mka

.mks

.mlp

.mod

.moi

.moov

.mp1
.mp2

.mp2v

.mp4a

.mp4v

.mpa

.mpc

.mpe

.mpeg1

.mpeg2

.mpeg4

.mpsub

.mpv

.mpv2

.mxf

.nsv

.nuv

.oga

.ogm

.ogx

.oma

.pjs

.ram

.rm

.rmi

.rt
.s3m
.sdp

.spx

.svi

.thd

.trp

.tta

.tts

.usf

.vlc

.voc

.vp6

.vqf

.vro

.vse

.w64

.wv

.xa

.xm

.xspf

.xwm