What is .wri file?
File type specification:

Document file type
wri file icon:

The WRI file extension is associated with Windows Write, a simple word processor used in older versions of Windows OS.Microsoft Windows Write was simple word processor, that was distributed with Microsoft Windows to version 3.11.
A *.wri file is a document created and saved in Windows Write.
In Microsoft Windows 95 and higher was Microsoft Write replaced by Microsoft WordPad. Microsoft WordPad can open the .wri files, but format is not officially supported.
MIME: application/x-wri, application/x-mswrite, application/x-wri, application/mswrite, application/x-mswrite, application/wr, zz-application/zz-winassoc-wri, application/msword, application/microsoft_word
The default software associated to
wri file type: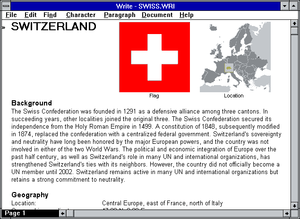 Microsoft Write
Company or developer:

Microsoft Corporation
Windows Write is a simple word processor that came with Microsoft Windows 1.0, Windows 2.0, and the Windows 3.x series. Throughout its lifespan it has been minimally updated, and is comparable to early versions of MacWrite
List of software associated to the
.wri file extension
Recommended software programs are sorted by OS platform (Windows, Mac OS X etc.) and possible program actions
that can be done with the file: like open wri file, edit wri file, convert wri file, view wri file, play wri file etc. (if exist software for corresponding action in File-Extensions.org's database).
Hint:
Click on the tab below to simply browse between the application actions, to quickly get a list of recommended software, which is able to perform the specified software action, such as opening, editing or converting of the wri files.
Open wri file

Edit wri file

View wri file

Create wri file

Import wri file

Others wri file
Software that open wri file - Windows Write document file
Click on the link to get more information about listed programs for open wri file action.
Microsoft Windows:
Main software associated with wri file by default:
Microsoft Write
Other suggested software:


Microsoft Word


Microsoft Works


Corel WordPerfect
Atlantis Word Processor


TextMaker


Ability Write
Add a comment
Any information regarding file extension .WRI is welcome!
Didn't you find answers for your problems? Try our forums at forum.file-extensions.org