About Apple iBooks
iBooks is the native application developed by the Apple Inc. for iPhone, iPad and iPod Touch for reading books in electronic format. iBooks includes the iBookstore, where you can download new bestsellers or your favorite classics. You can browse your digital library on a beautiful bookshelf, tap a book to open it, flip through pages with a swipe or a tap, and bookmark or add notes to your favorite passages.

iBooks can open two document formats. The first is Adobe PDF document file format. The second is ePub document format, that is used as industry standard for storing books in electronic book format. First versions of iBooks cannot open Adobe PDF documents, but latest versions, that can read PDFs, are available to download on iTunes Store.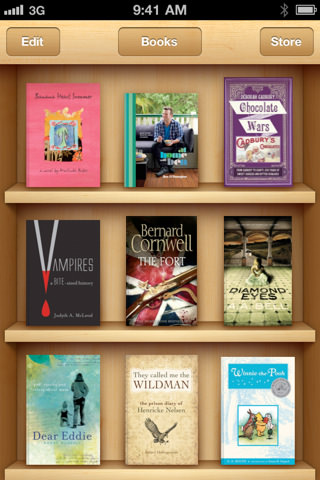 Apple iBooks for iPhone
Import PDF document or ePub electronic book to iBooks via e-mail
If you have an ePub e-book or PDF document on your computer, that you would like to send for example to iPad. → Send a simple e-mail message, where ePub or PDF document will be send as attachment, that you can use on iPad. → Open iPad Mail client and receive e-mails. → Select the e-mail with your ePub ebook or PDF document .→ Tap on attachment. → iPad mail client will show the menu, where you can choose Open in "iBooks" option → After that, iPad will save file to the iBooks library and open it.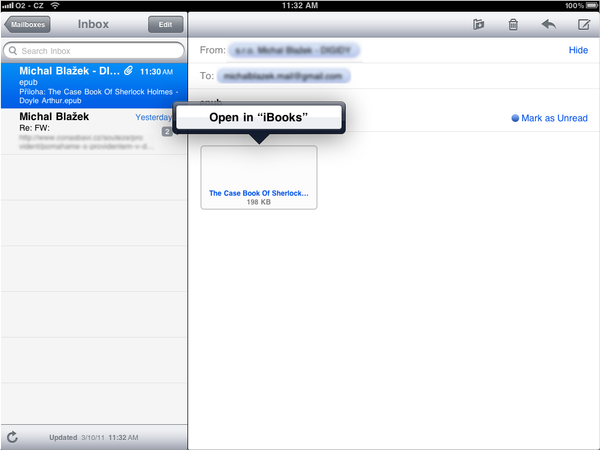 Apple iPad Mail Client

Import PDF document or ePub electronic book to iBooks with iTunes
Connect your iOS device such as iPhone, iPad or iPod Touch to the computer

Open the iTunes and choose File → Add File to Library menu





Menu File in Apple iTunes



Choose the ePub ebook or PDF document, that you would like to import to your device

The file will be imported to the Books in iTunes Library folder



Drag the file and drop it to your iOS device visible in iTunes library