Installing fonts in Microsoft Windows
Windows XP
To install fonts in Windows XP, simply drag the font file to the opened Fonts control panel, or alternatively select File → Install New Font... and browse to the font you wish to install to your Windows XP installation.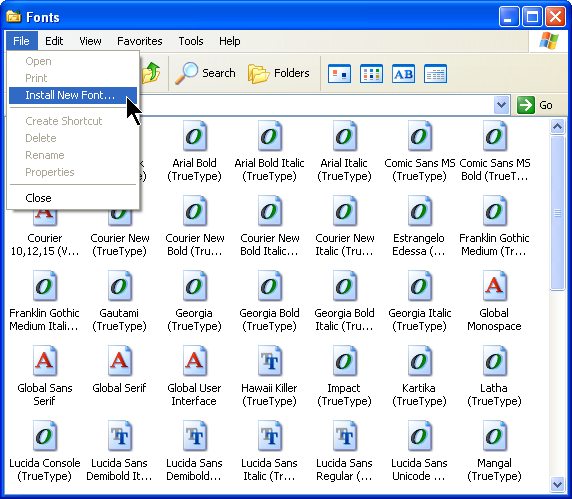 Microsoft Windows XP Fonts control panel screenshot with opened File menu
Windows Vista / Windows 7
To install fonts in Windows 7, simply right-click on the font file and select the Install option (requires administrative rights) and the font will appear in the Fonts control panel and will be usable by your applications.
Supported fonts in Microsoft Windows
Microsoft Windows supports OpenType, TrueType, Composite and Adobe Postscript fonts.
Useful font features in Windows 7
In the latest Windows 7 operating system you can hide selected fonts, so they are not visible for applications that work with them, such as Microsoft Word. That is especially handy if you use just couple of fonts, and don't want to scroll through whole list every time you want to change a font.
The already hidden fonts are "grayed out" in the Fonts control panel. You can select them and click on the Show button (or left click on them and choosing show from the menu) and to make them visible for your applications. Same way you can Hide some fonts with left click and hide options. You can switch between visible or hidden option for fonts as you like.

Windows 7 Font control panel screenshot