Home > Sublime HQ Pty Ltd
File extension list filtered by software name
Sublime Text
Found 485 file extension associations related to Sublime Text and 88 file formats developed specifically for use with Sublime Text.
Platform, operating system:
Microsoft Windows
Go to: Sublime Text description
Developer: Sublime HQ Pty Ltd
Sublime HQ software list & details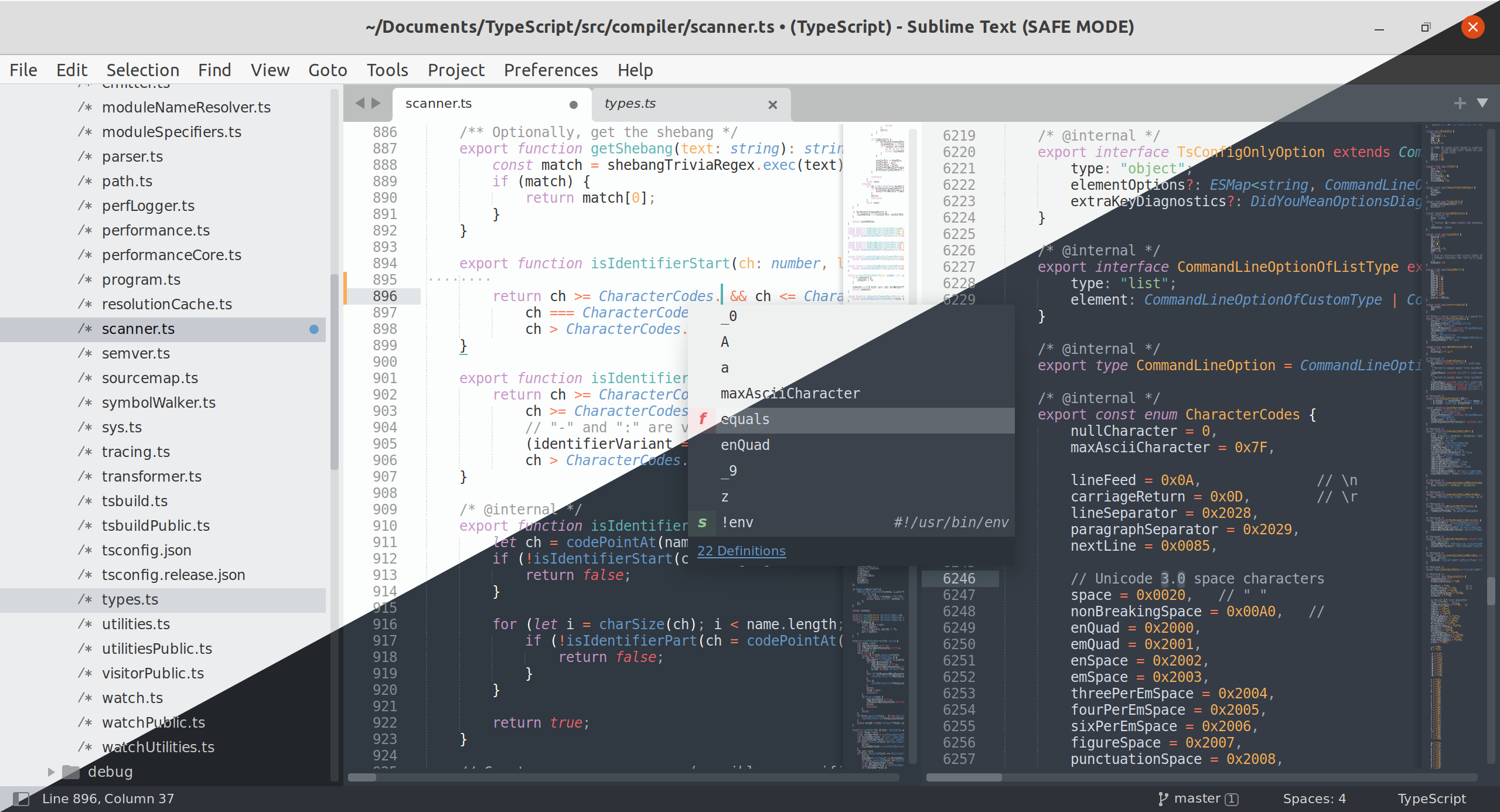 Sublime Text
Developer / company: Sublime HQ
Sublime Text is an advanced text editor used to write source codes in various programming languages. You'll love the slick user interface, extraordinary features and amazing performance. The program is available for all main platforms.
Goto Anything function
This allows you to instantly jump between keywords and symbols to speed up your work with the file
Command palette
A special bar for infrequently used functions, so you do not have to remember millions of keybind combinations
Split Editing
Great for multi-display systems. Allows you to edit two files side by side.
Multiple selection
With this you can peform changes all at once, instead clicking the same thing ten times in row.
Absolute customization options
You are able to customize almost everything in the program.
And a lot more!
Sublime Text icon


Sublime Text icon
size: 128px x 128px (.png with transparency)
Search converter
Sample related conversions

Sublime Text works with the following file extensions:
Note: You can click on any file extension link from the list below, to view its detailed information. The list of extensions used or otherwise associated with the application may not be complete, because many common file extensions on our website, such as jpg (pictures) or txt (text files), can be opened by a large number of applications, or are too general file format. However most, if not all directly associated file extensions should be listed with its appropriate program. Although its likely, that some file extensions may be missing from the list of associated file extensions with the application, yet they can be opened, be part of, or otherwise be associated with the program.
Sublime Text default file extension associations
The most common file formats used with the specific file extensions

.cfg file extension is used for Configuration files

.html file extension is used for HyperText Markup Language web page
.js file extension is used for JavaScript source code script

.lng file extension is used for Language definition

.log file extension is used for Log file

.src file extension is used for Generally source code

.text file extension is used for Text file

.tpl file extension is used for Generally a template

.txt file extension is used for Simple text
.xml file extension is used for XML document
Other file extensions or file formats developed for use with Sublime Text

.aah

.arxml

.ascii

.bal

.beta

.bibtex

.bs2

.chtml

.cls

.clsid

.con

.cxl

.daily

.desc

.dsd

.err

.etx

.fastq

.fq

.gcode

.go

.haml

.hgm

.inc

.jeb

.jsc

.kd

.lit

.lol

.ltr
.lua

.mhl

.mnft

.mrk

.mrl

.nsconfig

.oer

.osn

.pdml

.perl

.r

.rb

.ror

.rpp

.rtx

.s

.s19

.sami

.sass

.sdxf

.shit

.sl

.sml

.spef

.sublime-build

.sublime-completions

.sublime-menu

.sublime-mousemap

.sublime-package

.sublime-project

.sublime-session

.sublime-settings

.sublime-snippet

.sublime-syntax

.sublime-theme

.sublime-workspace

.tea

.tgml

.tmlanguage

.tmPreferences

.toml

.txl

.txml

.vtt

.weekly

.xlog

.xml-log

.xpdl
Common file extensions used by Sublime Text

.asm

.asp

.bat

.cfg

.css

.htm

.html

.inc

.inf

.ini
.jad

.java
.js

.json

.jsp

.lng

.log

.lst
.nfo

.opml

.php

.rc

.rep

.rss
.sql

.src

.srt

.svg

.text

.tpl

.txt

.usr

.xhtml
.xml

.xsd

.xsl
.xslt
.xslt
Other file extensions associated with Sublime Text

.1

.adp

.ames

.aml
.annot

.ans

.ansi

.appcache

.applescript

.as

.asa

.asc

.asic

.asp

.att

.au3

.axd

.ba1

.bas

.bash

.bashrc

.bash_login

.bash_logout

.bash_profile

.bcp

.bdt

.bib

.blif

.blm

.bml

.bns

.bsh

.bss

.build

.builder

.bxml

.c

.c++

.capfile

.cc

.ccxml

.ceid

.cfc
.cgi
.cgi

.cgx

.cl

.clj

.clojure

.cls

.cm0013

.cmake
.cmd

.cob

.command

.conf

.coo

.cookiedb

.cp

.cphd

.cpp

.cpy

.cs

.cshtml

.csml

.cson

.csproj

.csx

.ctp

.cxml

.cxx

.cz

.d

.db-journal

.dbml

.dbo

.dbp
.dbproj

.ddl

.dea

.df

.di

.diff

.diz

.dml

.dml

.dnx

.dob

.dot

.dropbox

.drp

.dtml

.eaf

.ecsv

.edi

.egg-info

.eia

.el

.emakefile

.emakerfile

.emlx

.en

.ent

.ephtml

.erb

.erbsql

.erl

.exc

.eze

.f

.f4m

.fcg

.fcgi

.ffp

.flr

.forth

.fr

.frag

.fs

.fsa

.gemfile

.gemspec

.gift

.gnumakefile

.gpd

.groovy

.grxml

.gsc

.gshader

.gvy

.gypi
.h

.h++

.har

.hc

.hdm

.helpcfg

.hex

.hh

.hla

.hpp

.hrl

.hs

.hs

.hshader

.ht

.htc

.html5

.htm~
.hxx

.idt

.ift

.ini2
.inl

.ipp
.iqy

.irbrc

.irev

.isx

.itmx

.j

.jav

.jbeam

.jgw

.jnlp

.jscript

.jspa

.jspx
.jsx

.jtx

.ju

.lap

.las

.lcx

.lge

.lhs

.linux

.lisp

.litcoffee

.lnc

.lob

.lsp

.lvm

.m

.ma

.makefile

.mako

.manifest

.markdn

.markdown

.matlab

.mcl

.md

.md

.mdown

.med

.meta4

.metriclog

.mit

.ml

.ml

.mli

.mli

.mly
.mm

.mof

.mpb

.msc

.msdl

.mst

.n3

.nhn

.ocamlmakefile

.oeaccount

.ooa

.oplm

.orl
.osc

.out

.p5

.p6

.pas

.patch

.pcf

.pdu

.pfx

.pgw

.phl

.phtml

.pks
.pl

.pl5

.pl6

.plx

.pm

.pm5

.pm6

.pml

.pod

.prl

.profile

.propdesc

.properties

.ps1

.psc

.psd1

.psml

.pt

.pxml

.py

.pyt

.pyw

.rake

.rakefile

.rb

.rbw

.rbx

.rd

.rdat

.rdf

.rdp

.re

.rej

.rels

.rest

.resx

.rhtml

.rjs

.rkt

.rml

.rprofile

.rpy

.rs

.rsp

.rsp

.rst

.rtc

.rus

.rxml

.s4p

.sbml

.scala

.scf

.scm

.sconscript

.sconstruct

.scr

.script

.script editor

.scss

.sdnf

.serverdef

.sfb

.sh

.sha1

.sha1

.sha256

.sha512

.sht

.shtml

.sls

.smali

.smd

.smil

.soap

.sp

.srx

.ss

.ss

.ssa

.ssml
.stm

.str

.sty

.sublime-keymap

.syp

.t3d

.tcl

.tdump

.tex

.textile

.textmate_init

.thor

.thtml

.tilemap
.tld

.tmpl
.tpl

.trx

.tt

.twig

.tx8
.uccapilog

.uhtml

.uix

.uk

.unx
.url

.us

.usi

.utf8

.vb

.ver

.vfk

.vml

.vstdir

.wcf

.wli

.wrts

.ws

.wsf

.wsh

.wtf

.xamlx

.xblr

.xbrl

.xbs
.xcconfig

.xfdl

.xig

.xlf

.xmla

.xpd

.xv2

.yaml

.yaws

.yml

.zsh

.zul