About Matroska
Matroska is a popular free multimedia container format, that can hold an unlimited number of video, audio, picture or subtitle tracks inside a single file. Matroska uses file extension MKV for video and MKA file extension for audio-only files. MKV file format is intended to serve a universal format for storing multimedia content, like HD movies and TV shows.
MKV video on iPad
Apple iPad and other devices with Apple iOS operating system support MP4 video format. Videos are imported to iPad by the Apple iTunes, that is default managing program for iPad and other devices developed by Apple. iTunes doesn't support Matroska video format playback and also cannot import it to the iPad.
There are two basic solutions how to play MKV videos on iPad. The first is to use any third party video converters, that converts MKV video file to the MP4 video format. The second solution is to use third party media player for iPad such as VLC Media Player or OPlayer HD.
How to import MKV video to iPad
There is an article about How to easily play DivX movies on iPad on our website, that contains instructions about how to import video file to VLC Media Player via iTunes. This instructions is also useable for OPlayer HD.
How to customize MKV video for playback in iPad
If you have no smooth playback of MKV movie on your iPad, it is time to use HandBrake. HandBrake is free video transcoder, that is available for Microsoft Windows, Mac OS X and Linux. HandBrake has built-in settings for best transcoding of video files for Apple iPad, Apple iPhone and iPod Touch. HandBrake can keep MKV video in same format and only change video settings for smooth playback on iOS device, or convert MKV video to Apple MP4 video format.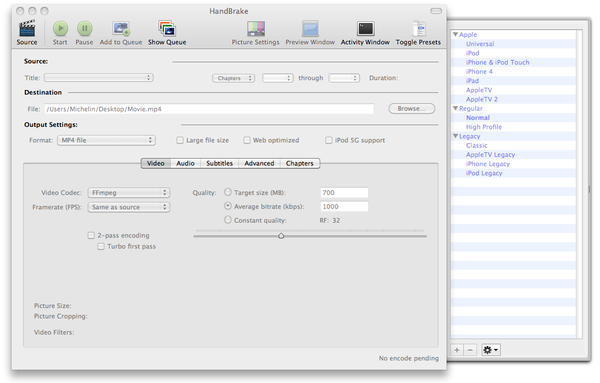 HandBrake for Mac


Steps to customize the MKV video file with HandBrake:
Select the source video file.



Set destination folder and file name.



Set output video settings by built-in presets. Use built-in preset for your Apple device.



Choose Container option to select MP4 or MKV file format. If you select MP4 container, your output video will be playable in iTunes and can be directly imported to the iOS device via iTunes.



Click on the Start button and wait until the conversion is finished.