Introduction
Losing unsaved work is truly a nightmare. Years back, when programs lacked autosave and autorecovery options and if you didn't save your documents enough, you were risking losing your progress.
Most, if not all, modern office productivity suites like Microsoft Office or its OpenDocument standard alternatives like LibreOffice, OpenOffice.org etc. have a default auto-saving function that periodically saves your document as you write it.
What more, modern office programs can also recover and repair your documents when your computer crashes, your laptop runs out of power or any other unpleasant situation that few years back meant losing all your unsaved work.
Using the default functions in these programs should be the very first step in attempt to recover un-saved or corrupted documents.
However doing regular backups of your documents should be crucial, especially if you spend plenty of time on your documents. Always backup your documents!
Article contents:
Microsoft Office AutoRecover and Repair option
Microsoft Office AutoRecover
Microsoft Office programs (Word, Excel, PowerPoint, Visio etc.) by default save your documents every 10 minutes. You can check these settings in File ► Options, under the Save tab. In latest Microsoft Word it looks like this.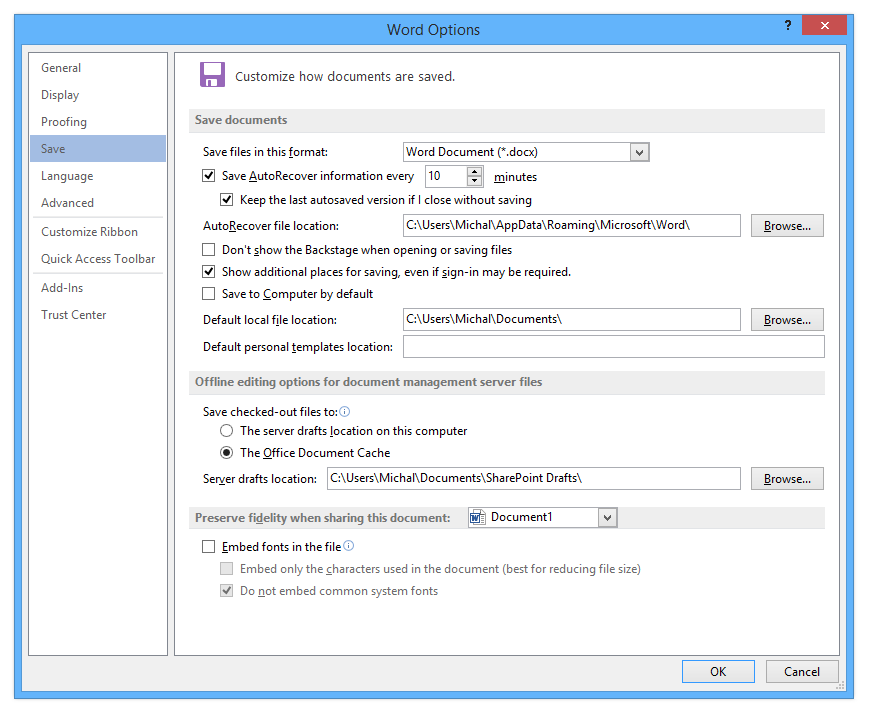 Microsoft Word Options with Save settings tab selected
As you can see on the screenshot, the auto-saving period and the default destinations for both the saved and possible recovered documents can be changed.
For users that type very fast, reducing the saving period may be useful, especially if they work on mobile devices.
The AutoRecover function itself works great. If Word (or any other Office program) shuts down unexpectedly, the next time you start Word it will offer you recovery of the previous document. You can see it on the left side, in the blue menu.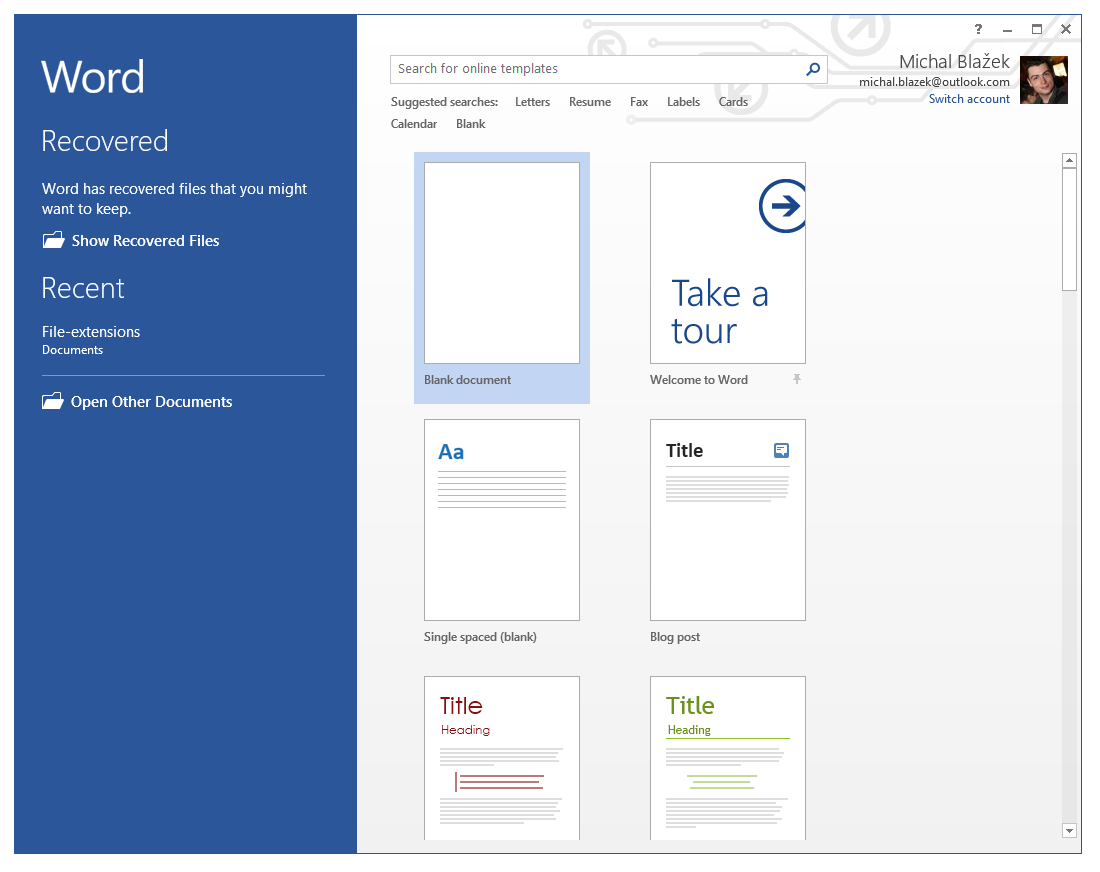 Word shows that some documents were recovered
When you click on the "Show Recovered Files" option, Word will open and offer you all the recovered files it found. There may be several versions of the document as it continuously saves up your work. In our case, there is just one entry.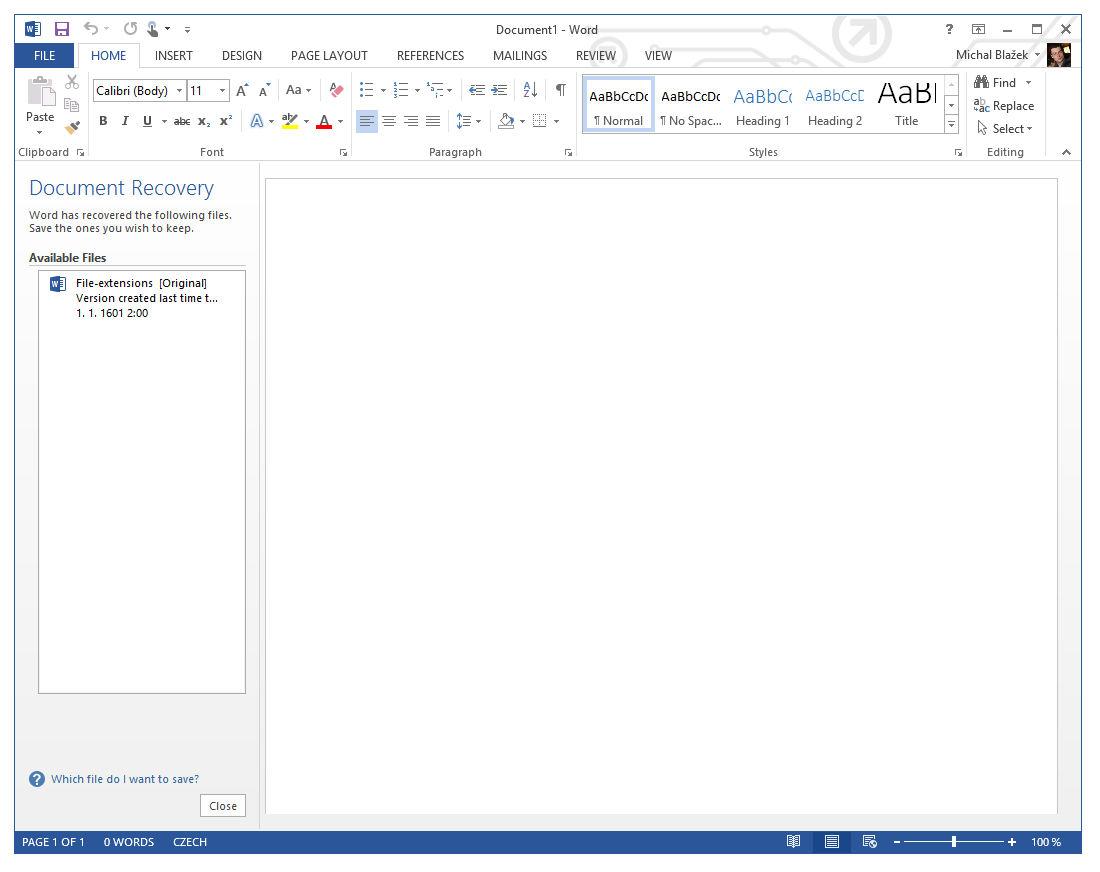 Recovered documents visible in Word
You can either double click on any available file to recover it and open in Word, or right click on it to save it in a separate file. That is probably useful when more files are recovered and you save them all - just in case.

Test document recovered using Microsoft Word
It works exactly same for the rest of latest Microsoft Office products, including Excel, PowerPoint, Visio, Publisher, Project or Access.
Should the document be somehow corrupted or broken, the program will try to fix it with its default repair function.
Previous Office versions recovery
Previous versions of Office programs worked a little differently. Microsoft Word auto-saved documents with ASD extension that replaced the previously used WBK file type. So if you are using these programs, try to search your computer for *.asd or *.wbk files which should contain your auto-saved Word documents.
Excel and other programs usually used some sort of temporary files, which made recovery horrible, but the later did not use separate files for auto-saving functions at all and it was all kept inside the main file. For previous versions, the only hint would be the default location of Excel spreadsheet, which also can contain one, or more auto-saved versions.
OpenOffice.org and other OpenDocument based programs
Much like Microsoft Office, even it's alternatives contain auto-saving function that can be further adjusted in the program options. What these program lack, is the sophisticated Office auto-recover option.
Recovering deleted document files
If you accidentally deleted your documents and have no backup, you need to install some file recovery software and try to find deleted files.
One of such programs is for example the FreeUndelete, which is a great file recovery software for Windows.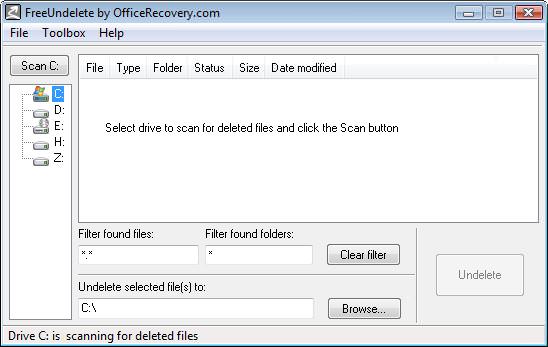 FreeUndelete program
Retrieving data from corrupted document files
Files can be easily corrupted for numerous reasons. Viruses, program errors, hardware glitches, computer shutdowns, hard disk failures and other unfortunate situations can corrupt your document. Commonly this happens during the standard saving procedure unbeknownst to the user.
If you do not have access to a previously auto-saved version or any other form of backup, and the default procedures in your productivity software fails, then the only viable choice is now to try to salvage as much as intact data from the corrupted document as possible so you can recreate your work with least effort.
Manual recovery
Latest documents formats used by MS Office, or any OpenDocument based suites are basically ZIP files that contains XML files. So renaming the extension from, lets say DOCX to ZIP, will allow you to simple decompress the document in a folder.
The main body of the document is usually located within the biggest XML file, labeled either as content.xml for OpenDocument formats or document.xml for Microsoft Office.
In these files you can locate whatever text you need and manually copy it out. Not great, but works rather well for small documents.
If you are unable to extract documents this way, the only way would be to use specialized recovery software, because that would mean the document is heavily damaged.
3rd party document recovery software
To retrieve data from broken documents you will need a special recovery tool, or contact some recovery service specialized on corrupted document. If you google a bit you can find many programs or online services that offer such thing, but most of them will be commercial and none of them cheap.
However, there do exist free alternatives and we will show you one of such programs. They more or less works the same way and offer same thing, so there is no need to show you dozen of them. Apps are released every day, so always try to google for the latest recovery tools.
Corrupt Office Salvager
What the program does? In short, it tries to locate and extract the text from broken Microsoft Office and OpenDocument files (*.doc, *.docx, *.xls, *.xlsx, *.ppt, *.pptx, *.odt, *.ods and *.odp) and recover it. Formatting may also be recovered, but it works mostly for the OpenDocument format and only basic MS Office formatting is supported.
The primary function however is to retrieve the text from the body of the document. It can also be used to view the unformatted text in healthy documents.
Great is also the addition of alternative recovery tools via links provided in the menu, to point users to other worthy document recovery tools.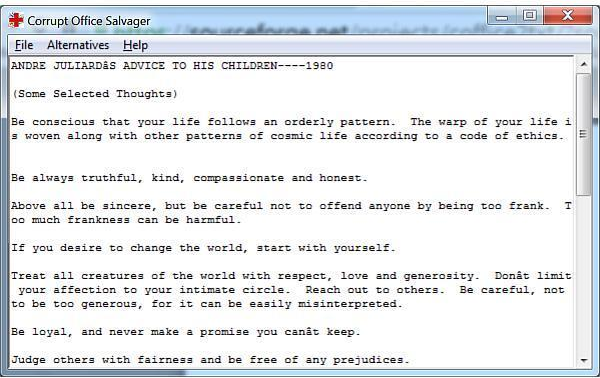 Corrupt Office Salvager program
The author of this tool also developed some other, more specialized recovery programs that focus on individual programs from Office suites, these may also be worth of checking.
A freeware choice is always worth the shot before you buy something for hard earned money.
Dedicated file recovery services
There are also some pretty expensive services that can help you with recovery of almost every file type. But the cost can be pretty high. One of such is for example the Office Recovery service.