Trojans and Viruses are not the only thing threatening your computers. Sometimes a simple registry entry from some malicious source is enough to "lock" the computer of less experienced computer user and drive him crazy in his attempt to restore his computer.
One of the infamous ways Trojans and other malware programs can use, is to disable your Windows Task Manager by adding couple of simple registry entries. In this article we will show you how to solve this problem and restore and repair your disabled task manager.
Disabled Task Manager
This can easily happen to anyone on internet. Here is one of the more typical encounters. You open an unknown page and it begins. A Trojan tries to sneak upon your system, it adds registry entry to disable your task manager and open a new full screen window of internet browser to show its content or prevent you from doing anything else.
And now it begins...you attempt to launch task manager (Ctrl + Shift + Escape) only to see that nothing happens. When looking for it in Start ► Search box (taskmgr.exe) you end up with following warning window.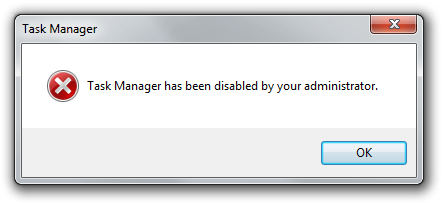 When you press Ctrl + Alt + Del you find that Task Manager is removed from the presented choices. You might also try to investigate the task manager by right clicking in the notification area to pop-up the context menu only to find it grayed out. But your Task Manager is disabled.
So what can you do? While antivirus software might have blocked the virus, it can happen that it fails to block the assault on your registry by a simple .reg file executed as attachment on your website.
Fixing Windows Task Manager
The problem looks much worse than it actually is. Nothing was deleted from your system, just few registry entries were added to it to disable your Windows Task Manager. The function there is primarily for system administrators, but it can be abused by malware programs. So how do we fix your disabled Task Manager?
Restoring Task Manager: Step 1
Launch your Windows Registry Editor, by going Start ► and typing regedit it in search box and pressing enter, when it is found in your system.
For anyone unfamiliar with this legacy program found in Windows from its earliest versions, the main window looks like the one shown on the screenshot below.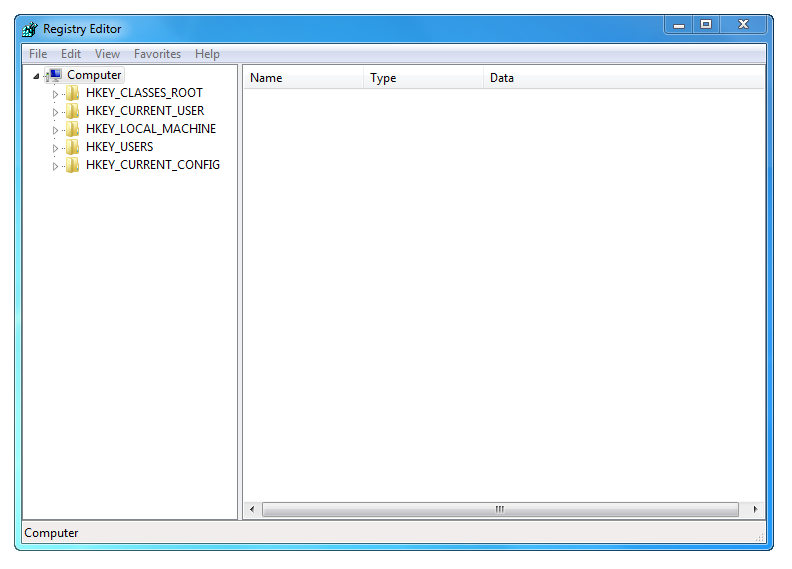 Restoring Task Manager: Step 2
Now press CTRL + F and search for DisableTaskMgr value.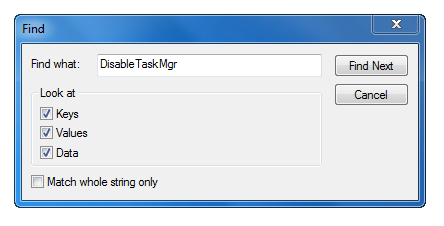 This is the entry that disabled your Task Manager. Typically it can be found in three registry locations:
HKEY_CURRENT_USER\Software\Microsoft\Windows\CurrentVersion\Policies\System
HKEY_LOCAL_MACHINE\Software\Microsoft\Windows\CurrentVersion\Policies\System
HKEY_USERS\.default\Software\Microsoft\Windows\CurrentVersion\Policies\System
Restoring Task Manager: Step 3
Now just click on the registry value and press delete to remove this pesky entry from your system.

And voilà, after all such entries are purged from your registry, your Windows Task Manager is restored.
How to prevent disabling of Task Manager?
First of all, do not execute unknown .reg files you find on internet, unless you are certain what exactly they do. Few registry keys added here and there and it will take you hours to purge your system, if its still possible.
Always make sure you have updated antivirus running on your computer. Many modern commercial security programs have Free or Lite versions that should more than enough to protect you from various threats on internet. And also don't visit suspicious websites with dubious content but the