TIP: How to use Skydrive with Microsoft Office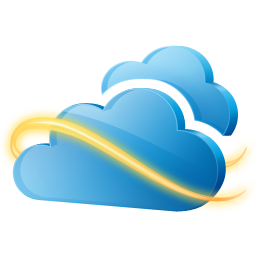 While many people have their Windows Live account and use Windows Live Messenger regularly, some even don't know, that they have access to a free cloud on-line storage from Microsoft.
The service is called SkyDrive and it is around for quite some time, but it got recently an update and has some new great features. It is especially handy to people who need to work from several computers and devices or want to have access to some documents or photos from any place via internet. There are of course alternatives, like DropBox or GoogleDrive, but if you work frequently in Windows, with Microsoft Office software and even have Windows Phone you will really appreciate what SkyDrive offers.
SkyDrive Cloud Storage
SkyDrive currently offers 7 GB of free storage for new users, however old users can increase it to 25 GB for a limited time. So if you have Windows ID and if you didn't already do so, quickly login to your SkyDrive account and update your account so you wont miss the chance.
There is also paid yearly plan that can increase the size of your SkyDrive cloud up to 100 GB for a total of 125 GB (107 for new users).
SkyDrive and Microsoft Office
SkyDrive is integrated into latest versions of Microsoft Office. More specific, it can be used in conjunction with Microsoft Word, Excel, PowerPoint and OneNote, and allows you to save your documents directly to SkyDrive folder and work with them later.
You can simply use use File ► Save & Send ► Save to Web ► Sign In option, login to SkyDrive with your Windows Live ID and save the file directly to cloud.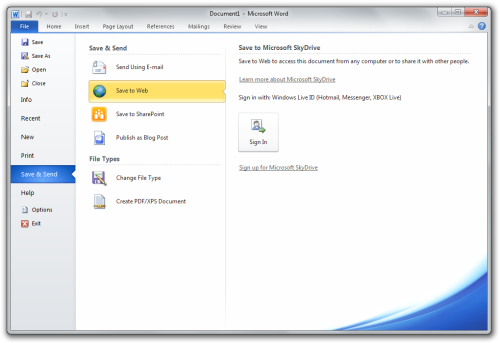 SkyDrive integration in Microsoft Word. (click on the screenshot to enlarge it)

You can then access these documents on SkyDrive website and continue to work (albeit with limited functions) in a web version of Microsoft Office programs.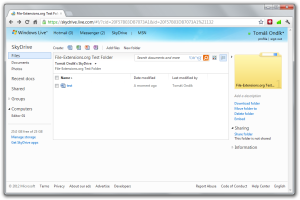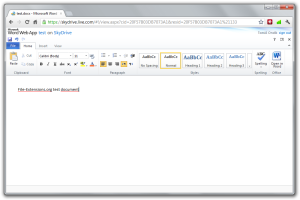 Microsoft Word document on SkyDrive opened in Word web app. (click on the screenshots to enlarge them)

If you have Windows Phone, you can access those documents in Office ► Locations ► SkyDrive and continue to work with these files. There is also same app for iOS devices, so even Apple users with iPhone or iPad can fully utilize Skydrive.
This makes SkyDrive a really great tool for working with Office documents no matter if you are Windows, Mac user or have an iPhone or Windows Phone.
SkyDrive on desktop computer
Microsoft released apps for both Windows and Mac OS X, with which you can easily synchronize your computer and your SkyDrive account.
In Windows it adds another folder to Windows Explorer and you can pretty much work with it like you are used to and quickly copy documents and other files to and from your SkyDrive. Basically it replaces the sometimes laggy uploading of your files through web browser. It also now supports files large as much as 2GB, which is large step from the previous 100MB limitation. On Mac it is implemented as user directory in Apple Finder.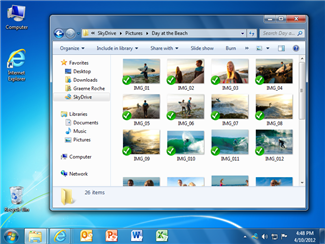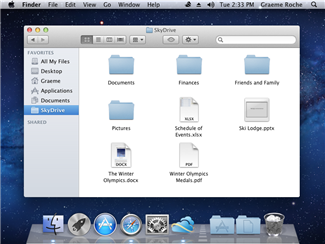 Official screenshot of SkyDrive for Windows and Mac.
File Sharing through SkyDrive
With SkyDrive you can also simply share folders and individual files with other users. You will just grant them access via the share option and SkyDrive will send e-mail with URL to shared files. This is great feature for easy sharing of your family or holiday photos to your friends or sharing documents with your fellow colleagues.

Sharing selected folder to a specific user through e-mail. (click on the screenshots to enlarge them)
SkyDrive service is also fully integrated with social networks, like Facebook, Twitter or Linkedln. You can easily share your files (especially photographs) on these networks.
SkyDrive and 3rd party Windows Phone apps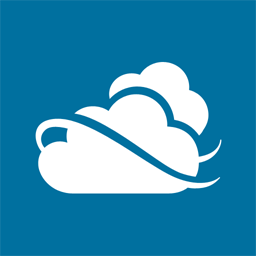 Some great 3rd party apps for Windows Phone are fully integrated with SkyDrive. For example all Top Windows Phone e-book readers can be synchronized with your SkyDrive accounts, so you can easily access your e-book library directly in your phone. But that's just top of the iceberg, hopefully more and more apps for Windows Phone will take advantage of SkyDrive.