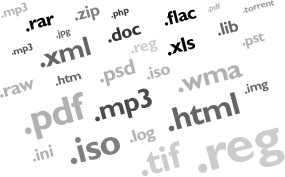 File extension or filename suffix is usually three, four or more characters at the end of computer file names divided by a dot.
File extensions are useful to computer programs and operating systems like Windows or OS X, and basically telling them, what kind of data and file type they are working with and what associated program opens this file.

File-extensions.org library contains thousands of file extensions and the database is still growing.
A large number of file type entries have detailed descriptions, including their current use and the list of programs that can open, view, edit, convert or play unknown file you search for.

Latest articles
Check out the recently published articles related to file extensions, tutorials or software reviews.

Enter the source and target file type specified by their file extensions. For example simply try flac to mp3.