Home > Adobe Systems Incorporated
File extension list filtered by software name
Adobe Photoshop
Found 234 file extension associations related to Adobe Photoshop and 122 file formats developed specifically for use with Adobe Photoshop.
Platform, operating system:
Microsoft Windows
Go to: Adobe Photoshop description
Developer: Adobe Systems Incorporated
Adobe software list & details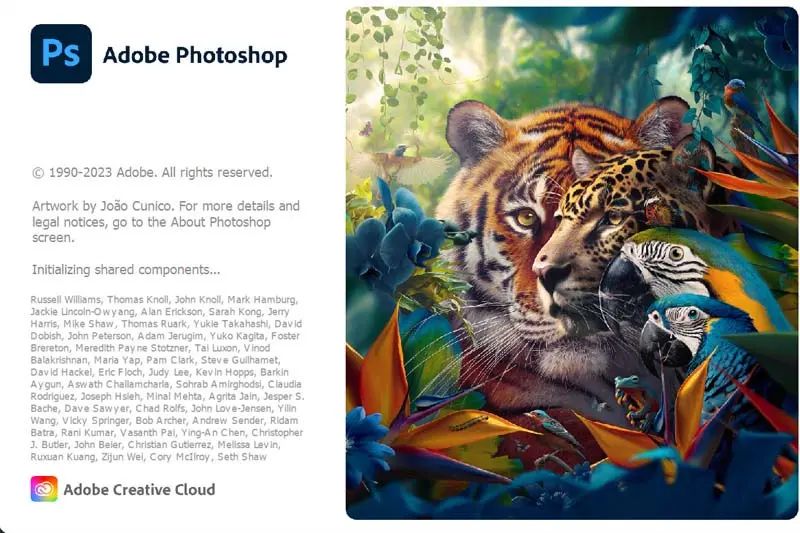 Adobe Photoshop
Developer / company: Adobe
Adobe Photoshop is one of the best bitmap editing programs available on the market. In its latest version the Photoshop CC it comes as part of Creative Cloud, whilst the previous version Photoshop CS6 was available in Creative Suite.
Adobe Photoshop software redefines digital imaging with powerful new photography tools and breakthrough capabilities for complex image selections, realistic painting, and intelligent retouching. Enjoy cross-platform 64-bit support and a wide range of workflow enhancements.
Photoshop CC is part of Creative Cloud. That means you have access to all the latest updates and future releases the moment they're available. You can use Sync Settings and Save to Cloud to keep your settings and files organized across multiple computers. And with Behance integration, you can share your projects straight from Photoshop CC and get immediate feedback from creatives around the world.
Refine your photographs
Achieve superior results in fewer steps when you remove noise, add grain, create vignettes, correct lens distortions, sharpen, and create HDR images. And enjoy better-than-ever raw file conversion
Maximize Creative Impact
Explore fresh design possibilities with powerful new tools. Paint naturally and realistically with on-canvas color blending and textured brush strokes. Warp or stretch graphics, text, or image elements to create unique looks.
Design with precision
Get exactly the look you want, more quickly than ever before. Easily select intricate image content, such as hair, for refinements, compositing, or placing in layout. Remove an image element and see the space fill in almost magically.
Adobe Photoshop icon


Adobe Photoshop icon
size: 128px x 128px (.png with transparency)

Adobe Photoshop works with the following file extensions:
Note: You can click on any file extension link from the list below, to view its detailed information. The list of extensions used or otherwise associated with the application may not be complete, because many common file extensions on our website, such as jpg (pictures) or txt (text files), can be opened by a large number of applications, or are too general file format. However most, if not all directly associated file extensions should be listed with its appropriate program. Although its likely, that some file extensions may be missing from the list of associated file extensions with the application, yet they can be opened, be part of, or otherwise be associated with the program.
Adobe Photoshop default file extension associations
The most common file formats used with the specific file extensions

.abr file extension is used for Adobe Photoshop brush

.arw file extension is used for Sony Digital Camera RAW digital image

.crw file extension is used for Canon digital camera RAW image format

.csh file extension is used for Adobe Photoshop custom shape

.dng file extension is used for Adobe Digital Negative file

.eps file extension is used for Encapsulated PostScript file

.gif file extension is used for Graphics interchange file format

.jpeg file extension is used for JPEG bitmap image format

.jpg file extension is used for JPEG bitmap image format
.png file extension is used for Portable Network Graphic

.psb file extension is used for Adobe Photoshop Large Document Format

.psd file extension is used for Adobe Photoshop graphics file
.tiff file extension is used for Aldus Tagged Image File Format (TIFF) bitmap image
.u3d file extension is used for Universal 3D format graphics
Other file extensions or file formats developed for use with Adobe Photoshop

.00_png_srz

.8ba

.8bc

.8be

.8bf

.8bi8

.8bim

.8bl

.8bp

.8bps
.8bs

.8bx

.8li

.8ly

.8ty

.acb

.acf

.acm

.aco

.act

.acv

.ado

.ahs

.ahu
.ai3

.ai8

.alv

.amp

.ams

.api

.ase

.asl

.asp

.asp

.asr
.ast

.asv

.atf

.atn
.ava

.avs

.axt

.blw

.cha

.csf

.dcm

.drx

.eap

.edb

.epf
.eps2

.eps3

.epsf

.epsi

.epsp

.erf

.ffo

.fido

.fl3

.gbt

.grd

.hdr

.hdt
.hss

.iros
.irs

.isa

.jpf

.jpg-original

.kys

.mag

.md0

.mnu

.mpo

.mtl

.p3e

.p3l

.p3m

.p3r

.pam
.pat

.pcg

.pdd

.pdp

.pf

.pipl

.pjpeg

.pmg
.ppm

.psdt

.psf

.psp

.q2q

.q5r

.raw

.rfr

.sct

.sdpx

.shc

.shh
.sta

.stn=

.swb
.tb0

.tbr

.tpl

.vpe

._v
Common file extensions used by Adobe Photoshop

.3ds

.abr

.ai

.arw

.c4d

.cr2

.crw

.csh
.dcr

.dds

.dng

.emz

.eps

.gif

.ico

.jpeg

.jpg
.js

.kmz
.mrw

.nef
.orf

.pcd

.pcx

.pdf

.plugin
.png

.ps

.psb

.psd

.psdx
.raf

.raw

.rw2

.svg

.tga
.tiff
.u3d

.wbmp

.wdp

.webp
Other file extensions associated with Adobe Photoshop

.8bi

.8by

.8bym

.acbl

.afx
.ai4

.ai5

.ai6

.ai7

.bcp

.blz

.bm2

.cin

.clp

.colz

.ct

.dae

.dc2

.dcp

.dcpr

.dcs

.dic

.dicm

.dxt5
.eps2

.exif

.exr

.fff

.fif

.flm

.gif~c200

.hdp

.hdr

.icb

.icc

.icm

.iff

.jfi
.jp2

.jpe

.jpg-large

.jpx

.jxr

.kdc

.kodak

.lcpp

.lex

.mos
.mxp

.nrw

.obj

.pat

.pbm
.pct

.pef

.pfm

.pgm

.pmb

.png-large

.pnm

.pop

.psid

.pxr

.q1q

.q4q

.q7q

.q8r

.q9r

.q9s

.rgbe

.rwl

.sa9

.spf

.spiff

.sr2

.srf

.srw

.tdi
.vda

.vph
.vst

.wbm

.x3f
.xyze

.zdct