Learn about OXPS format in Windows 10 and how to work with .oxps files
In case that you are one of the users that skipped Windows 8 and upgraded their computers straight to Windows 10, you can find a couple of things that were changed and work differently, that is in comparison to Windows 7.
One of such change that you could have missed, yet it was introduced in Windows 8 already, is the change from the default XPS document format to the new OXPS format.
Most people stick to PDF, so some may have not even know something like this existed, but for users that were actively using .xps this may present some unexpected complications, especially when sharing the documents.
This article focuses solely on XPS/OXPS related issues and presents some of the easiest ways how to solve them in Windows 10.
How are .oxps files made in Windows 10?
OXPS documents are created much like the original XPS documents in Windows 7, that is using a virtual printer utility called Microsoft XPS Document Writer that you can see as one of the printers when you want to print some file.
By default, Windows 10 and Windows 8 XPS Document Writer saves the files as .oxps documents instead the previously used .xps documents.
This is no issue if you are using the files only for yourself, but in case you send them to someone who did not migrate to Windows 8/10, he or she may not be able to open .oxps documents, because OXPS format was not a thing back then.
If you want to change the default format back to .xps, you will need to tweak the Windows settings a little and in the next section we will show you how to do it.
How to change the defaults from .oxps to xps in Windows 10?
1. first find the Group Policy control panel to change the settings. If you are not sure where it is located, simply type it in your search box and locate in the settings category. The item you are looking for is called "Edit group policy".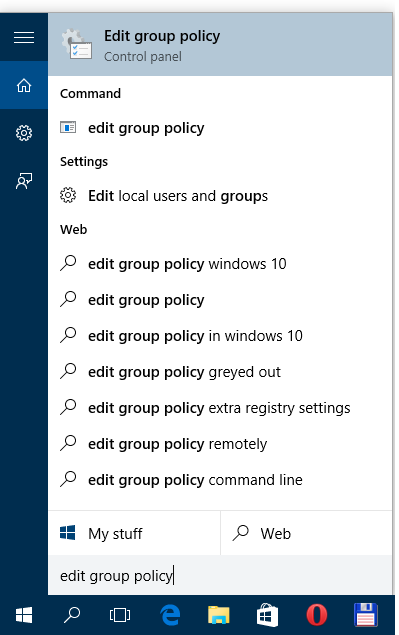 Windows 10 Search box
2. With the Local Group Policy Editor launched, browse to the "Local Computer Policy\Computer Configuration\Administrative Templates\Printers " folder and select the "Change Microsoft XPS Document Writer (MXDW) default output format to the legacy Microsoft XPS format (*.xps)" item.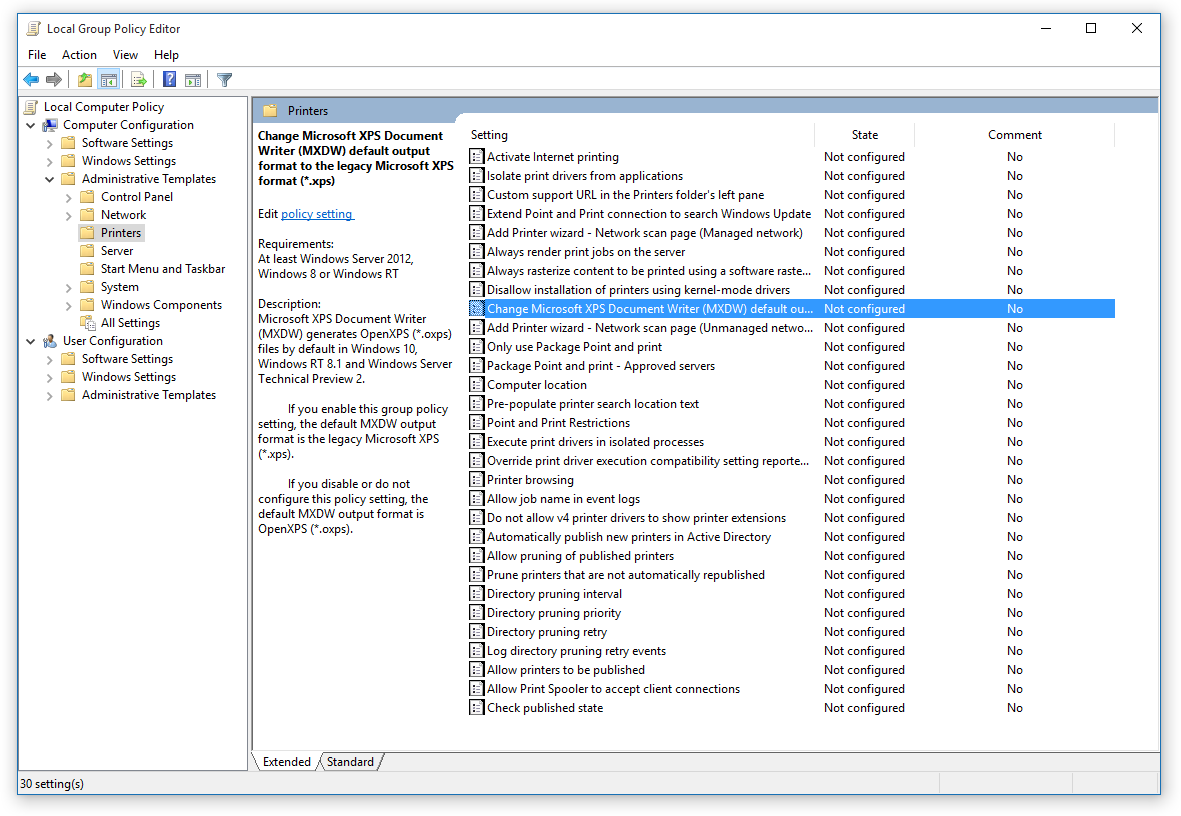 Local Group Policy Editor in Windows 10
By default, this group policy is not configured, but can be easily enabled.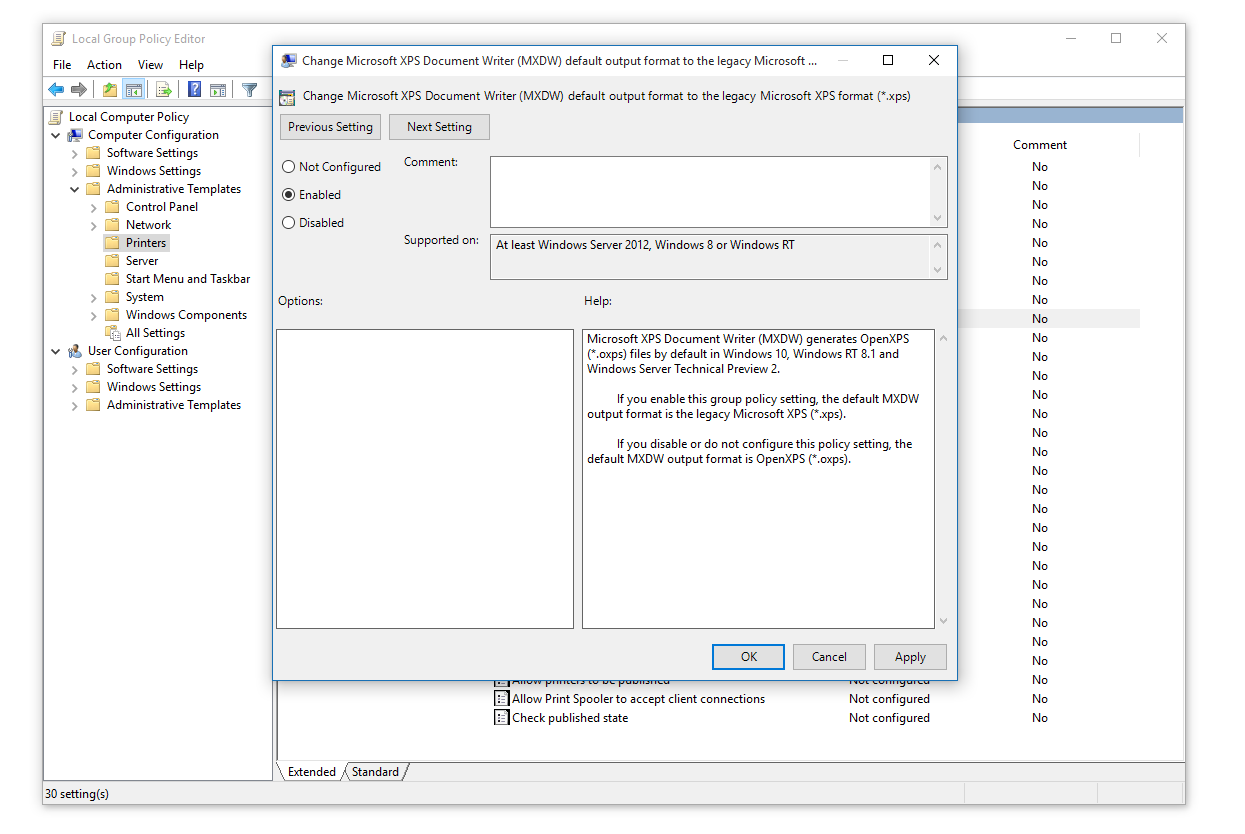 Enabling the MXDW related group policy
After saving the changes, you will likely have to logout and login again to your Windows user profile so the new settings are loaded.
And that's it. From now on, the Microsoft XPS Document Writer in your Windows 10 saves the documents in the original XPS document by default. You can of course still save files as .oxps using the Save as.. function, so nothing is lost, just the choices are now switched so you do not need to remember to switch it manually.
How can I edit .oxps documents in Windows 10?
There is no way how to directly edit .oxps documents in Windows 10 and same goes of course for Windows 8.
You can find specialized "OXPS/XPS editors" but what they do, is that they usually allow adding or editing of existing annotations, changes to metadata and such. In some rare changes they may allow to change (replace) a word or two, but to be honest, most of these programs are far from actual document editor.
In case you really need to edit the content, you will have to convert oxps documents which we will cover in the next section.
How to convert .oxps documents in Windows 10?
Conversion from OXPS to XPS
One of the most common conversion for .oxps files is the conversion back to the older xps format, i.e. oxps to xps conversion, which is typically needed for users that need to open .oxps documents without Windows 8/10.
Microsoft provides a tool called XpsConverter which was designed exactly for this purpose. The XpsConverter.exe is included in the Microsoft Windows Driver Kit (WDK) which you can download from Microsoft's website.
When XpsConverter is installed in Windows 7, whenever you click (open) some .oxps file, it will offer conversion to the previously used .xps so you can work with it.


OxpConverter executed in Windows 7
You can of course use the executable in Windows 10 manually from the command line if you need to. The syntax and other useful information is well described on Microsoft's XpsConverter page.
Conversion from OXPS to PDF
Generally speaking, most programs do not work well with .oxps files and document converters are no exception in this. Conversion to PDF depends mainly on the fact whenever you are on Windows 10/8 or Windows 7.
For Windows 10/8 users it's actually rather simple. Just open the .oxps file with the default XPS Viewer and simply print the file to PDF. You will need a virtual PDF printer installed on your computer, which is usually not a problem nowadays as it is provided by many apps, including MS Office.


Printing PDF document from OXPS document in Windows 10
If you are on Windows 7 machine, you will have to do a little work around. Many programs work with .xps documents, so the easiest way to convert oxps to pdf is to actually first convert oxps to xps and then convert xps to pdf. You do not have really alternative here, because you can't view (print) .oxps documents in Windows 7.
Conversion from OXPS to Word
You cannot work with xps/oxps documents in MS Word directly and the same pretty much goes for any other word processor or text editor.
The most convenient way to edit .oxps documents in Word, is to convert oxps to pdf and open the .pdf file in Word, simply because the latest versions allow for direct opening and edit of PDF format.
Otherwise, you have to rely on some oxps to docx converters, but to be honest, you won't find many reliable converters for this.