Home > The GNOME Project
File extension list filtered by software name
gedit
Found 258 file extension associations related to gedit and 3 file formats developed specifically for use with gedit.
Platform, operating system:

Linux/Unix
Go to: gedit description
Developer: The GNOME Project
The GNOME Project software list & details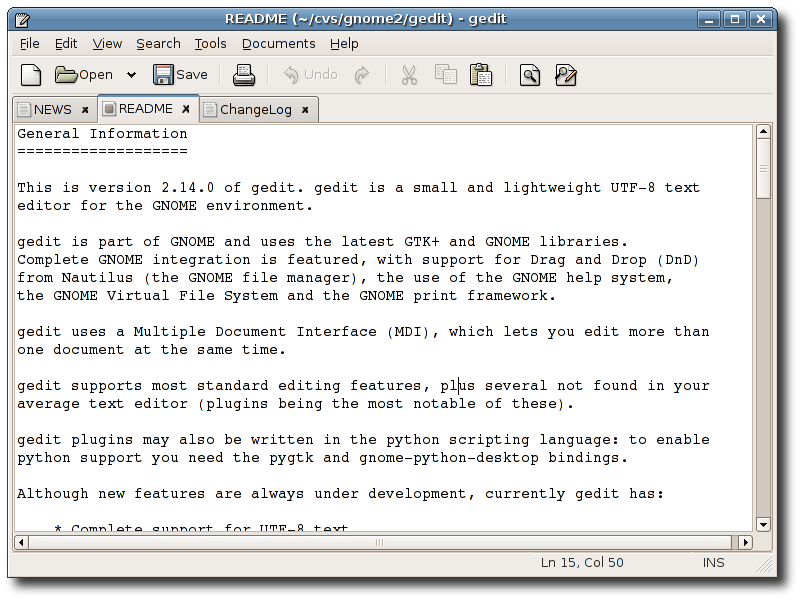 gedit
Developer / company: The GNOME Project
gedit is the official text editor of the GNOME desktop environment. While aiming at simplicity and ease of use, gedit is a powerful general purpose text editor.
Currently it features:
Full support for internationalized text (UTF-8)
Configurable syntax highlighting for various languages (C, C++, Java, HTML, XML, Python, Perl and many others)
Undo/Redo
Editing files from remote locations
File reverting
Print and print preview support
Clipboard support (cut/copy/paste)
Search and replace
Go to specific line
Auto indentation
Text wrapping
Line numbers
Right margin
Current line highlighting
Bracket matching
Backup files
Configurable fonts and colors
A complete online user manual
gedit icon


gedit icon
size: 128px x 128px (.png with transparency)

gedit works with the following file extensions:
Note: You can click on any file extension link from the list below, to view its detailed information. The list of extensions used or otherwise associated with the application may not be complete, because many common file extensions on our website, such as jpg (pictures) or txt (text files), can be opened by a large number of applications, or are too general file format. However most, if not all directly associated file extensions should be listed with its appropriate program. Although its likely, that some file extensions may be missing from the list of associated file extensions with the application, yet they can be opened, be part of, or otherwise be associated with the program.
gedit default file extension associations
The most common file format used with the specific file extension

.text file extension is used for Text file
Other file extensions or file formats developed for use with gedit
Common file extensions used by gedit

.1st

.asm

.asp

.aspx

.bat

.cfg

.css

.csv

.cue
.eml

.htm

.html

.ini

.java

.json

.log

.lst

.m3u8
.nfo

.opml

.php
.sql
.sub

.text

.txt
.xml

.xsl
.xslt
Other file extensions associated with gedit

.!!!

.abs

.actionScriptProperties

.ad2

.agtemplate

.ans

.appcache

.apt

.apxl

.asc
.asc

.ascii

.asp

.ass

.au3

.aupreset

.ba1

.bbs

.bif

.blm

.bml

.bms

.bsd

.bsdl

.c

.c#

.cas

.cc
.cgi

.cgx

.chord

.chtml

.cl

.cm0013

.cml

.cnn

.conf

.cor

.cpp

.crd

.cs

.cshtml

.csproj

.cwms

.cxx

.db-journal

.db3

.dbml

.dbp
.dbproj

.dea

.dfe

.diz

.dkz

.dml

.dok

.drp

.dsc

.dsml

.dtd

.dvb

.eaf

.ecsv

.es

.etx

.ext

.extra

.faq

.fdml

.fdoc

.fff

.ffpreset

.fodg
.fodp

.fods

.fol

.fountain

.fpage

.frag

.fs

.fsi

.fsproj

.fsscript

.fsx

.gct

.gmanifest

.gpl

.gyp
.h

.hdt

.hex
.hht

.hs

.hsk

.html5

.hvc

.hxml

.ica

.id31

.id32

.ide

.iif

.il

.imp

.ini2

.inuse

.ion

.jacl

.jsonp

.kcl

.kl3

.klg

.lge

.library-ms

.lol

.lols

.lsp

.lst
.lua

.lvm

.m2r

.manifest
.map

.mar

.markdn

.markdown

.md

.mdown

.mdtext

.mdtxt

.mdwn
.me

.mit

.mkd

.mkdn

.mkp

.mml

.mml

.modd

.morse

.mscx

.mshxml

.mus

.nbr

.nc1

.nclk

.nlc

.now

.npdt

.ocr

.oeaccount

.oplm
.osc

.p3x

.pas

.pcf

.pdu

.php1

.pln

.plsx

.pml

.pod

.ppml

.prm

.properties

.psp

.pvj

.py

.pyt

.qdl

.qdt

.qud

.rdat

.readme
.resmoncfg

.resx

.rng

.rrc

.rsl

.rt

.rtl

.rtx

.rub

.s

.s1p

.s2p

.s3p

.s4p

.saas

.scr

.sct

.sha1

.sha512

.sls

.smali

.soap

.soundscript

.spa

.srt

.srx

.ss

.struct

.t

.text

.tlx

.tt

.tur

.tx8

.txe

.txh

.txml

.txt12

.uhtml

.uni

.user

.vb

.websettings

.wmlsc

.ws

.wsdd
.xfd

.xpd

.xsql

.xtd

.yab

.yml

.zeg

._me