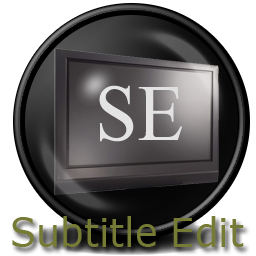 Movie subtitles are a popular way of watching movies and other videos in their original language without dubbing.
Most of the time you find really good subtitles, but sometimes, they might be lacking. Either they are desynchronized with the video and are too slow or too fast, or they are simply lacking in quality with wrong translations.
Luckily, there exist programs with which you can easily edit or even make your own subtitles and we will show you the best freeware ones.
Subtitle Edit
The first program we would like to mention is Subtitle Edit, it's a free, open-source subtitle editor for Windows platforms. It looks rather small with its 4,3MB installer package, but it boasts many functions and features.
First of all, it supports great number of subtitle file types, supposedly 170+, which makes it probably the best software for subtitle conversions.
It offers all the functions users expect from such subtitle editing programs, as well some other like fixing grammar with the use of OpenOffice dictionaries, subtitle ripping from DVDs, some karaoke functions and more.
A lot of users praise the ongoing development and improvement of the program and of course the modest language and documentation support.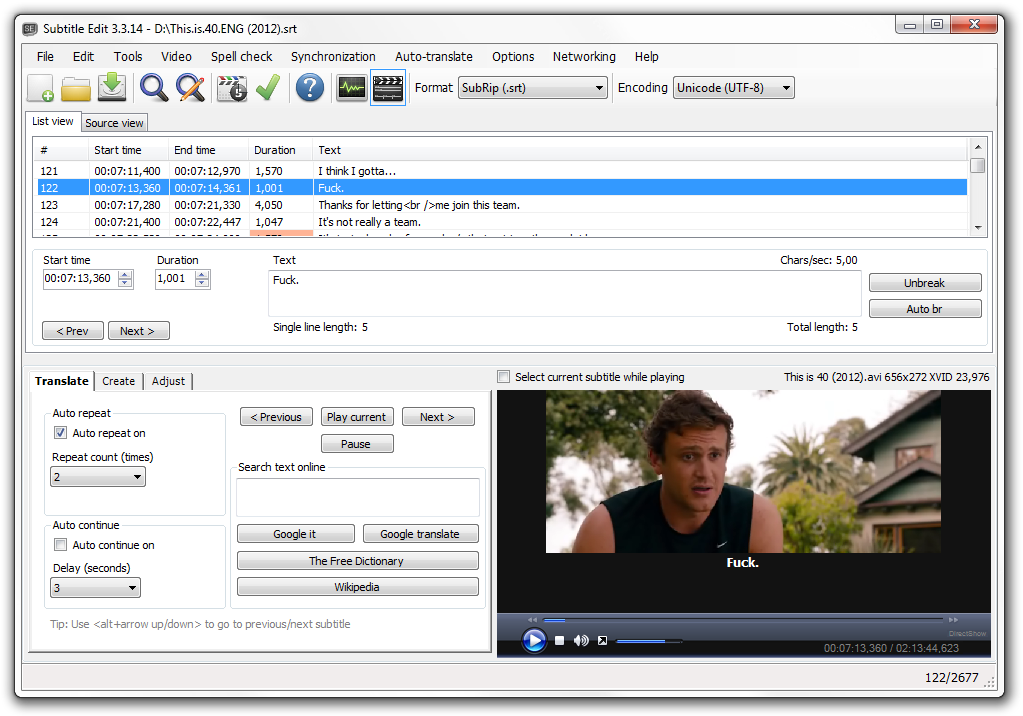 Subtitle Edit screenshot
Aegisub
Aegisub is a free, advanced cross-platform open source program for creating and editing of subtitles. It's becoming more and more popular, and not only because of its support of ASS (Aegisub Advanced SubStation) subtitle format. It of course also supports the common subtitle formats like SRT and SUB .
Great about Aegisub is that it can open subtitles from Matroska multimedia files without the need to extract them first. Some video processing capability is also available through FFmpeg a Avisynth.
The program is still improved and new versions are regularly introduced. Help files are well done and helpful for less-experienced user and the broad localization supports dozens of languages.
All in all Aegisub is a great software for anything subtitle.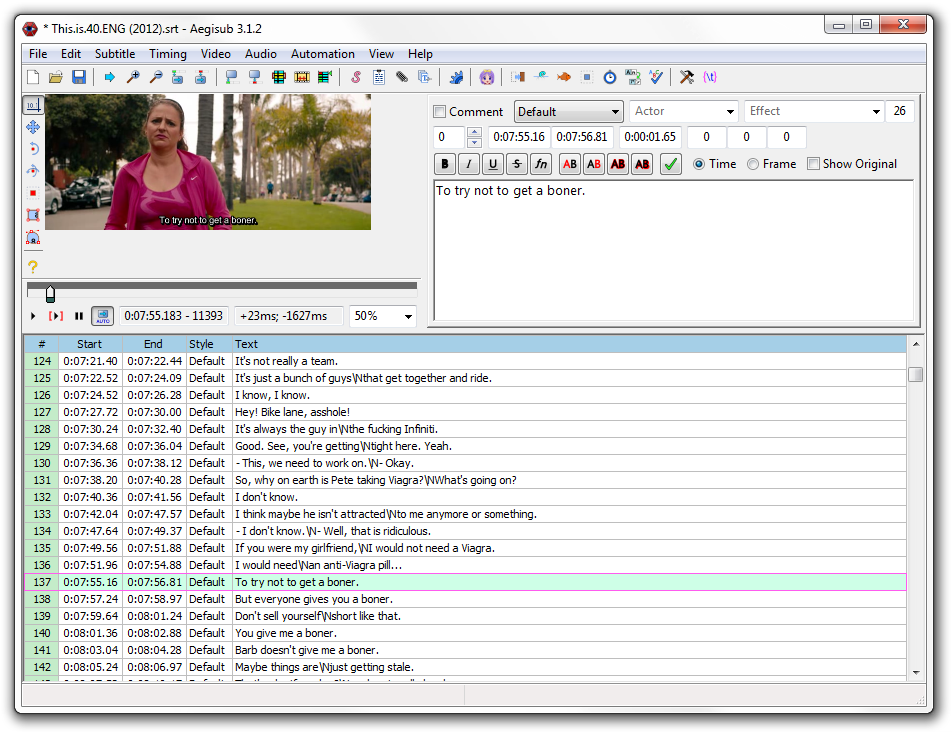 Aegisub screenshot

Subtitle Workshop
There are two programs bearing the same name, but the old one from URUWorks seems to be no longer developed so we are writing about another, more recent successor - the open-source Subtitle Workshop which can be found on SourceForge. It is probably heavily based on the old Subtitle Workshop and as such continues in the steps of a program that was popular for more than a decade.
Subtitle Workshop supports well over 70 subtitle formats and can convert between them freely and it also offers the option to making a custom-made subtitle format.
User-friendly GUI gives users easy access to a vast array of customizable tools and functions for automatic timing and text manipulations, including automatic durations, smart line adjusting, spell checking, FPS conversion, subtitle styling, search and replace, etc.
The program also has video playback capabilities for subtitle previews. All in all, great software.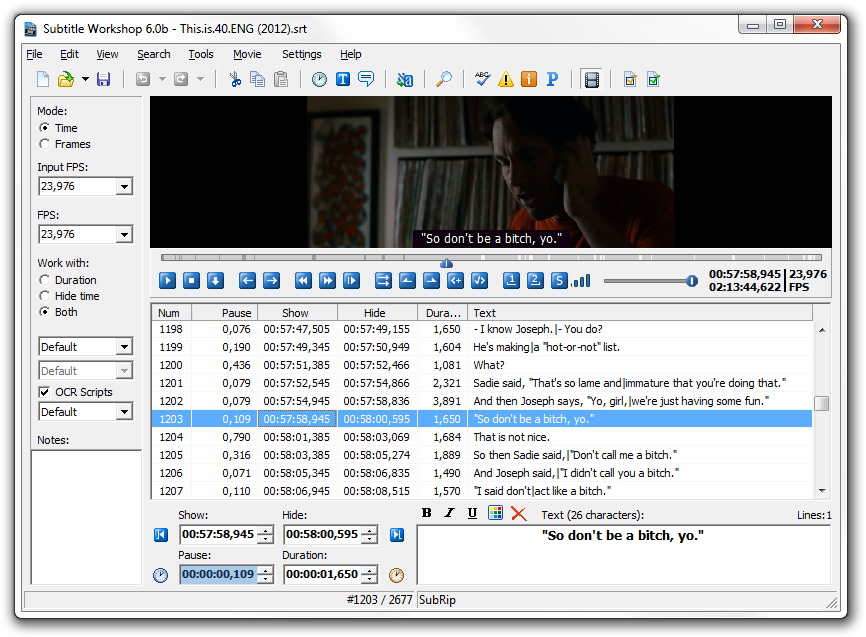 Subtitle Workshop screenshot
Jubler subtitle editor
Jubler is java-based tool for editing text-based subtitles. It can be used as an authoring software for new subtitles or as a tool to convert, transform, correct and refine existing subtitles. It's best choice for users that look for something small and lightweight, that can be used on all platforms.
It supports most of the common subtitle formats and offers modest subtitle editing capabilities.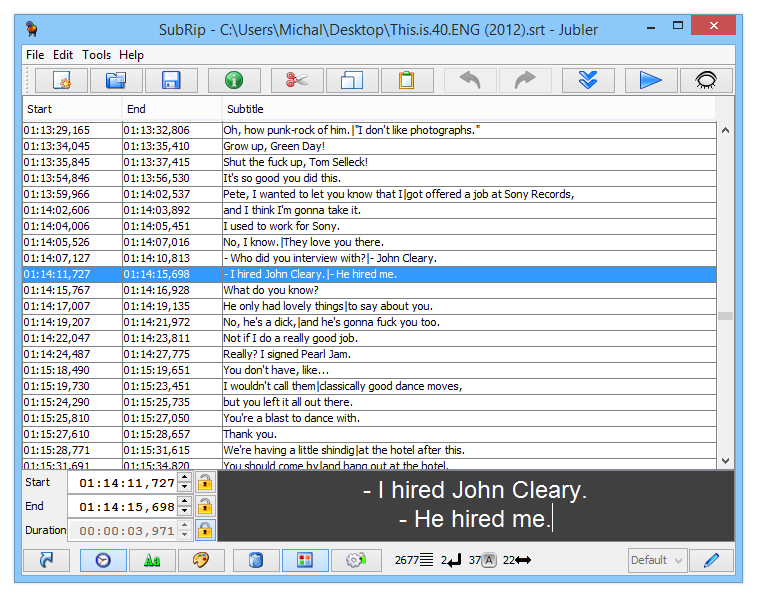 Jubler screenshot