How to extract images and texts from PDF files
Because PDF is an open standard, it is supported by various applications, such as text editors, vector and raster graphics editors, CAD tools and many many others.
Although it is very easy to export pdf files from these apps (Save as, Export options or using virtual PDF printer), but vice versa edit or extract texts, images and other content from PDF document can be much more difficult for users.
Use Adobe Acrobat Reader to export texts and pictures from PDF
However, a few users know that Adobe Acrobat Reader is not only viewer of PDF documents, but also is helpful with export of some types of content from pdf files. And its big advantage is that it is free.
With Acrobat Reader you can copy the texts from pdf to system clipboard and paste them to and text editor and extract pictures to clipboard and past them to any picture image editor.
Example of text copy:
Highlight text in open pdf file → use right mouse button → select Copy option.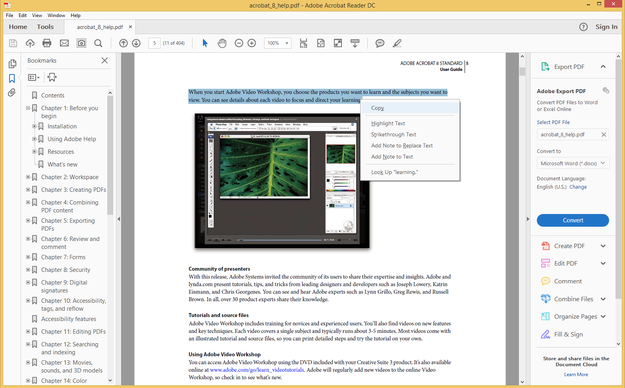 Adobe Acrobat Reader copy text
Paste text to text editor (Edit → Paste or Ctrl+V).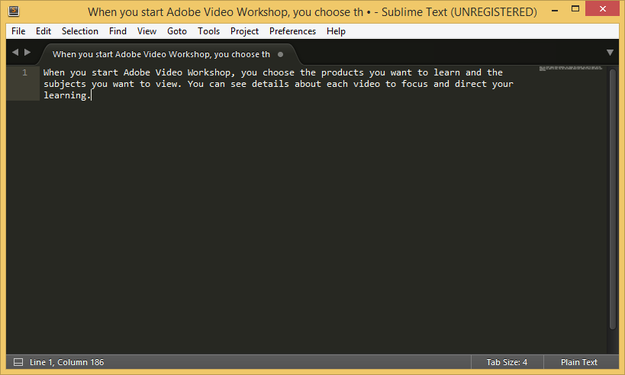 Copied text in Sublime Text editor
Example of picture copy:
Click on picture in pdf file → use right mouse button → use Copy Image option.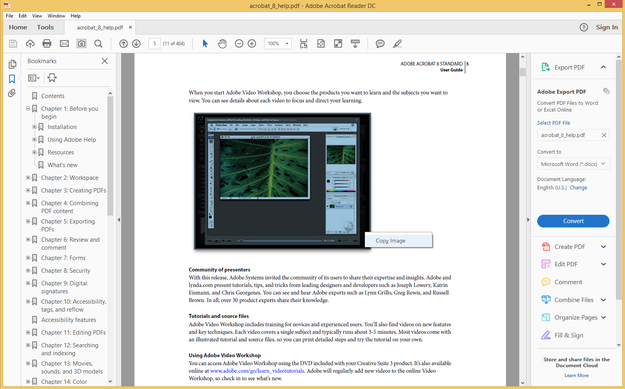 Adobe Acrobat Reader copy image from PDF document
Paste image to picture image editor (Edit → Paste or Ctrl+V).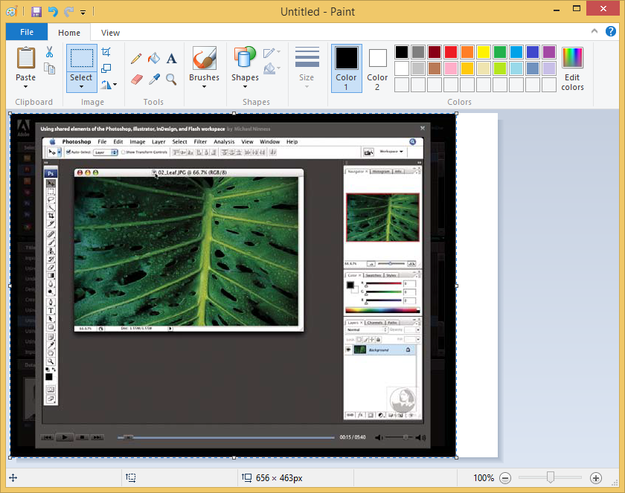 Picture image from PDF in Microsoft Paint
If the PDF document is protected with some restrictions and Acrobat Reader doesn't offer you Copy options, you can use other tool included in Reader called Take a Snapshot (Edit menu → Take a Snapshot) to export a part of document to picture image via clipboard.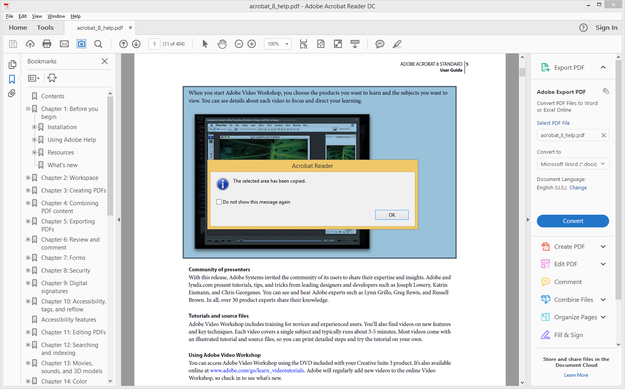 Take a Snapshot in action

Tip: The Snipping Tool included in Microsoft Windows can be used pretty much like the Take a Snapshot option in Acrobat Reader. Run the Snipping Tool and select Rectangular Snip option → select a part of pdf document (opened for example in Acrobat Reader), which you want to copy and save as picture image.
Use Nitro Pro to work with PDF documents, like a professional
As you can see, Adobe Acrobat Reader can be used only for very basic operations with PDF documents. Adobe as developer of Portable Document Format, also released software for working with pdf files called Adobe Acrobat Pro DC, but it cost starts about 15$ per month. However, you can use third party apps for same purposes.
Nitro Pro costs about 160$ per license and offers users basic as well as advanced features for editing and converting PDF documents. It is available for Microsoft Windows system.
Nitro Pro features:
Create & Merge
Convert & Export
Edit & OCR (Optical Character Recognition transforms document scans into text and searchable PDF)
Collaborate & Review
Fill, Sign & Secure
Working with Nitro Pro is very similar to popular Microsoft Word word processor from Microsoft Office.
You can create a new clean document, like in Word add texts, graphics, pictures, etc. and save it as a pdf file. Nitro Pro is able to protect your documents with password and add other security restrictions to them.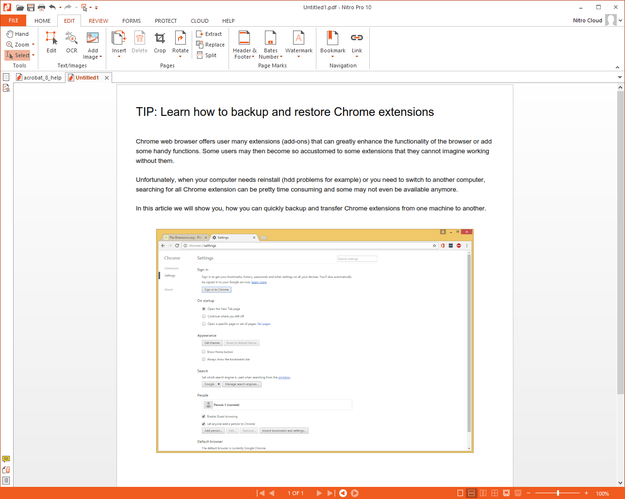 edit PDF document in Nitro Pro
Also you are able to work with another PDF document and copy texts and graphics to another PDF or to other text/graphics programs via clipboard.

Copy text from PDF documents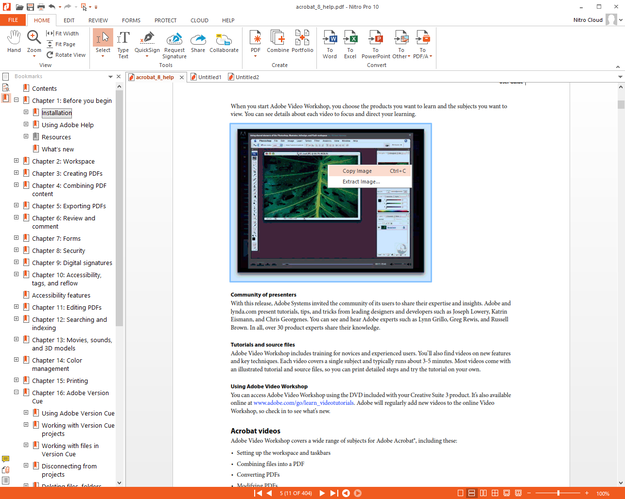 Export and Copy pictures from PDF with Nitro Pro
Conversion features enable users to convert/export all PDF documents or their parts to DOCX, XLSX, PPTX, RTF, TXT, picture images, etc.

Convert and export PDF documents to other formats options
Adding sticky notes and reviewing of pdf file is very easy with this included tools.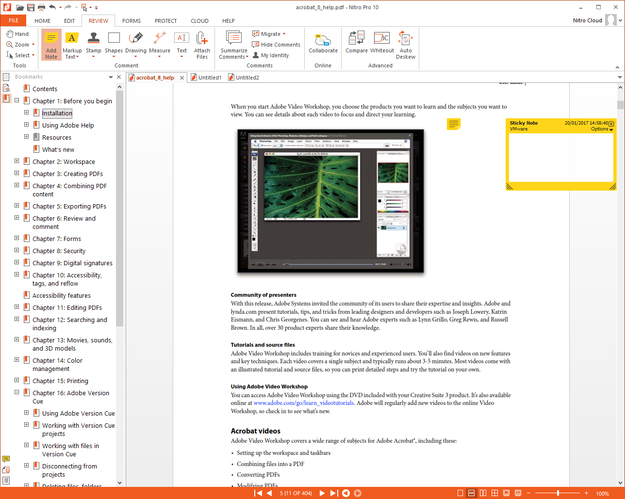 Sticky notes in PDF document
As you can see, working with PDF documents can be easy with proper tools. For basic operations, such as export text and pictures Adobe Acrobat Reader will be sufficient and also considerably cheaper (free). However, for some operations, a proper PDF tool will be needed.
About PDF format
Portable Document Format (PDF) is used to present rich text and graphic documents independent of software, hardware, operating systems, platforms.
Every pdf file (pdf file suffix) encapsulates complete data to visualize fixed-layout flat document, including texts, fonts, graphics, pictures and other important information needed to display PDF document.
PDF format was introduced by Adobe in 1993 as a proprietary format. It was released as an open standard under control of International Organization for Standardization (ISO) in 2008 and the PDF ISO reference is ISO 32000:1:2008.