Installing OS X on PC

For a long time Apple Mac computers used a different architecture than IBM-PC and the core parts of Apple's operating system (System 1, Mac OS Classic etc.) were integrated to Mac's BIOS. These barriers made it impossible to install Mac OS on PC-compatible computers.
In 2006 Apple introduced new Mac computer family based on an Intel platform with new EFI (Extensible Firmware Interface) architecture. Also Mac OS X operating system was remade to be compatible with Intel platform.
After these changes, some enthusiasts started a project called Hackintosh (also known as OSX86) that makes Mac OS X available for non-Apple Intel based or otherwise not supported computers. The trick is to emulate Apple Mac EFI and have hardware configuration as much as close as possible to the original Mac.
To create "Hackintosh" computer, you will need a bootloader/EFI Emulator, such as Chameleon or Boot 132, retail Mac OS X Leopard, Snow Leopard, Lion installation DVD, customized drivers and other utilities.
However, we have found a much more comfortable to make your own Hackintosh only with a single DVD disk and we will show you how.
How to make your own Hackintosh with iATKOS
iATKOS is fan project based on OSX86 that is developed for users with basic knowledge about computers, but that want to try Mac OS X. It is one installation image with Mac OS X installation, including all customized system drivers, various EFI emulators and other tools for successful installation to a PC.
Step 1 - Download and burn iATKOS DVD
iATKOS ISO installation DVD images are available to download on many data sharing servers, or BitTorrent peer to peer network. The most downloaded version is iATKOS L2 with Mac OS X Lion and iATKOS S3 with Mac OS X Snow Leopard.
After the download is finished, burn the .iso file to a DVD disk with any tool available.
Step 2 - Installing Mac OS X
It is strongly recommended to install on the separate desktop, or laptop computer without any important data, like in our case we have installed it on an unused Dell Vostro 1500 notebook (Intel Core 2 Duo, 4GB RAM, 250GB HDD, GeForce 8600GT, 15,4" LCD 1680x1050). List of Hackintosh compatible PC desktops, laptops and hardware is available on OSX86project Wiki.
Be careful, OSX86, Hackintosh, iATKOS etc. are unofficial ports of Mac OS X for non-Apple computers and you install them at your own risk. File-extensions.org is not responsible for any data lost caused by a unofficial installation of Mac OS X.
If you don't have any basic knowledge about Hackintosh problematic, study more information about it before you install iATKOS, or other ports. The list of other web resources you can find at the end of this article.
Preparing computer BIOS
The first thing you need to do, is to change the boot sequence in the BIOS setup of the computer to the Boot from DVD drive at first place. Put the DVD with iATKOS installation to drive, save the BIOS settings and exit from BIOS. Wait until the Chameleon emulator will be started from DVD.
When the Chameleon is loaded, simply click any key to continue with the installation process, wait until the Mac OS X installation utility will start.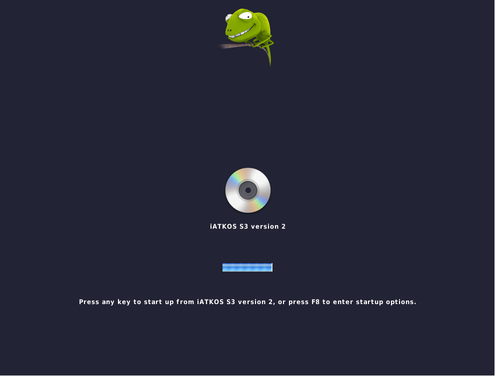 Chameleon boot manager
Hard disk formatting
After the installation utility is ready, select installation language and click on Next arrow button. Start the Disk Utility. You can find it in upper menu section Utilities. In Disk Utility, select the disk, where the Mac OS X system should be installed.
Select Partition option ► Select Partition layout to 1 Partition ► Select format Mac OS X Extended (Journaled) ► Click on Option button and select GUID Partition Table and click on OK button ► Click on Apply button and wait until the disk will be prepared. Close the The Disk Utility.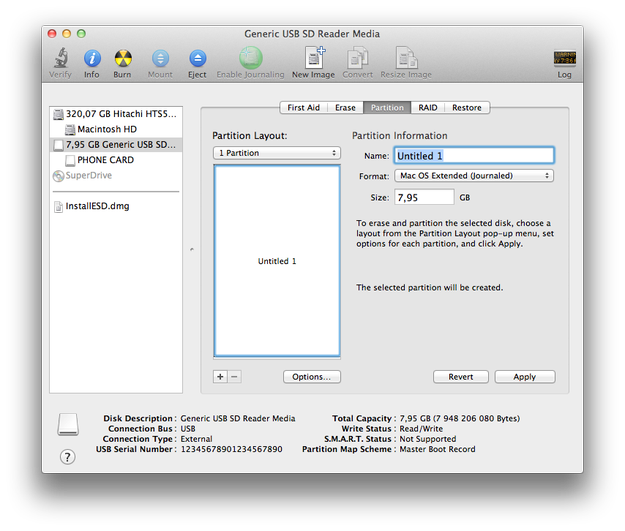 Mac OS X drivers and EFI settings
Now you are back in the installation window, click on the Continue button. Read the license information and click the Next arrow button. Select the installation disk and click on the Customize installation button.
This is the most important part of the installation, where you must select drivers for your hardware, boot loader and other software to optional work of the Mac OS X on your computer.
y default, these settings are pre-defined for hardware similar to Mac computers. However, if your hardware is more different of Mac's, you need to customize these settings. It looks complicated, but many optional settings for specific hardware, can be found on iATKOS official forum and other Hackintosh forums (You can see the example optional settings for Dell Vostro 1500 at the end of this article).
Finishing Mac OS X installation
When you have chosen your settings, just click on Install and wait till its finished. If there were no problems, on next reboot there should be no problems. Just make sure you take out the DVD from the drive after the installation, else it would boot for installation again.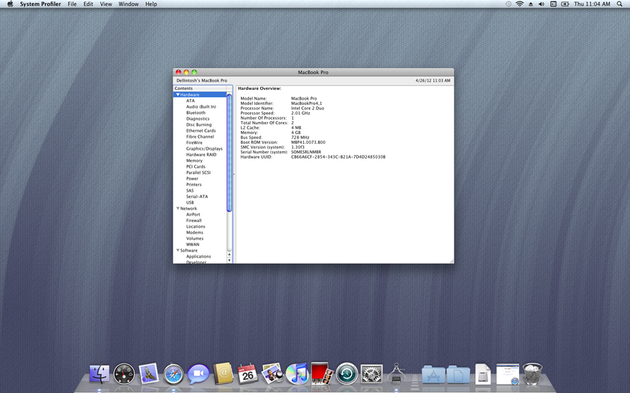 Apple Mac OS X on Dell Vostro 1500 (Dellintosh)
If there is some sort of error during the boot, you have to reinstall and tweak the settings from previous step again. It might take a while, but in most cases it really works.
Notes
Keep on mind, this installation of Mac OS X is without any support from Apple, Inc. iATKOS project is only for testing and learning purposes, not for commercial use.
List of web resources:

Hackintosh.com - Hackintosh Instructions, Hackintosh Tutorials
OSX86PROJECT - Tutorials, List of compatibility hardware, forum
iATKOS - customized Mac OS X installation based on OSX86 project
Hackint0sh - specialized forum about Hackintosh, Jailbreaking etc.
Example settings for Dell Vostro 1500:
-Bootloader:
-AnVAL Loader (select)

-Bootloader Options:
-Graphics Enabler (select)
-USB
-USBBusFix (select)

-Patches:
- /Extra directory (select)
- fakesmc (select)
- Disabler (select)
- RTC
- 32-bit (select)
- EVO Reboot (select)
- Sleep Enabler (select)
- USB

- Drivers:
- Main Hardware
- SATA/IDE
- AHCI SATA (select)
- Sound
- Voodoo HDA (select)
- PS/2
- Voodoo PS/2 (select)
- CPU Power Management
- Voodoo Power (select)
- Laptop Hardware (select)
- NTFS-3G (select)

- Network:
- Wireless
- Broadcom (select)
- Wired
- Broadcom
- BCM440x (select)