OS X Mountain Lion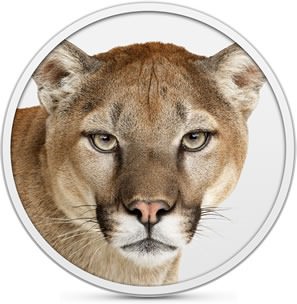 On 25th July 2012 Apple started distribution of new version Mac OS X Mountain Lion (version 10.8.). Compared to version 10.7. Lion, it contains about 200 new features and improvements (detailed description of Mountain Lion new major features can be found here). It is distributed through Apple App Store for $19.99 as application, compatible with OS X 10.6. and 10.7., which you can use to upgrade your current OS X to Mountain Lion.
Unfortunately, from version 10.7. Apple doesn't sell Mac OS X on DVD disks, which were useful to reinstall system to fresh state and clean mess from hard drive. Instead of the physical media, Mac OS X has new Recovery Utility integrated to the system. This addition is installed on hidden part of Mac's hard drive, where it is sadly not safe from hard disk, or partitions failure.
But still you can create and burn your own installation DVD, or USB flash drive with Mountain Lion and about this is our article which shows how you can install clean system to your Mac even in 10.8.
The guide is divided into three chapters:
How to create installation DVD with Mac OS X Mountain Lion
Before you install the Mac OS X Mountain Lion, check the compatibility of your applications, because some of them, such as older versions of Parallels Desktop or Adobe Creative Suite, need to be updated and upgraded to actual versions to prevent compatibility problems. The list of incompatible applications can be found here.
At first you will need to purchase and download Mountain Lion from on-line Apple App Store. If you upgraded your system earlier and you are not able to download Mac OS X Mountain Lion from App Store, hold the Option (Alt) key and click on Purchased button. App Store will offer you Mountain Lion installation to download again.
After the download is finished, don't run the actualization app. Go to the Applications folder → right click on Mac OS X Mountain Lion installer → select Show Package Contents option

Go to the Contents → SharedSupport folder, where you will find InstallESD.dmg file. Copy it away to any folder on your hard drive, for example Documents, Downloads etc.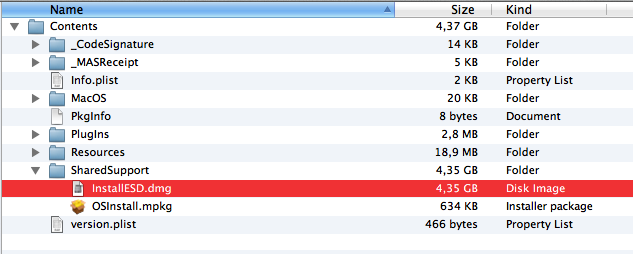 Open Mac OS X Disk Utility (Applications/Utilities/Disk Utility). Drag the InstallESD.dmg file and drop it to the left white sidebar in Disk Utility.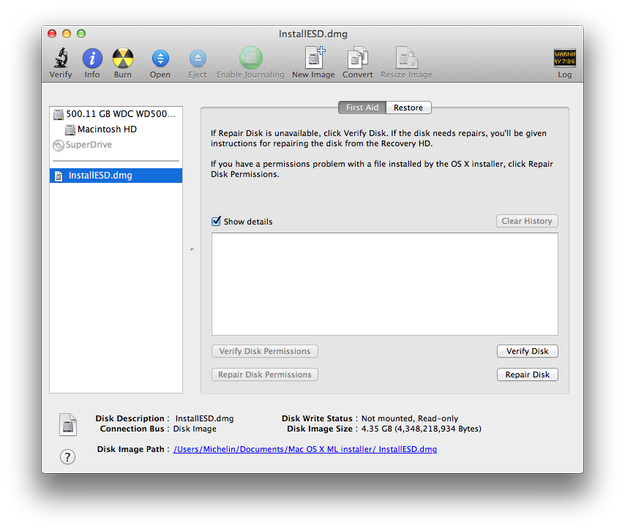 Click on InstallESD.dmg in the left sidebar and select Burn option in Disk Utility upper icon menu.
Insert clean DVD-DL (Dual Layer) medium to DVD drive and click on Burn button. Wait until the burn process is finished.
How to create installation USB Flash Disk with Mac OS X Mountain Lion
Installation flash disk is needed to install clean Mountain Lion to Apple computers without DVD drive, such as Mac Book Air. The other advantage is that the installation is more faster than from DVD disk. The procedure is the similar to the previous part of this article. You just have to make few different steps in the Disk Utility.
When you have imported the InstallESD.dmg file to Disk Utility, insert flash disk to USB port. It is required at least 8GB of capacity.
Click on USB flash disk viewed in white sidebar and select Partition tab and set Partition Layout option to 1 Partition and Partition format set to Mac OS Extended (Journaled).
Click the Options button and select GUID Partition Table and hit the OK button.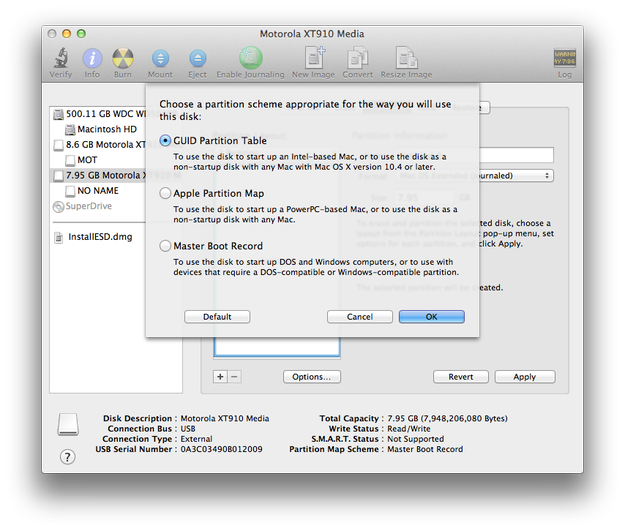 Click on Apply button and wait until the Disk Utility finished formatting of bootable flash disk. Be careful, and backup your data from the flash disk. After format all data from disk will be lost!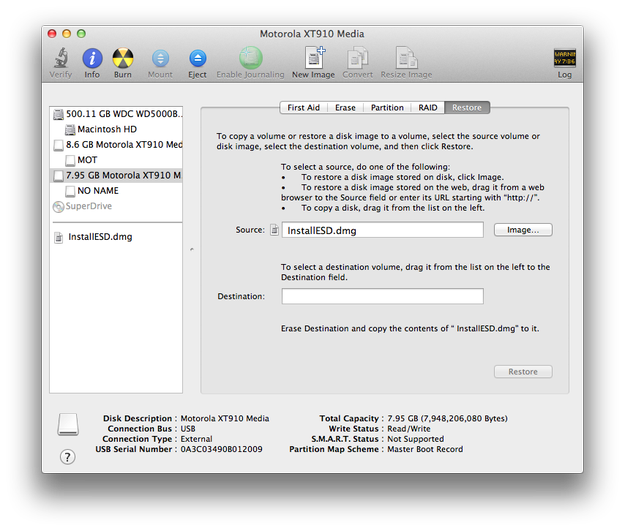 Now click on Restore tab and select InstallESD.dmg file as Source disk image and USB flash disk as Destination. Hit the Restore button. Wait a minute and your installation USB flash disk with Mountain Lion will be prepared.
Install clean Mac OS X Mountain Lion
The clean installation means that all data from Mac's hard drive will be erased and disk will be formatted. There is no way how to restore your data back. Before clean installation, backup your case sensitive data to any flash, or portable disk!
After you have prepared installation DVD medium, USB flash disk, and backup your data, you are able to install clean Mac OS X Mountain Lion to your Mac. Restart the Mac and hold the C button to boot system from CD, DVD, or USB. Also you can hold Option key to run Startup Manager and select, which medium will be boot up the system. Other boot keystrokes are listed in the table at the end of this article.
Wait till the DVD/flash disk boot to the Mac OS X installer. Click on Utility option in upper menu and select Disk Utility. Click on Mac's hard drive in in the left sidebar. Select Erase tab → Set Format - Mac OS Extended (Journaled) → set the name of disk and click on Erase... button. Wait until formatting is finished and close the Disk Utility and continue with installation of Mac OS X.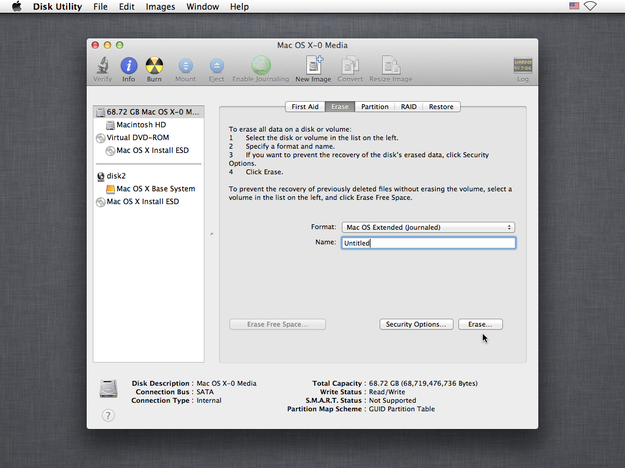 Mac OS X installer copy the new system on cleaned disk and also creates a new partition with recovery data.

Here is useful table with other keystrokes, which can be used on Mac with Mac OS X boot process.
| | |
| --- | --- |
| Keystroke | Description |
| Press C during startup | Start up from a bootable CD, DVD, or USB thumb drive (such as OS X install media). |
| Press D during startup | Start up in Apple Hardware Test (AHT). |
| Press Option-Command-P-R until you hear startup sound a second time. | Reset NVRAM |
| Press Option during startup | Start up Startup Manager, where you can select an OS X volume to start from. Note: Press N to make the the first bootable Network volume appear as well. |
| Press Eject, F12, or hold the mouse or trackpad button | Ejects any removable media, such as an optical disk. |
| Press N during startup | Attempt to start up from a compatible network server (NetBoot). |
| Press T during startup | Start up in Target Disk Mode. |
| Press Shift during startup | Start up in Safe Boot mode and temporarily disable login items. |
| Press Command-V during startup | Start up in Verbose mode. |
| Press Command-S during startup | Start up in Single-User mode. |
| Press Option-N during startup | Start from a NetBoot server using the default boot image. |
| Press Command-R during startup | Start from Lion Recovery |