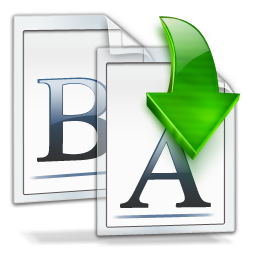 Everyone who ever needed to rename a large quantity of files knows how horrible it is to do it manually one by one.
To rename huge number of documents, e-books, collection of mp3, movie clips or even photos from your holiday, can really be pain in the ass if you have to do it manually. Now imagine if you have hundreds of JPEGs from your digital camera, all with really weird names and want to quickly sort them up. It would take ages do it manually.
Luckily, some handy programs exist, that can really speed up the process and allow you to quickly rename large number files with few clicks! This operation is also called batch file rename.
How to batch rename files in Windows
Rename Master
Rename master is a small completely free program for Windows that can perform wonders with your files. You simple specify what you want to do with your files in a folder to a script and then just run it. You can change names of files, their file extension, add number sequences, delete certain characters from the names, replacing stuff and much more. Definitely worth it.
How does it work?
First you browse to the folder where you files are located. In our case I have made a "C:\Test" folder and several empty text files in it named test1.txt to test6.txt.
There is also lovely filter option, so you can specify which files exactly you want to rename in that folder.
Now it is important to know how you would like your files to be named. I want them to be named 01 - newtest.txt for example. So let's se how we can do it.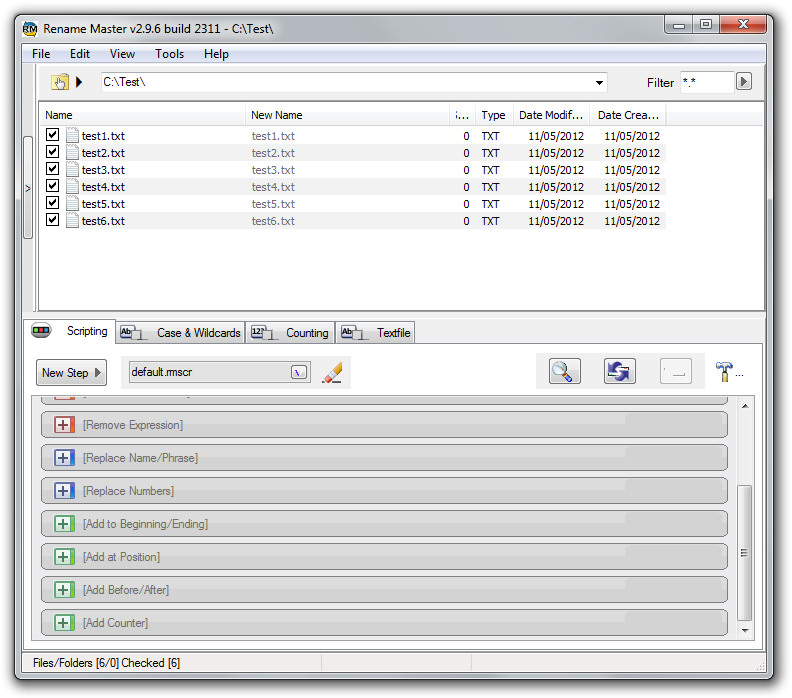 In the lower part of the program window there is set of actions you can perform and put to a script. To rename files click on the + next to "Replace Name/Phrase". Now you see several options presented. To rename the files select the "entire name" option in the "Replace the" box and in the box below write the new name. In our case " - newname". The empty spaces are quite important, so don't forget those if you want to have them between the name and number sequence.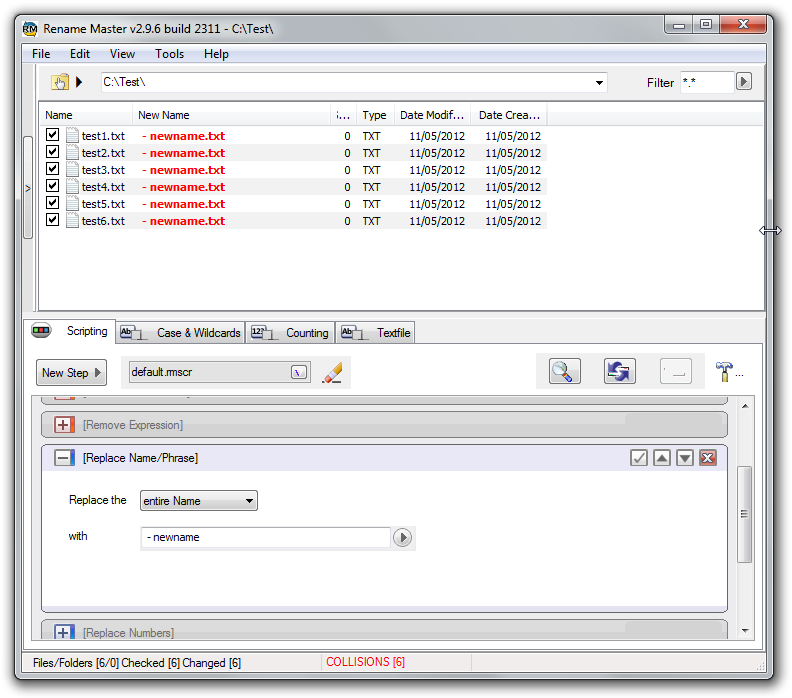 Now let's add new number sets as well to replace the one lost with the renaming. So collapse the Replace Name/Phrase option and click on the Add Counter option and change how it pleases you. In our case, simple 01, 02 sequence.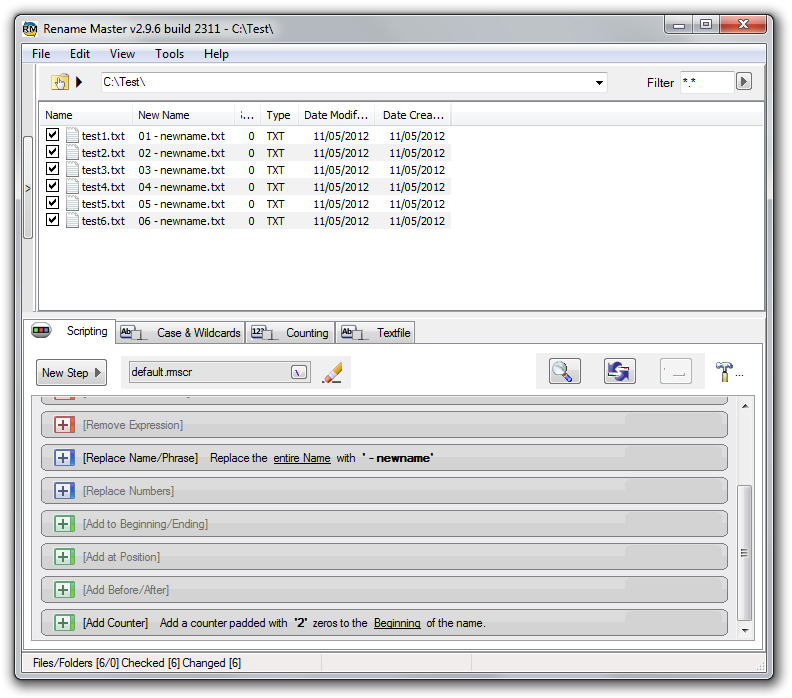 After everything is set click on the Rename selected files button, or press CTRL + F6 to perform the action.
There is really huge variety in how you can rename your files. It can look confusing at the start, but once you grasp the basics you will see how easy you can quickly rename huge number of files with Rename Master.
You can also save your script for later and use the exact same setting for renaming other files.
How to batch rename files on Mac
A Better finder rename
A Better finder rename is one of the most popular batch file renaming app for Mac OS X. Its been developed since 1996 and is used by thousands of users. Its particularly popular because of its usefulness when renaming large number of photographs, but you can do much more with it. It is however not free and costs $19,95.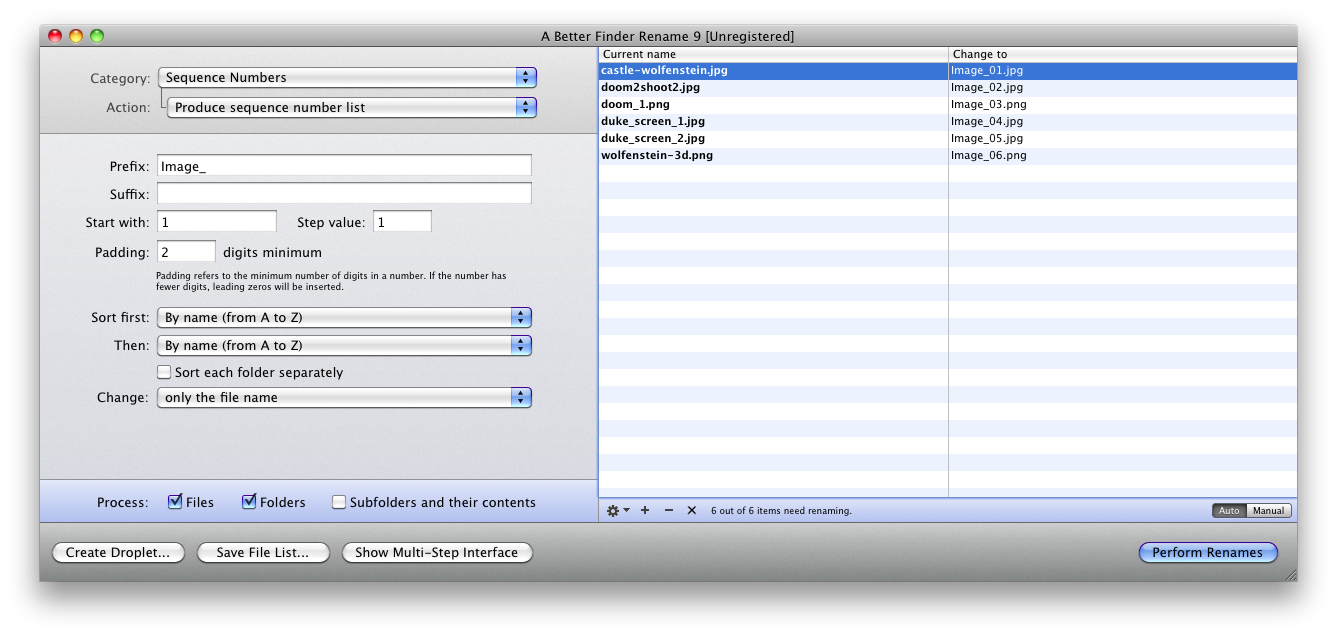 It is not really complicated to use and there are detailed walkthroughs available on the developer website.