Home > Apps > Microsoft Windows
File extension list filtered by software name
NotePad++ text editor
Found 536 file extension associations related to NotePad++ text editor and 67 file formats developed specifically for use with NotePad++ text editor.
Platform, operating system:
Microsoft Windows
Go to: NotePad++ text editor description
Developer: Notepad++ Team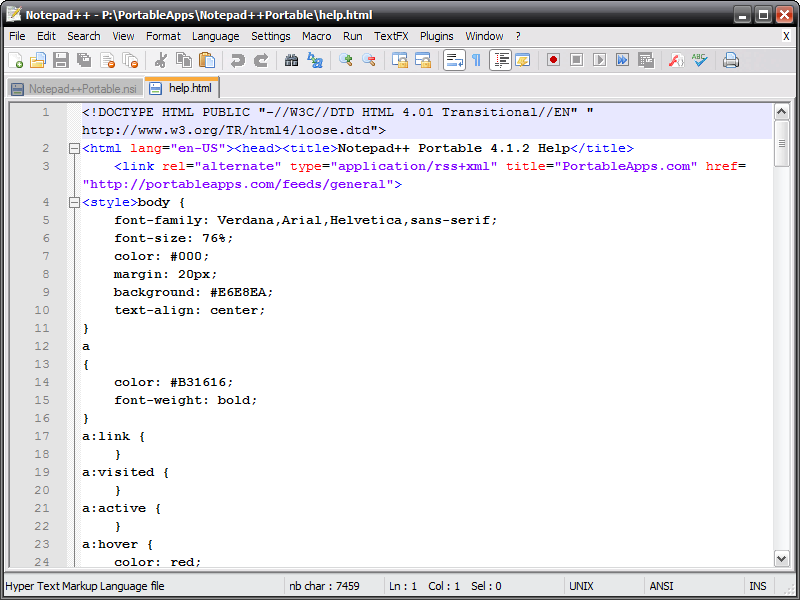 NotePad++ text editor
Developer / company: Notepad++ Team
Notepad++ is a free source code editor (and Notepad replacement), which supports several programming languages, running under the MS Windows environment.
Notepad++ Portable is the handy Notepad++ text editor packaged as a portable app so you can do your development on the go. It has all the same great features of Notepad++ including support for multiple languages and an extensive plugin system, but there's nothing to install.
Features:
Notepad++ Portable is a full-featured text editor with features like:
Syntax Highlighting and Syntax Folding (C, C++, HTML, ASP, Java, Pascal, CSS and more)
User Defined Syntax Highlighting
Auto-completion
Multi-Document
Regular Expression Search/Replace supported
Full Drag 'N' Drop supported
Zoom in and zoom out
Multi-Language environment supported
Brace and Indent guideline Highlighting
Macro recording and playback
NotePad++ text editor icon


NotePad++ text editor icon
size: 128px x 128px (.png with transparency)

NotePad++ text editor works with the following file extensions:
Note: You can click on any file extension link from the list below, to view its detailed information. The list of extensions used or otherwise associated with the application may not be complete, because many common file extensions on our website, such as jpg (pictures) or txt (text files), can be opened by a large number of applications, or are too general file format. However most, if not all directly associated file extensions should be listed with its appropriate program. Although its likely, that some file extensions may be missing from the list of associated file extensions with the application, yet they can be opened, be part of, or otherwise be associated with the program.
NotePad++ text editor default file extension associations
The most common file formats used with the specific file extensions

.cfg file extension is used for Configuration files

.lst file extension is used for List text

.text file extension is used for Text file
Other file extensions or file formats developed for use with NotePad++ text editor

.aev

.ames

.ans

.ansi

.asc

.ascii

.asp

.bbs

.bdt

.blif

.bml

.bss
.cgi

.cm0013

.cnn

.cphd

.dea

.df

.dok

.drp

.en

.ext

.faq

.flr

.fr

.hex

.hvc

.interface

.jbeam

.jtx

.kcl

.lap

.las

.lge

.lsp

.mmt

.n3

.pawn

.prm

.readme

.rs

.rtx

.s4p

.sbv

.sfb

.sha1

.sk

.slow

.sls

.smw

.soap

.srx

.thor

.thtml

.tlx

.unx

.us

.usf

.utf8
.vxml

.wli

.xpd

.xv2

.yml
Common file extensions used by NotePad++ text editor

.1st

.asm

.asp

.aspx

.bat

.cfg

.css

.csv

.cue
.eml

.htm

.html

.inf

.ini
.jad

.java
.js

.json

.lng

.log

.lst

.m3u8
.nfo

.opml

.php

.rc

.reg

.rep
.sql

.src

.srt
.sub

.text

.txt

.usr

.vbs

.xhtml
.xml

.xsd

.xsl
.xslt
Other file extensions associated with NotePad++ text editor

.!!!

.aah

.abs

.actionScriptProperties

.ad2

.ada

.adm

.agtemplate

.aml

.android
.annot

.ap

.appcache

.apt

.apxl

.arxml

.asax
.asc

.ass

.att

.au3

.aupreset

.axd

.axs

.b

.ba1

.bal

.bas

.bashrc

.bcp

.bet

.beta

.bibtex

.bif

.blm

.bms

.bns

.bnx

.bs2

.bsd

.bsdl

.bsh

.bt

.c

.c

.c#

.c++

.cas

.cc

.ceid

.cgx

.cho

.chord

.chtml

.cl

.clojure

.cls

.clsid

.cmake
.cmd

.cml

.con

.conf

.coo

.cookiedb

.cor

.cpp

.crd

.cs

.csassembly

.cshtml

.csmanifest

.cson

.csproj

.css1

.csx

.ctl

.ctt

.cwms

.cxl

.cxml

.cxx

.cz

.daily

.db-journal

.db3

.dbml

.dbp
.dbproj

.dcd

.de

.desc

.dfe

.dfm

.diz

.dkz

.dml

.dnx

.dob

.dp

.dropbox

.dsd

.dsml

.dtd

.dvb

.eaf

.ecsv

.edi

.edml

.emlx

.err

.es

.etx

.exc

.extra

.f

.f

.f4m

.fastq

.fdoc

.fff

.ffp

.ffpreset

.fgl

.first

.fodg
.fodp

.fods

.fol

.fountain

.fpage

.fq

.frag

.fs

.fsa

.fsi

.fsproj

.fsscript

.fsx

.gcode

.gct

.ger

.gmanifest

.gpd

.gpl

.gshader

.gws

.gyp

.gypi
.h

.haml

.har

.hc

.hdt

.helpcfg

.hh
.hht

.hpp

.hs

.hshader

.hsk

.ht

.htaccess

.htmls

.htm~

.hxml

.hxp

.ica

.id31

.id32

.ide

.idt

.ift

.imp

.inc

.inf

.ini2

.inuse

.ion
.iqy

.isx

.it

.jacl

.jav

.jeb

.jnlp

.js

.jscript

.jsonp

.jspx

.ju

.kd

.kix

.kl3

.klg

.lcx

.library-ms

.lin

.linx

.lisp

.lit

.litcoffee

.lnc

.lob

.lol

.lols

.lst

.lst

.ltr

.ltt
.lua

.lvm

.m2r

.ma

.maf

.makefile

.manifest
.map

.markdn

.markdown

.mcl

.mcml

.md

.mdle

.mdown

.mdtext

.mdtxt

.mdwn
.me
.me

.meta4

.metriclog

.mhl

.mib

.mis

.mit

.mkd

.mkdn

.mkp

.mlf

.mml

.mml

.mnft

.modd

.mof

.morse

.mpb

.mrk

.mrl

.msc

.mscx

.mshxml

.mst

.nbr

.nc1

.nclk

.nhn

.now

.nsconfig

.nt

.nvi

.ocr

.oeaccount

.ojp

.omn

.ooa

.oplm
.osc

.osn

.out

.p3x

.p5

.p6

.pas

.pcf

.pcf

.pdml

.pdu

.pgw

.phl

.php1

.phtml
.pl

.pl6

.plg

.pln

.pls

.plsx

.plx

.pm

.pm5

.pm6

.pml

.pnach

.po

.pod

.poix

.ppml

.prl

.propdesc

.properties

.ps1

.psd1

.psp

.pt

.ptxml

.pvj

.pyt

.pyw

.qdl

.qdt

.qud

.rb

.rb

.rdat

.rdf

.rdp

.rels

.report
.resmoncfg

.resp

.resx

.rjs

.rml

.rng

.ror

.rpp

.rpy

.rrc

.rsl

.rsp

.rt

.rtc

.rtl

.rub

.rzn

.s

.s19

.s1p

.s2p

.s3p

.saas

.sami

.scf

.scr

.sct

.sdnf

.set

.sh

.sha256

.sha512

.sht

.shtml

.skudef

.sl

.smali

.smil

.soundscript

.sp

.spa

.spef

.spn

.srt

.ss

.ss

.ssa

.str

.struct

.t

.t3d

.tab

.tdump

.ted

.text

.tgml

.toml

.trx

.tt

.tur

.tx8

.tx8

.txe

.txh

.txl

.txml

.txt12
.uccapilog
.uccapilog

.uhtml

.uk

.uni
.url

.user

.vb

.ver

.vfk

.vml

.vtt

.wbf

.wcf

.websettings

.weekly

.wer

.win32manifest

.wml

.wmlc

.wmls

.wmlsc

.wrts

.ws

.wsdd

.wsf

.wtf

.wtx

.xaml

.xbrl
.xcconfig
.xfd

.xfdl

.xhtm

.xlf

.xlog

.xml-log

.xsql

.xtd

.yab

.yaml

.ybhtm

.yml2

.zeg

._me