NRG disk images

NRG is native disk image file format used by popular Windows burning software called Nero Burning ROM. It is also available in version for Linux, however there is still no Nero version for Mac OS X.
The easiest way how to open, or burn .nrg files on Mac is to convert them in to standard ISO 9660 disk image format that is natively supported by Mac OS X operating system.
Some sources inform that you can just rename .nrg file extension to .iso file extension and Mac applications will be able to open them. However this process doesn't work!!
Convert NRG disk image to ISO image with eNeRGy converter
Step 1 - Converting .nrg disk image to .iso disk image using eNerRGy
eNeRGy is free easy to use converting utility that is able to convert .nrg files to .iso disk images.
1. Download and install eNeRGy
eNeRGy is distributed in ZIP archive without any installation software. Just unpack the archive and copy eNeRGy.app to Applications folder.
2. Convert .NRG to .ISO
Start eNeRGy application. eNeRGY automatically open the Choose File window. Select .nrg file that you want to convert to ISO and press Choose button.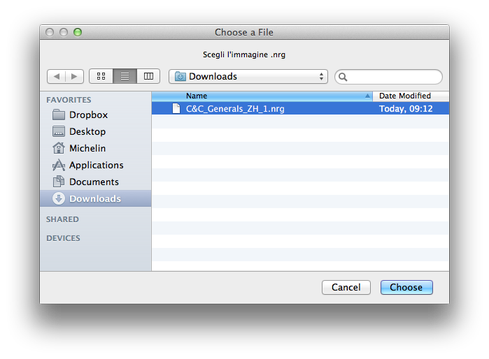 Set the name of the new .iso file and wait until the conversion process is finished. The new iso file will be stored in the same folder as an original file.
Step 2 - mounting ISO file with default Apple DiskImageMounter
The new ISO image can be opened with DiskImageMounter utility that is distributed with the Apple Mac OS X. Open the Finder and go to the folder with .iso files.


Click the right button on .iso file, select Open With option → DiskImageMounter and .iso file will be mounted to the system and you will be able to work with data stored in it.