Home > VideoLAN Project Team
File extension list filtered by software name
VLC media player
Found 208 file extension associations related to VLC media player and 93 file formats developed specifically for use with VLC media player.
Platform, operating system:
Microsoft Windows
Go to: VLC media player description
Developer: VideoLAN Project Team
VideoLAN software list & details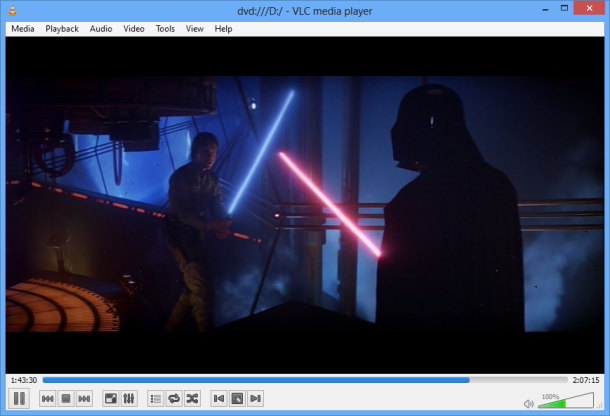 VLC media player
Developer / company: VideoLAN
VLC media player is a highly portable multimedia player for various audio and video formats (MPEG-1, MPEG-2, MPEG-4, DivX, mp3, ogg, ...) as well as DVDs, VCDs, and various streaming protocols. It can also be used as a server to stream in unicast or multicast in IPv4 or IPv6 on a high-bandwidth network.
Features:
Simple, Powerful and Fast
Plays everything, Files, Discs (DVD, CD, VCD), Devices and Streams
Plays most codecs with no codec packs needed
Completely Free, 0 Spyware, Ads or User Tracking
Best Mpeg2, x264, DivX player
Works on most platforms: Windows, Linux, Mac, Unix...
Media Converter and Streamer
VLC media player is available for Windows, Mac OS X (macOS), Linux, Unix, iOS, Android, Windows Phone, Solaris, Chrome OS, FreeBSD, netBSD, OpenBSD and other platforms.
VLC media player icon


VLC media player icon
size: 128px x 128px (.png with transparency)
VLC media player related articles:

VLC media player works with the following file extensions:
Note: You can click on any file extension link from the list below, to view its detailed information. The list of extensions used or otherwise associated with the application may not be complete, because many common file extensions on our website, such as jpg (pictures) or txt (text files), can be opened by a large number of applications, or are too general file format. However most, if not all directly associated file extensions should be listed with its appropriate program. Although its likely, that some file extensions may be missing from the list of associated file extensions with the application, yet they can be opened, be part of, or otherwise be associated with the program.
VLC media player default file extension associations
The most common file formats used with the specific file extensions

.264 file extension is used for H.264/MPEG-4 AVC video data

.3ga file extension is used for Audio file for wireless networks
.3gp file extension is used for Multimedia files for wireless networks

.aac file extension is used for Advanced audio coding stream

.avi file extension is used for Audio Video Interleave movie

.dash file extension is used for Dynamic Adaptive Streaming over HTTP video

.dvr file extension is used for Microsoft Windows XP Media Center TV recording

.flac file extension is used for Audio files encoded by Flac - free lossless audio codec

.ifo file extension is used for DVD movie information file format
.m2t file extension is used for MPEG-2 transport stream

.m2ts file extension is used for MPEG-2 stream (Blu-Ray)

.m3u8 file extension is used for UTF-8 M3U playlist
.mkv file extension is used for Matroska multimedia container

.mov file extension is used for Apple QuickTime digital video

.mp3 file extension is used for Compressed audio and music file, mp3 songs or ringtones

.mp4 file extension is used for MPEG-4 video file format

.mpg file extension is used for MPEG 1 video file format
.mts file extension is used for AVCHD MPEG-2 transport stream

.ogg file extension is used for Ogg Vorbis audio file
.ogv file extension is used for Ogg Vorbis video file

.pls file extension is used for Media playlist

.rec file extension is used for Recorded file

.rmvb file extension is used for RealMedia variable bitrate

.srt file extension is used for SubRip video subtitle format
.sub file extension is used for DivX movie subtitle file format
.ts file extension is used for MPEG-TV recorded video format

.vob file extension is used for DVD video object

.webm file extension is used for Matroska WebM video
.wma file extension is used for Windows Media Audio

.wmv file extension is used for Windows Media Video

.zab file extension is used for Zipped audio book
Other file extensions or file formats developed for use with VLC media player

.265

.26l

.3ivx

.a52

.ac3

.adt

.adt

.adts

.anx

.ass
.avc

.avchd

.axa

.bdmv

.cache-2

.cdg

.democracy

.drc

.dv

.dvr-ms

.etrg

.fla

.gxf

.h260

.h265

.h64

.hevc

.hls

.kmv

.latm
.m2p

.m4e

.mid

.mks

.mp3pro

.mp4;v=1

.mpegps

.mpgv

.mpv4

.mts1

.oga

.opus

.ps

.sbs

.scr

.tab

.thd

.trp

.tts

.usf

.vfo

.vlc

.vlt

.voc

.vp8

.vp9

.w64

.wgi

.wv

.xspf
.xvid

.yify
Common file extensions used by VLC media player

.264

.3g2

.3ga
.3gp

.aac
.aiff

.amr

.ape
.asf

.asx

.avi

.bik

.cda

.cue

.dash

.dat

.dvr

.flac

.flv

.h264

.ifo
.m2t

.m2ts
.m3u

.m3u8

.m4a

.m4b

.m4p
.m4v
.mkv

.mod

.mov

.mp3

.mp4

.mpeg

.mpg
.mts

.ogg
.ogv

.pls

.rec

.rmvb

.snd

.srt
.sub

.tod
.ts

.vob
.wav

.webm
.wma

.wmv

.wpl

.zab
Other file extensions associated with VLC media player

.261

.3gp2

.3gpp

.3gp_128x96

.3p2

.adpcm

.aif

.aifc

.amv

.aob

.aqt

.au

.axv

.ayn

.b4s

.cache-3

.cdg
.divx

.dts

.eac3

.flh

.flvat

.gvi

.gvp

.idx

.it

.jss

.jyk

.lrv
.m1v

.m2v

.mbv

.miro

.mka

.mkv3D

.ml20

.mlp

.mod

.moi

.moov

.mp1
.mp2

.mp2v

.mp3a

.mp41

.mp4a

.mp4v

.mpa

.mpc

.mpe

.mpeg1

.mpeg2

.mpeg4

.mpg2

.mpg4

.mpls

.mps

.mpsub

.mpv

.mpv2

.mxf

.nsv

.nuv

.ogm

.ogx

.oma

.pjs

.psb

.ram

.rargb

.rm

.rmi

.rt
.s3m
.sdp

.smi

.spx

.ssa

.stem

.stem.mp4

.svi

.tta

.vmlf

.vp6

.vqf

.vro

.vse

.wtv

.xa

.xavc

.xm

.xwm